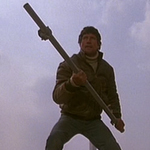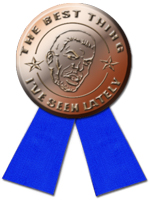 "Computer said you were a smartass."
You know what's great about movies? Any of us who are reading this who are currently alive were born some time after they were invented. They got a head start on us, and no matter how hard we try we'll never catch up with all the good ones that already exist. It's just a beautiful thing to realize that even now there are movies out there as perfectly tuned for me as REMO WILLIAMS: THE ADVENTURE BEGINS that I haven't gotten around to yet. Thank you, Lord. Good work on that one.
One reason it's great: it's an action vehicle for Fred Ward. He's been a great utility player in SOUTHERN COMFORT, UNCOMMON VALOR, TREMORS, etc. but even playing the lead in the great MIAMI BLUES he has to compete with scene-stealing villain Alec Baldwin. Here he's the main attraction from beginning to end. It glorifies him as a fit badass in his 40s, and it shares his dry sense of humor.
We first meet him as a tough but lazy cop (with mustache) sitting in his patrol car eating a burger and drinking coffee, being hassled over the radio about gambling money he owes. When some dude gets chased right past him he doesn't react at first. It doesn't seem like he's even gonna bother to intervene.
But he does, and it's a set up, and the next thing you know a secret organization have kidnapped him, faked his death, changed his name, shaved his mustache, given him plastic surgery, renamed him from an engraving on his bedpan and are ready to train him to become their new assassin who will take out horrible people that the broken system is unable to deal with. Awfully presumptuous of them, but over time he comes to understand their point of view and see the value of participating.
The organization is very small. There's a boss (Wilford Brimley!) who pretty much knows everything because of his circa 1986 super computer, and a weathered enforcer (J.A. Preston), and they bring Remo to Chiun (Joel Grey) who's like Pai Mei in KILL BILL VOLUME 2. He's a mean old Korean guy who specializes in dodging bullets (photographic documentation below) and will teach Remo an ancient Korean art that pretty much amounts to super powers. Remo reacts with Fred Ward cynicism, until of course he starts to see results. It's largely a training movie with a bunch of great lessons, the best being when he demonstrates impossible parkour skills balancing and jumping across various precariously balanced objects in his apartment, and when he somehow pulls it off Chiun is totally unimpressed.
Meanwhile there's corruption going on in the military, a scumbag general pushing dangerously defective guns on the troops for his own profiteering purposes. Remo is sent to protect Major Rayner Fleming (Kate Mulgrew), who has gotten too close to the truth, putting him in conflict with a group of thugs. The most colorful is Stone (Patrick Kilpatrick, BEST OF THE BEST II, UNDER SIEGE 2: DARK TERRITORY, THE SUBSTITUTE: FAILURE IS NOT AN OPTION), who has a diamond on one of his teeth. It seems like just a fun, James Bondian detail but it leads to a great action moment when Remo finds a good use for it. (Okay, I'll SPOILER it: he grabs him by the head and uses him to cut glass.)
Important bit part: DIE HARD's own Reginald VelJohnson as "Ambulance Driver." Remo steals an ambulance to try to escape custody at the hospital, so ol' Powell gets to do one of those "Hey come back here, that's my car!" type parts that I'm sure are very fulfilling for actors.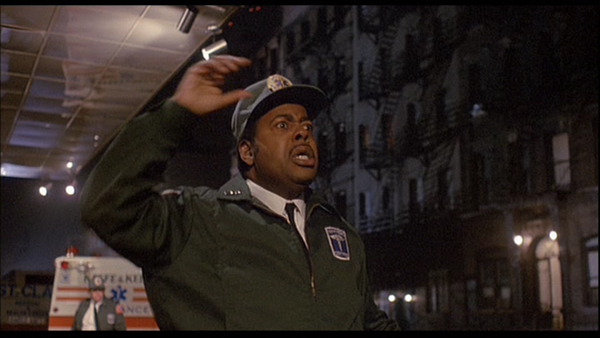 I love that this is a movie mainly about climbing on shit! Makes me realize we don't see nearly enough cinematic climbing on shit. There's a ton of great stuntwork, including a training scene where he has to hang off a ferris wheel and an elaborate fight climbing on and around the then-scaffolded Statue of Liberty. Sometimes it's clearly a stuntman, but what are you gonna do. That gives it authenticity.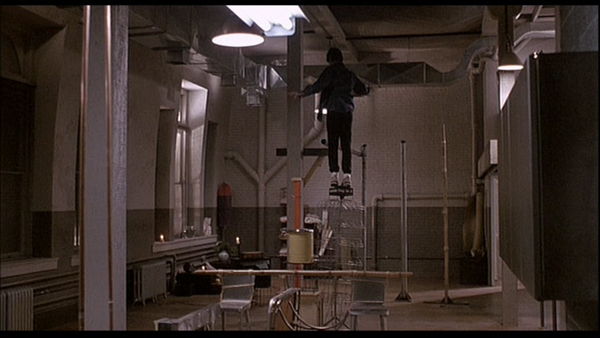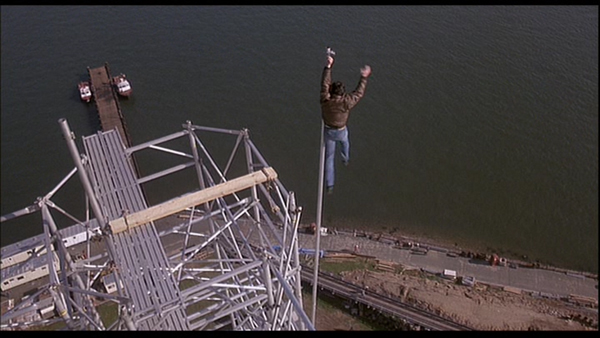 I guess it makes sense that this was the next-to-last movie from Guy Hamilton, an old school director who did GOLDFINGER, DIAMONDS ARE FOREVER, LIVE AND LET DIE, THE MAN WITH THE GOLDEN GUN and FORCE 10 FROM NAVARONE. Some review I read said that he was behind the times making this movie in 1986, but if so it doesn't matter in the long run. It's great lo-fi action occasionally spiced up with Remo's supernatural-ish abilities (running across the surface of wet cement during a foot chase is a particularly good move).
It has a good sense of humor without being a straight up comedy. There's definitely jokes about the clashing personalities of the characters, an American who loves greasy hamburgers trying to live with an old man who forces him to eat plain rice. He's a super spy sneaking around like a teenager trying not to get in trouble.
I could see it as a Kurt Russell movie. The problems Remo runs into in the field seem almost unfair at times. Like when he has to break into a place and it turns out to have the world's smartest guard dogs, dobermans that actually figure out how to follow him up onto a catwalk and trap him. He always seems exasperated because as soon as he gets cocky some shit like this is likely to happen.
But it's great when he's cocky. You all know I'm a connoisseur of the Walking Casually Away From a Fiery Explosion trope. And in all my studies I don't think I've seen a more jaunty strut away from an explosion than Remo has here.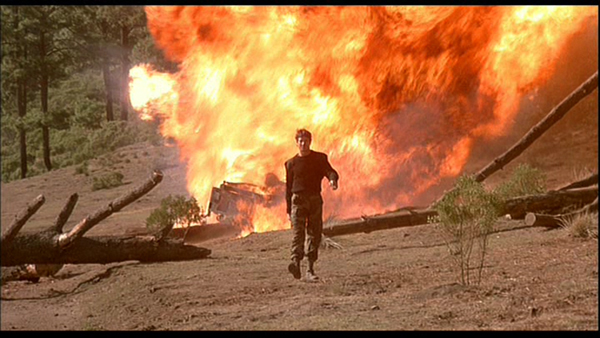 There's one weird thing about this movie you should be warned about. Chiun is a Korean character but is played by Joel Grey, who in my opinion is a Caucasian. His makeup is real good, definitely better than, say, CLOUD ATLAS (in fact it was nominated for the best makeup Oscar, which it lost to MASK), but it still looks not quite right.
The thing is, I wasn't there but I bet there were some Korean actors in the business at that time. Maybe one of them coulda done it and it wouldn't be uncomfortable to watch. On the other hand, it's a really good performance by Grey, good comic timing, grouchy personality and very deliberate movements and posture that could be credited to him being a dancer or whatever he is.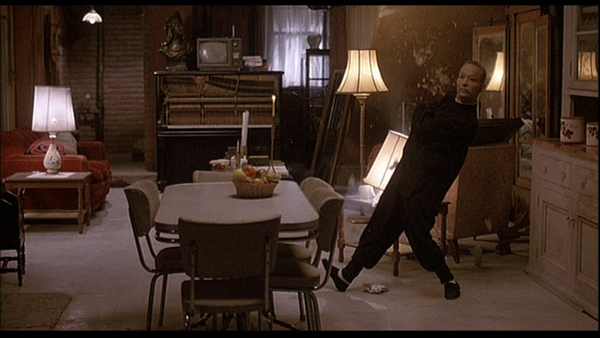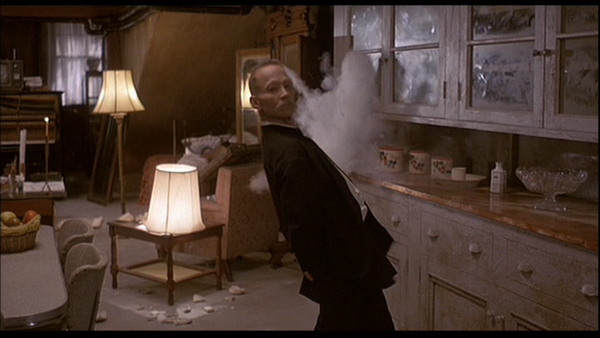 No comment on the accent.
I'd say it's less offensive than some Ken Jeong characters. Is that a good defense?
REMO WILLIAMS is actually a Dick Clark production, but not a rock 'n roll movie. It has a great theme song by Craig Safan that reminds me of Mutual of Omaha's Wild Kingdom or something. Big, majestic and epic music to elevate a down to earth working class super hero who works out of an apartment with an old man who watches soap operas.
Like Hamilton, writer Christopher Wood came from the James Bond series. He wrote THE SPY WHO LOVED ME and MOONRAKER. This one is adapted from a novel called The Destroyer by Richard Sapir and Warren Murphy. There was a whole series of over a hundred Destroyer novels I guess. Seems like something I should look into. Incidentally Murphy did a draft of LETHAL WEAPON 2 with Shane Black, who has recently been attached to a new Destroyer movie. Also Murphy has two kids with the voice of Bart Simpson. That might be less relevant.
Note 1: If you love this movie and it bums you out that the DVD is full frame, there is an anamorphic widescreen version available in region 2. I think this is it below, but the listing doesn't specify. Also there's a Region B blu-ray if you can play that.
Note 2: There was a pilot made for a Remo Williams TV show in '88. I haven't watched the whole thing yet because this guy Jeffrey Meek is no Fred Ward, even if he did play Rayden and Shao Khan on Mortal Kombat: Conquest. But let me know if it's good.