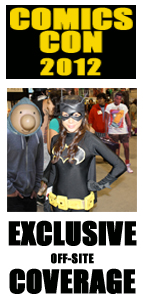 Alot of people think, just because of movies like THE FANTASTIC FOUR and THE CROW, that comic strip books are only for kids. Well I'm here to tell you that actually they're for everybody now. How else do you explain Robert Altman, the director of NASHVILLE and QUINTET, doing a movie based on the early-twentieth-century comic strip Thimble Theater by E.C. Segar? POPEYE is I guess the bizarre movie you'd have to expect when a set of weird old comic strip and cartoon characters are turned into a live action musical by the auteur of M.A.S.H. It uses cartoon physics but with muted colors (except for red or blue clothes) and dirty, lived-in settings. The plot is very simple, most of the funny lines are mumbled, it's hard to figure out exactly what they were going for, and I sort of love it.
Robin Williams – who had done Mork & Mindy but no movies at that point – plays the famous sailor man, who floats into the port town of Sweethaven after an atmospheric prologue at sea that would've fit right into MCCABE AND MRS. MILLER or something. But the movie's cartoon reality is introduced when he's greeted by a taxman who rides up on a bicycle and demands he pay docking, new-in-town, rowboat-under-the-wharf, leaving-your-junk-lying-around-on-the-wharf and question taxes. (Don't worry, a user on Youtube has already used the clip to show "the not too distant future if the Democrats and Libtards had their way.")
It's a beautifully detailed set, a rickety, crooked, wooden village built outdoors in Malta (it's still there in fact) and populated by people who seem like Vaudeville performers. For example there's a guy who's perpetually trying to pick up his hat but kicking it further ahead with his oversized shoes. There are lots of flips and handsprings and people thrown through ceilings. A couple times there are cartoon sound effects. When a bunch of people are looking into a door to watch a fight one head comes down upside down from the top of the door frame. That's the type of world it is.
Popeye is traveling the seas looking for his fadder, and luckily he stopped here because it's where he meets Olive Oyl (Shelley Duvall), who is currently engaged to Bluto (Paul L. Smith from CRIMEWAVE).
We all remember skinny, squeaky-voiced Olive from the cartoons, but I guess the rest of her family members here are from the original comic strip. She lives with her parents and her goofball brother Castor (Donovan Scott from POLICE ACADEMY and PSYCHO III). And I'm not sure what relation Wimpy (Paul Dooley) is, but he's always around, possibly lives with them too. I just remember from the cartoons he was a dude who tried to scam free hamburgers all the time. He does that here too but seems a little more sinister, an untrustworthy hanger-on who steals their baby to use its psychic powers to bet on mechanical horse races.
Oh yeah, the baby. Popeye becomes an adopted "mudder" when somebody stashes a baby in Olive's basket with a note "to the one-eyed sailor" and "signed, a Mudder." He takes the job seriously and it makes Olive fall for him, but that's not his intent.
That's the character of Popeye. He's simple but he's honest. He's the type of guy to get in fights to protect the honor of a lady, but not to impress one. He's good at fighting, too. One day in a diner a bunch of bullies led by Dennis Franz call his dad ugly, make fun of his "pronunskiation," and knock around a bunch of innocent witnesses. Popeye pulls a Billy Jack: he tries to avoid conflict, but eventually gives in and avenges the "smorgasbord of violence" by dancing around and using their heads as speed bags. Afterwards he pays up and tips well, but doesn't bother to take the chair down from the ceiling fan.
Another example of Popeye's gentlemanly code: during a boxing match he pulls a punch because his opponent's mother is in the corner, she points and scolds "Don't you dare!"
"Pleased to meet you, ma'am, I'm a mudder meself."
I'm not into what Robin Williams does alot of the time, but he's incredible in this movie. It must be harder than most of his roles because he's got the makeup (giant forearms like in the drawings, but with realistic blond hair on them), he's gotta keep one eye shut and chew on a pipe most of the time, push his chin out like Billy Bob in SLINGBLADE, and internalize most things instead of rattling out thoughts like he normally does. He imitates the cartoon Popeye's froggy voice, his method of muttering to himself and his weird laugh. But underneath all that he's also creating a personality, slightly humanized from the cartoon but not so much as to not seem like the same guy. (And allegedly he did all this while coked out of his mind.)
An example of Williams' next-level acting is in the scene where he first finds Swee'Pea. The baby starts talking while Popeye's reading the note, and Popeye responds. Then the baby starts getting upset, and Popeye starts making little jokes to make him laugh. This is Robin Williams for real soothing a crying baby, but he stays in character as Popeye and finishes the scene!
It's also hard to imagine any other actor humanifying Olive Oyl as well as Duvall does. Physically she embodies Olive's beanpole figure and big-dot eyes, and she does her squeaky voice and constant warbling "ooooooohhhh"s. But somehow she makes this weird caricature into a consistent and funny personality. She cracks me up with her worrying. As soon as Popeye jumps in the boxing ring she whines to Swee'Pea, "Ooooohhh, poor fatherless baby!"
She's kind of an idiot. Her fiancee is clearly an asshole that everybody's afraid of, but she convinces herself that she loves him, singing about how "special, tall, good lookin and large" he is. "He may not be the best, but he's large, and he's mine."
An equally sad but sweeter love song comes later on when Olive and Popeye sing a lullaby to Swee'Pea with a subtext of singing to each other. Popeye's chorus asks Swee'Pea/Olive to "Sail with me" while Olive's asks to "Stay with me." It makes you realize that by their very nature their relationship is gonna be difficult. Popeye is the Sailor Man, he's defined by his lifestyle of going out to sea. If he goes away for a while is she gonna decide to go back to Bluto? She seems very needy. She seems happiest singing about "he needs me," because she needs to be needed. If Popeye doesn't mind going off in a boat by himself he must not need her, right?
Even if they can work it out it's sad because they're gonna be apart alot of the time. Unless she learns to sail but, you know, I don't really see her being able to handle that, in my opinion.
The songs are written by Harry Nillson, and I read that some of them were sung live during filming. The music was recorded in a special studio built on Malta with the sets. I didn't notice that it was done any different, but it's cool to know. Altman did something similar when he did KANSAS CITY and all the jazz was performed live with hidden mics on the set. (tangent: somebody should do a great live jazz movie now that we got this digital business and don't need to waste a bunch of film to do it.)
It's kinda odd when Popeye starts singing all the sudden. I'm not sure about all of these songs, but I like some of them. There's the lullaby duet I mentioned. There's Olive's "He Needs Me" song which Paul not W.S. Anderson used in PUNCH DRUNK LOVE. There's a strange one where the town sings about "Everything is Food." Not "Everything is Good." "Everything is Food." I liked that.
At the end Popeye does some sailing, and there is a small boat chase. It's funny, it kind of starts feeling like a stunt show at Sea World. In fact, I'm pretty sure in the early '80s I saw a Popeye stunt show at Sea World.
Like most of the super hero movies this is an origin story. It has him meeting Olive the first time, adopting Swee'Pea, fighting Bluto the first time, finding a new home. Most importantly, for most of the movie he hates spinach. It's kind of like BATMAN BEGINS how he's not really truly Batman until the end. In this movie he finally learns to eat his spinach after a lecture from his dad and being force-fed by Bluto. But like in the cartoons it gives him super-strength. He punches out an octopus.
Jeeps, Alice the Goon and the Sea Hag do not appear in the movie. But since Paramount co-released it with Walt Disney Pictures maybe there's a chance that they can special edition it with a Nick Fury recruitment cameo at the end and then continue the saga. I feel that Popeye would make a good Avenger because he would sort of bridge the gap between the highly trained human members (Black Widow and Hawkeye) and the super-powered ones. He's mostly just a guy with boxing skills, but then his iron-heavy diet of greens gives him sub-Hulk strength.
Because of the influence Christopher Nolan has had on modern comic book movies I'm sure they'll work in some explanations of the kind of activities that a man does that would cause his forearms to be exercised so much more than his biceps. I know alot of carpenters have big arms like that because of all the hammering they do. Maybe sailors get it from tying so many knots.
I think Popeye's inter-team feuding would be with Iron Man, because that guy is kind of a bully, he'd probly make a bunch of mean jokes about Popeye's arms and his eye. Popeye would ask for an apologiky and it would turn into a brawl. The fight would be great, but the better part would be the verbal sparring between wisecracking Tony Stark and muttering Popeye. Like a Navy SEAL fighting a viking. I haven't seen that episode of whatever that Warrior show is called on the History Channel, where they investigate things like that. So I don't know who would win.
POPEYE has a meandering story, the characters are not quite two-dimensional, it doesn't completely make sense, but there's nothing like it. I feel like it takes me to a weird place I haven't been before, with some strange people like I never seen before, and I just stay cool and act like I belong there. It just kind of washes over me and suddenly it's over and I realize how much I enjoyed it. I kinda want to watch it again already.
This entry was posted on Friday, July 13th, 2012 at 1:51 pm and is filed under
Comic strips/Super heroes
,
Musical
,
Reviews
. You can follow any responses to this entry through the
RSS 2.0
feed. You can skip to the end and leave a response. Pinging is currently not allowed.