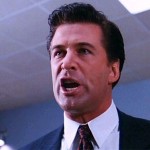 I don't know if you guys have ever heard of this one. It's a weird crime movie starring Fred Ward as a cop with fake teeth, Alec Baldwin as a crook who steals his teeth, and Jennifer Jason Leigh as Baldwin's dumb hooker turned naive fiancee.
From the cover you'd assume this is just some boring cop movie, so you'll just have to take my word for it that it's something completely unique. Or don't take my word for it. Let me explain to you a little bit about the plot, and see if that waxes your mustache.
See, Alec Baldwin (back when he was young and skinny, and made the gals swoon) gets off a plane in Miami, steals somebody's luggage, and heads for the exit. At the bottom of an escalator he is approached by a hare krishna, who asks him what his name is. He says, "Trouble," breaks the guy's finger, and leaves.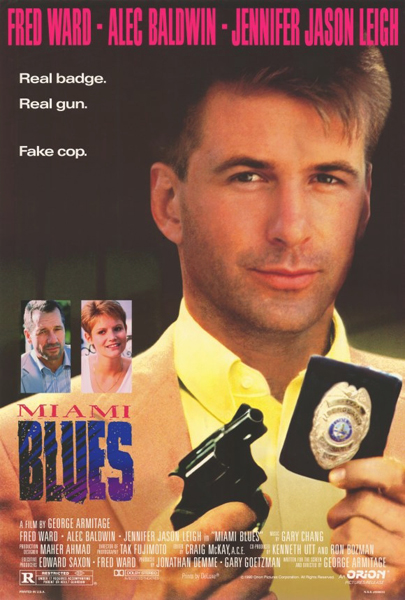 So far he's a petty crook, and kind of an asshole. Or maybe hare krishnas killed his father, I don't know. The point is, breaking a guy's finger for trying to push his religious beliefs on you is not usually a big enough crime to be the center of a movie plot. But we find out later that being a sensitive peace loving religious dude, the hare krishna went into shock after the attack and died. Of a broken finger. And maybe a broken heart. So that's where Fred Ward, the homicide detective, comes in. He's gotta find the perp, and even he doesn't take it that seriously (him and the other cops laugh about the murder) but it's a job, you know.
He doesn't have much trouble tracking down Baldwin, but soon after he does he gets beaten up and wakes up without his teeth, gun or badge. And Alec Baldwin starts going around using the badge, pretending he's cop. Committing crimes mostly against other criminals. But he's not exactly Robin Hood. First of all, as he explains, he doesn't give the money to the poor. He keeps it. And second of all, he does things like stop a guy from stealing a woman's purse, then run off with the purse himself. Or stop an armed robbery, then take the money himself. In one of the best scenes he happens to be in a convenience store as it's robbed, and he scares off the nervous gunman by threatening to throw a jar of spaghetti sauce at him. It makes no logical sense at all, and that's why it's convincing. I could see it really happening. You know that kid went through that robbery a thousand times in his head, thinking of all the possible outcomes, but one he never considered was some weirdo throwing Prego at him. So it threw him off.
So you know, this Alec Baldwin isn't all bad, he's a semi-likeable dude. But he's using Fred Ward's identity, and he has his teeth, so that makes it personal.
The goofy tone of the movie reminds me alot of Elmore Leonard, but the book it's based on is actually by somebody named Charles Willeford. (Apparently there are 3 other novels about Fred Ward's character, Hoke Moseley.) It is not a traditional thriller at all – it's more about the personalities of the characters than some sort of serious plot, and everything comes out of the stupid or weird choices they make. The overall feel is lighthearted but it is punctuated by some brutal violence – in a fun way. Alec Baldwin receives some pretty horrible/hilarious injuries and deals with them more the way you or I would than the indestructible super heroes we get used to seeing in movies.
The lead actors are all great. Maybe I'm stupid, but I didn't even realize that was Jennifer Jason Leigh as the naive Florida girl studying at Miami-Dade College. And it's good to see Alec Baldwin getting a chance to play stupid and funny, something he usually only does when he hosts the Saturday Night Live show. My only real complaint is that it's not believable how many crimes this guy happens to be in the vicinity of. It's not like he's out looking for crimes, but somehow he just happens upon purse snatchings and armed robberies everywhere he goes. If only Batman was that lucky.
The director is George Armitage, who is best known for Grosse Pointe Blank. He also did the second, supposedly not as bad (but still bad) version of Elmore Leonard's The Big Bounce. He seems like a pretty interesting director, but most of his other stuff isn't on video. The one I'd really like to see Vigilante Force with Kris Kristofferson.
So anyway point is Miami Blues is a good one, a different one, a one you should see.