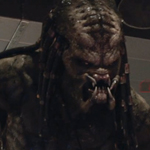 I didn't get to see THE PREDATOR until after the world had already estimated its coordinates somewhere in the hostile territory between disappointment and disaster. Maybe that prepared me for the sloppy last stretch (it seems like some connective tissue must've been lost in editing or reshoots) and a thudding comedy riff or two involving a character with Tourette's. And I guess a couple subpar quasi-science discussions, sometimes involving "the spectrum." Also, is it just me or are these people weirdly unsurprised to see aliens?
But everything else in the movie tears its gear off and covers itself in mud to prove it's a true warrior of entertainment. This is a funnier Predator movie, one full of joyful, gory mayhem, clever dialogue and inventive action beats. Let me give you an example from the opening. Decorated army sniper Quinn McKenna (Boyd Holbrook, JANE GOT A GUN) witnesses the crash of a Predator ship and pulls an extra-terrestrial helmet and gauntlet out of the wreckage before catching a glimpse of the camouflaged alien pilot (6'9 1/2″ parkour artist Brian A. Prince) stringing up another soldier. Panicked, McKenna accidentally fires the wrist weapon, slicing his friend's corpse in half and dumping intestines and blood onto the cloaked Predator, revealing its location and appearance.
I mean, you love that, right? I love that. We all, in my opinion, love that. That's what movies are for right there. (read the rest of this shit…)
VERN has a new action-horror novel out called WORM ON A HOOK! He has been reviewing movies since 1999 and is the author of the film criticism books Seagalogy: A Study of the Ass-Kicking Films of Steven Seagal and Yippee Ki-Yay Moviegoer!: Writings on Bruce Willis, Badass Cinema and Other Important Topics as well as the crime novel Niketown.