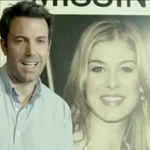 GONE GIRL is the new David Fincher popular fiction adaptation, another murder mystery but this time I guess you could say with a lighter touch than SEVEN, ZODIAC or THE GIRL WITH THE DRAGON TATTOO. Nick Dunne (Ben Affleck, PAYCHECK) comes home on his fifth anniversary to find his wife Amy (Rosamund Pike, DOOM) missing. They were unhappy and he's not good at faking it, so suspicion quickly falls on him. Meanwhile Amy had a tradition of leaving a series of clues for an anniversary treasure hunt, initially romantic, these days bitter and mean. While Nick and lead investigator Rhonda Boney (Kim Dickens, HOLLOW MAN) follow the trail of cute riddles, we start to see Amy's diary entries telling the story of their relationship from her perspective. And this may shock you but it eventually turns out that there's more to the story!
This is one that you really need to see without knowing any more than that, so I'm not even gonna attempt a spoiler-wary review. From this point on don't read unless you've already seen it or are mortally wounded and aren't gonna make it another 2 hours and 25. In which case thank you, I am honored and flattered that you chose to live out your last moments here on outlawvern.com. You know I hope this isn't too forward of me but if you don't have any heirs and it's not too much to ask maybe consider making a bunch of expensive purchases through my Amazon links before you kick. I really appreciate it man, thanks alot bud and good luck to you.
GONE GIRL is kinda like a couple different types of movies chopped up and put together. For a while it alternates between a grim murder mystery like you would expect from Fincher and a kinda smug romantic chick flick like you would expect not ever from Fincher. Pike has a pretty great performance that starts out as 3 parts charming, 1 part BLUE JASMINE obnoxious, morphs into cynical rebel and then full-on nut. She does a couple different accents and literally throws herself into the role physically.
In alot of movies there are these characters who are self-consciously witty, wealthy and successful, but self doubting. We're supposed to love them and relate to them, but there's a good chance we hate them. That's the kind of character Amy is, but it turns out we didn't know what we were talking about at all. She was way worse than we imagined!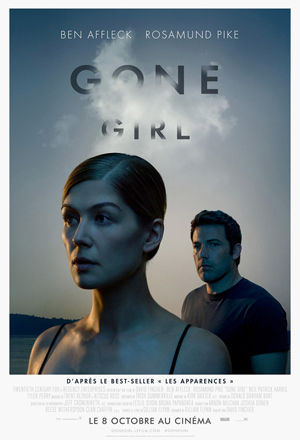 From the perspective of Amy's diary everyone talks like it's fucking Gilmore Girls, spitting rapid-fire barrages of cutesy wittiness in each other's faces instead of having conversations. But she's one of these unreliable narrators. I don't know if it represents how she really sees things or just how she wants to paint them, but her version seems to owe a debt to various women-aimed mainstream entertainment: romantic comedies, Sex and the City, Bridget Jones's Diary, Lifetime Television For Women movies about abusive husbands.
She's like a romantic comedy girl gone bad, Amelie using her quirky talents for evil. What starts as cute, romantic treasure hunts evolves into a revenge scheme worthy of The Riddler or Jigsaw. Or, shit, the Zodiac Killer. What are her clues but Zodiac letters on cuter stationery? Leading us around, trying to make us feel bad, feeling superior to us, flirting with getting caught.
She goes over the deep end but in a way she still gets her man back, just like in every romantic comedy. He goes on TV and tries to threaten her and she interprets it as the part at the climax when Heath Ledger or Owen/Luke Wilson or whoever makes a big speech in a dramatic public display, bares his soul and apologizes and she realizes it's true love after all. To Amy it's a happily ever after ending. I'm pretty sure Nick disagrees.
Nick is definitely a dumbass though. He is the one who ruined their marriage, first by moving them to Missouri (allegedly without giving her a say in it), then by cheating on her (with a dumb college girl who says she can't live another second without him, no less). But it's a pretty unbalanced he-said/she-said because when you see what she's up to how can you not think "Wow, he was right, she is a crazy bitch"? In comparison he's very reasonable.
Not that she's entirely unsympathetic. I agree with the celebrity defense attorney (a really good performance by Tyler Perry, though not as funny as he was in ALEX CROSS) when he says something like "You have to have a begrudging respect for her at this point." He seems to get a kick out of how messed up these two idiots are that he's getting all this money from, and the audience has to be kind of the same way. I certainly rooted for Amy when the dirtbags (Lola Kirke [sister of Jemima Kirke from Girls] and Boyd Holbrook [the recovering junkie kid in A WALK AMONG THE TOMBSTONES]) robbed her at the hotel, not wanting her to be stranded out in the middle of nowhere with no money, because then how are we gonna find out how far she is willing to take this nutty revenge scheme?
She's fun to watch sometimes. And then she's framing Neil P. Harris (STARSHIP TROOPERS 1) for sodomizing her with a wine bottle and the joke gets kinda old. Come on Amy maybe cool it there a little. You can't really take her as anything but a horrible, horrible person.
Then again I kinda sided with Eva Green in 300: RISE OF AN EMPIRE, and she was cutting guys' heads off and stepping over the bodies, so how can I judge her?
The satire of Nancy Grace and similar cable news murder case ghouls is kinda obvious, but clearly deserved. As we watch the movie it plays with us by taking advantage of our prejudices, of who or what we're likely to believe, and the media here does the same thing. They know even less of the facts than we do, but they still run with it to tell a good story. At the end, when Amy comes home and creates a new thrilling conclusion to the saga Detective Boney keeps pointing out huge holes in her story. Nobody cares. It's a good ending.
I think this is a good movie, because I really enjoyed watching it, it stays fun and unpredictable for almost two and a half hours. But I'm not totally sure at this point what I think about it. I feel 110% sure that if it was written by a man we'd all be pretty offended by the manipulative wife who goes to absurd supervillain extremes to not only fake her murder, but to frame two people for raping her. The husband's sins are hardly equivalent. He's a normal human type of asshole, just another scumbag cheater, not a psychotic mastermind.
So I'm a little torn about it. I can't quite shake the feeling that this sinister rape-faker story could be the paranoid fantasy of some numbnuts men's rights advocate. It just so happens that it's not, it's an imaginative thriller from former Entertainment Weekly writer Gillian Flynn, adapted from her own novel. And it wouldn't be fair to limit what she can write about just because she's a woman. It's not her responsibility to portray all women in a positive light, and if it was we could point to Detective Boney and Nick's twin sister Margo (Carrie Coon), two complex, intelligent supporting characters who come off as better humans than the lead couple. Not to mention that a very flawed, complicated woman character is more interesting than a bland perfect one.
I guess maybe the way to take it is as an illustration of how ridiculous some of these victim-blaming theories are, because it's pretty far-fetched what lengths she goes to to fake her attacks. She even looks silly doing it, rolling around on the ground splattering her own blood, planting forensic evidence like Jackson Pollock paints a canvas.
I've read that Flynn says she wanted to use the mystery genre as an excuse to explore what she was really interested in, which was relationships. That's the fun gimmick but at least in the movie version, in one viewing, I don't really know what it has to say about them exactly. That they start out great and quickly turn to shit because you're both dumb fucking crazy assholes so you're gonna resent each other and fight and lie and screw each other over and sleep on your sister's couch and one of you should actually for sure be in prison for life because jesus man and eventually Tyler Perry might show up? I don't know. That hasn't been exactly my experience.
I don't know. I don't detect any deep insights. But it's an enjoyably weird mix, an expert execution of the mystery genre and a twisted parody of the romance genre. It's creepy and thrilling and often funny. And Fincher brings the filmatism. He's one of those directors, no matter how minor he goes his mastery of the cinematic language and his worship of meticulous visual detail is gonna make us rub our eyes trying to figure out if it's high art or not. Not that it really matters either way. They're always gonna be worth watching.

Notes:
– What's up with Nick giving Margo the board game "Mastermind" at the very beginning? Was that really just a red herring to make us think one of them was masterminding something? Weird.
– Man, that hospital kinda sucks to let her go home still covered in the dried blood of the man she murdered. I guess they just really believed in the symbolism of her washing it off in front of her husband.
– There was at least one scene where Affleck looked way more ripped than in other scenes. You can probly pinpoint when he found out he was playing Batman.
– What do you think about him pushing her against the wall at the end, something he'd previously been falsely accused of? Is i t just to remind us that he's not a good guy? Or (more troublingly) is it supposed to suggest that she pushed him into becoming violent?
– For a while I was pretty convinced the cat did it.