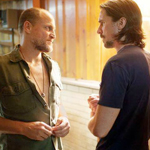 One movie that came and went during the "summer is over, time for some actor-y shit" period of 2013 was OUT OF THE FURNACE. This is the second movie directed by Scott Cooper, who also rewrote from a script by Brad Ingelsby (writer of the gratuitous American remake of THE RAID that apparently is still happening). Cooper previously directed CRAZY HEART, which was known as the Jeff Bridges Oscar movie, but it was also a good movie in its own right, so it was intriguing that he was doing one with Christian Bale next.
I feel like after we got used to him being Batman we kind of forgot how great Christian Bale is. It's a relief to see him being funny again in AMERICAN HUSTLE, but I also still like watching Earnest Christian Bale. And in this case Rugged Christian Bale.
This is one of those movies that fetishizes the working man shit. Working at the same steel mill your father did. Talking about car restoration. Scraping old cracked paint off the house. Your brother getting stop lossed again. Having an old bartender as a close family friend. Scruffy facial hair. Neck tattoos. Muscle cars. Dirty pickup trucks. Thick flannel shirts. Work boots. Borrowing money from your brother because you lost what you had betting on the horse races. And not even at the actual race track, but in a little room watching it on TVs. There is also some underground fighting with some twisted rednecks from the Appalachians, but unfortunately that is a smaller plot point than I had hoped.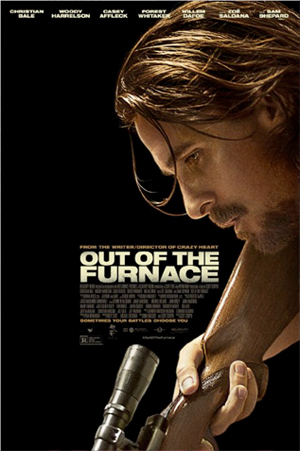 Somehow the trailer had me expecting another indie drama take on the underground fighting genre. I thought the little brother (Casey Affleck – brother of new Batman playing brother of previous Batman) disappeared into a world of bareknuckle fights and older brother had to infiltrate the circle to find him. And I thought Woody Harrelson was another fighter who ends up training him, sort of the grownups version of what he's doing in the HUNGER GAMESes. But that's totally wrong, the fights are a pretty small part of the movie and Harrelson's actually an evil shitbag from the opening scene on.
The movie opens in 2008 with Harrelson's character Harlan DeGroat abusing his date at a drive-in theater, then beating the shit out of a big dude that tries to intervene. Harrelson looks burlier than usual and acts meaner than he has since NATURAL BORN KILLERS. It's a good role for him, interesting to see him drained of all his lovable qualities.
But the best thing about the opening is that the movie they're watching is MIDNIGHT MEAT TRAIN. It  infamously got a shitty release, going straight to second run theaters, and only 100 of them. But it's definitely possible that it played drive-ins. Between this and SILVER LININGS PLAYBOOK (which had the title on a marquee as a Bradley Cooper in-joke) it seems that MIDNIGHT MEAT TRAIN is the go-to movie for 2008 period pieces. In the future it will become conventional wisdom that MIDNIGHT MEAT TRAIN was one of the most popular and most representative movies of the era. It will be associated with the oughts like SATURDAY NIGHT FEVER is the '70s or EASY RIDER the '60s.
Bale plays Russell Baze, a hard working steel mill worker in Braddock, Pennsylvania who in addition to the Rugged Christan Bale activities listed above spends alot of time looking after his fuckup veteran brother and his sick father. He has a real great girlfriend named Lena (Zoe Saldana) who he doesn't have enough time with, but he makes do.
He wishes he could just get his brother to work at the mill, but after war the kid is addicted to excitement or something. He does some bareknuckle brawling and borrows money from Petty (Willem Dafoe), a scary criminal guy. As soon as you see Dafoe you think you know what this character is gonna be like, but then he's different. He is genuinely nice to their family. There's a big scene of Affleck harassing him to call and set up a dangerous fight for him, and Petty keeps telling him over and over again why he doesn't want to do it for him. Unfortunately he does. It's a motif in this movie, these guys refusing to be talked out of the stupid things they do to themselves.
But a big mistake one night puts Russell in prison so of course Rodney gets himself into bigger trouble in his absence. He runs afoul of that DeGroat guy and disappears. When Russell gets out he tries to find him.
Bale, Harrelson and Affleck get the showiest roles, but I would like to give some respect to Forest G.D. Whitaker as the police chief and new man for Russell's old girlfriend. He's kind of a wimpy guy and in a horrible spot, but he tries to do right thing. There's kind of a sadness to him too, he's resigned to being the more responsible but not as cool man for Lena.
I was with it for a while. The characters are interesting, the performances are all good, it's got a strong, gloomy atmosphere and mood. But after watching their journey I felt like it didn't amount to much. The feel is not at all like David O. Russell, but it reminds me of his last couple movies in that it's more about a bunch of great actors exploring characters off of each other than it is about the story. Maybe it would work better on another viewing, or with different expectations, but it seemed to me like it didn't quite come together in the end. More interesting than good. I'll be interested to hear if any of you like it more than I do.
There are many elements here that we look for in a genre picture. There's some revenge, some guns, tough guys facing off, taking justice into your own hands, infiltrating a dark underworld, organized crime, etc. These are all kind of muted and not really the point of the movie, but there are some great moments. I really like Sam Shepard as Russell's grizzled uncle who goes along as backup. He seems skeptical that this is the right thing to do but wanting to protect his nephew if he can.
But my favorite parts don't really have anything to do with the revenge and all that. The best scenes are the heartbreaking ones. The scene where Russell's driving home from the bar and hits a car backing out of its driveway is one of the most upsetting car crashes I've seen in a movie. It's got the usual horror of happening suddenly and leaving him bloody and disoriented. But then he stumbles over to the other car and it's not about what happened to him, it's about the guilt of what he's done. It leaves you hanging for painfully long. I was relieved when it cut straight to him being in prison for it instead of making us deal with any of the pain in between.
The very best scene in my opinion is when he's out of prison and his girlfriend has left him. He follows her (it's one of those movies where you can park in cars and spy on people and you're invisible) and then approaches her and tells her he wants her to come back to him. She tells him why she can't, but she clearly wants to, and he tells her how happy he is for her while clearly crushed. Two people ignoring their hearts to do the responsible adult thing.
Maybe it's the limitations of my tastes that I feel like this movie would need stronger traditional genre elements to really work. It seems like all the stuff I appreciated about it should be enough, but I still feel like it's not quite there. I don't know, it's interesting at least.
Also it's pretty cool that a butt dial is an important plot point. You guys know I want there to be a thriller called BUTT DIAL about somebody that overhears a murder because of a butt dial. BUTT DIAL is copyright Vern 2014.