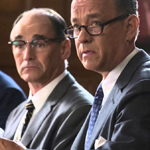 It's like a whole bridge full of spies. Or at least, there are a couple spies on this bridge. It's the climax of the story, two countries meeting up one cold night to trade prisoners. I guess that's where the title comes from.
Tom Hanks plays James Donovan, who is not a spy. He's just a lawyer who, through luck, foresight and principles, ends up rescuing a downed American spy pilot in this true Cold War story.
When we first meet him Donovan seems far from an American hero. He's an insurance company lawyer in a bar having an argument where he's comparing motorcyclists run over by a truck to bowling pins. But when the Russian spy Rudolf Abel (Mark Rylance, BLITZ) is captured, somebody (Alan Alda) decides to give Donovan the shit job of defending him. What nobody expects is that he will take the job seriously.
They tell him he should defend Abel to show that America believes in giving everybody a fair trial. But of course none of these people want to actually give him a fair trial. They're angry and confused when Donovan tries to, like, do his job. But his attitude is that if we're gonna brag about what we stand for then we should put in the work to actually stand for that.
I gotta be honest, if I didn't know this was a Steven Spielberg movie I would never have seen it. The trailers and the poster really make it look like a chore. You can picture the righteous speeches and triumphant music as a Regular Man stands up for noble ideals in court rooms and wintery period settings. And don't get me wrong, this is a movie for grown ups. It is a 2 hour, 21 minutes drama starring Tom Hanks about the Cold War and the idea of America. That is true. But it's way more fun than the trailers make it out to be. It's not that dry, and it's got plenty of laughs. It's entertaining. It's Spielberg.
One selling point that's not really emphasized in the advertising, but that's crucial: the Coen Brothers worked on the script (along with a guy named Matt Charman), and you can tell. Like in all of their movies there are conversations and lines that are funny just because of the unique choices of language. And there are repeated phrases and odd character moments. If it was a movie the Coens directed I think maybe the emphasis would be more on a guy foolishly getting in over his head and accidentally doing the right thing, less on a brave underdog standing up for what's right, and that would be funnier. But Spielberg finds a nice in-between that works for him.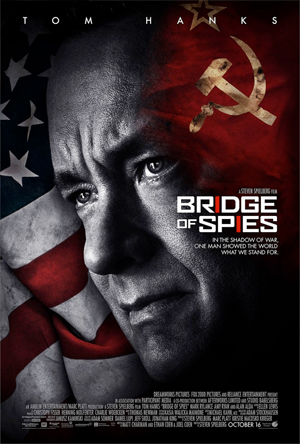 It's not the same as pure Coens, but it's a treat to have this novelty combo, the Coen wit without the cynicsm. When Donovan tells off a CIA guy trying to get him to do some sneaky shit it's like a Coeny version of a righteous Aaron Sorkin speech about what America stands for.
Occasionally the music by Thomas Newman tips it a little over to the corny side. Not too bad. Some of it's good.
It's not a spy movie in the traditional sense, but there is a little bit of spycraft on display. The opening kinda reminded me of MUNICH. And it's definitely a thriller, not just because he's getting followed around and shit but because once Donovan finishes the trial he ends up on a secret mission to secure the release of the captured U2 pilot Francis Gary Powers (Austin Stowell, WHIPLASH), sneaking around Berlin with people he can't trust while the wall is going up. Donovan proves himself an extraordinary person, but he's also a regular guy, a schlub who looks kinda like Nixon and has a wife (Amy Ryan) and kids who can't really keep up with him and just think he's embarrassing them. (I was surprised how moved I was when SPOILER they finally caught on.)
Rylance is a standout playing a character who remains calm and wry despite the deep water he's found himself in. We first see him a free man working on a painting, and his demeanor never really changes from that. He kinda acts like he knows he's doomed and it's not worth stressing out about. He's a man of few, precise words and expressions. He and Donovan have a good relationship because they see each other as honorable men following their own codes. It doesn't matter that they're on opposing sides as long as they're playing by the rules. They just have to convince everybody else to do the same.
In a way it's kind of a statement just to be making a movie about a heroic negotiator. One party in our country demonizes the president for negotiating a deal with Iran. During the presidential campaign Sarah Palin and others criticized Obama just for saying he would meet with leaders of "enemy" countries to try to, like, work shit out. That is one problem in our country, that it's seen as immoral and treacherous to try to solve problems. And you kind of have to do it like Donovan in the movie, just stand by your principles and do what needs to be done and hope they don't hit any of your kids when they do a drive-by on your living room.
I have enjoyed some of these movies about the courage of soldiers, but we need some balance to that. Here's a movie about a guy saving lives without having to end other lives to do it. Text at the end mentions the hostages he later got released from Cuba. When he did that he also refused the CIA's plan to have him poison Castro! For defending the rights of this spy he gets ridiculed and threatened, in one case by a police officer who gets in his face and talks about having been at Normandy. Of course, Donovan is in a very real way defending the American ideals that that soldier would also say he was fighting for. It's easier for people to wrap their heads around good guys killing bad guys. Any other approach raises suspicions.
I guess I would consider this Minor Spielberg, but it would be Major Most-Other-Directors. A good story, solidly crafted, with something to say about the past and future of our country. Some grouches who don't like Spielberg would accuse him of spoon-feeding us these types of sentiments, but I don't think that's usually the case. I think he's just so good at the language of film that he communicates ideas very clearly. If you've seen BRIDGE OF SPIES, think of the moment in the very end when he's on the train and he looks out the window and sees some kids playing. There are no words used, but everybody knows exactly what Donovan is thinking about. It's reminding him of a horrible thing he saw in Germany, and then he's remembering why he's here and what he's fighting for. He can see Abel as a friend who happens to be on the other side instead of as an enemy, but he also knows that this really is the system he believes in, not just the team he happens to be on because of where he was born. And he fought for the principles that this country was founded on, even when no one else would, when everyone hated him for it, and he was right to do it, because those kids are playing, and not getting shot at, and he wants it to stay that way.
That's a pretty profound idea to communicate just through a couple of shots of a guy looking out a window. But that's Spielberg. He's not fuckin around.