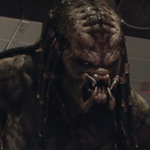 I didn't get to see THE PREDATOR until after the world had already estimated its coordinates somewhere in the hostile territory between disappointment and disaster. Maybe that prepared me for the sloppy last stretch (it seems like some connective tissue must've been lost in editing or reshoots) and a thudding comedy riff or two involving a character with Tourette's. And I guess a couple subpar quasi-science discussions, sometimes involving "the spectrum." Also, is it just me or are these people weirdly unsurprised to see aliens?
But everything else in the movie tears its gear off and covers itself in mud to prove it's a true warrior of entertainment. This is a funnier Predator movie, one full of joyful, gory mayhem, clever dialogue and inventive action beats. Let me give you an example from the opening. Decorated army sniper Quinn McKenna (Boyd Holbrook, JANE GOT A GUN) witnesses the crash of a Predator ship and pulls an extra-terrestrial helmet and gauntlet out of the wreckage before catching a glimpse of the camouflaged alien pilot (6'9 1/2″ parkour artist Brian A. Prince) stringing up another soldier. Panicked, McKenna accidentally fires the wrist weapon, slicing his friend's corpse in half and dumping intestines and blood onto the cloaked Predator, revealing its location and appearance.
I mean, you love that, right? I love that. We all, in my opinion, love that. That's what movies are for right there.
Having told a dirty joke and then been slaughtered by the original 1987 Predator, Shane Black's ghost has re-materialized behind the camera as director and reunited with his MONSTER SQUAD co-writer Fred NIGHT OF THE CREEPS Dekker. And there's as much of a feel of their other work as of PREDATOR – the invasion of fantastical forces into the lives of normal suburban type people; a smart outcast kid (Jacob Tremblay, THE SMURFS 2) stressed by bullies and his parents' divorce; a holiday (Halloween this time); a band of primarily male misfit underdogs on a secret quest with a little help from some monsters.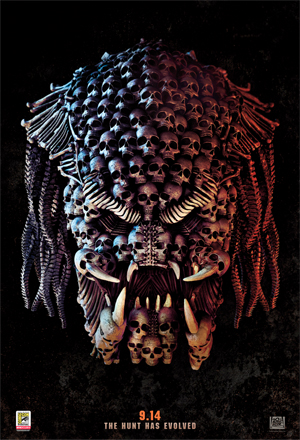 Holbrook made for a magnetic villain in LOGAN, and though his performance here does not seem to be setting the world on fire I think he carries the cynical badass hero role well. Weirdly he replaced Benicio Del Toro, who had been signed up until a scheduling conflict (maybe with SICARIO 2?) took him out. It's hard to imagine that version. Anyway, McKenna becomes the sort-of-leader to a Bad News Bears of escaped military mental patients when the nefarious Project Stargazer dumps him into their therapy group to discredit his eyewitness testimony. The patients believe him for the simple reason that their bus happens to drive past just as the captured Predator busts out of a lab and runs across the roof like Tom Cruise. They also pick up Evolutionary Biologist Who Knows Too Much Dr. Casey Bracket (Olivia Munn, DELIVER US FROM EVIL), a scientist willing to go toe-to-toe with a Predator, even leap and hang onto his shoulders like a toddler to try to take him out. She can definitely hang, though there are maybe some questionable choices made in joking about her fear of what these fugitives might want to do to her.
The truth is they're total sweethearts except when it comes to indiscriminately blowing up and slashing the throats of people working for this sinister UFO-chaser organization trying to kill them. Sterling K. Brown (Christopher Darden from The People v. O.J. Simpson) plays Traeger, a cocky, Nicorette-chewing smartass villain who seems to be having fun tormenting innocent people as his job. In a particularly inspired moment he puts on cool sunglasses to board his first UFO.
Of the team of badasses, Trevante Rhodes (MOONLIGHT) is the most excitingly charismatic, even if his above-averagely-named Nebraska Williams doesn't get a huge amount to do. Keegan-Michael Key (DOLEMITE IS MY NAME) gets to tell jokes and Thomas Jane (THE CROW: CITY OF ANGELS) is funny when not saddled with the Tourette's stuff. By the way, in my experience if you tell someone after the movie that his character is named Baxley because STONE COLD/I COME IN PEACE/ACTION JACKSON director Craig R. Baxley was the stunt coordinator and 2nd unit director for the original PREDATOR, they may roll their eyes at you. FYI.
(Stunt coordinator/2nd unit director for this one is Lance Gilbert, who used to be a stunt double for Mel Gibson and Paul Walker.)
One of the few things I enjoyed about the A vs. P duology was trying to distinguish the different Predators as individuals, watching what they were doing between kills and trying to understand what's up with them. THE PREDATOR has a whole I COME IN PEACE style inter-alien conflict going on, and I love that. Meanwhile the kid figures out how to operate Predator-tech and wears its giant battle gear for trick-or-treating. And remember in PREDATOR 2, the shot legendary to anyone who has ever been a 13 year old boy where the Predator rips a guy's spine out in the subway tunnel? Black doesn't forget to represent that important aspect of their culture. They're popping off heads, throwing people through walls, ripping off limps, crushing skulls… just having a great time during their visit, you know? They even use those big spider teeth on people! It seems impossible but others have corroborated my belief that somehow we've never seen them do that before.
Reportedly a cameo was offered to Arnold, but he didn't want to come back only for a cameo. I wondered if they offered Danny Glover? I feel like I would be almost more excited to see him reappear. He impressed the Predators so much they gave him a trophy. But I suppose on the Predator timeline he's 7 years older than even current day Danny Glover, i.e. too old for this space shit. There is a minor tie-in to part 2 in that Jake Busey plays a character with the same last name as Gary Busey's character, and working in a related field.
And I didn't catch this at all, but apparently Francoise Yip (RUMBLE IN THE BRONX) is in there somewhere as "Tracking Supervisor" – so is that her same character from ALIENS VS. PREDATORS REQUIEM? A kind gesture to those movies, I guess.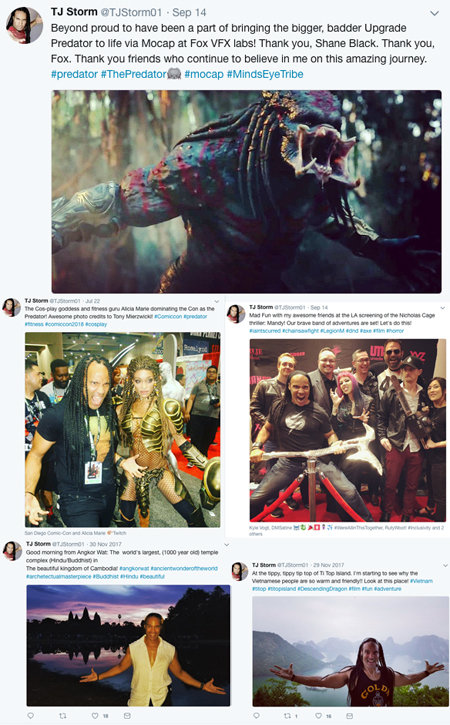 I'd bet one thing people wanted form this that they didn't get was a "BIGGER, BADDER" Predator movie. And they did this in one sense. I guess this is a SPOILER but I knew from the trailers that there is a Predator that's like ten feet tall or something. So that's a plus. He does some funny shit. He is not a guy in a costume, and I learned from Twitter that the martial artist TJ Storm (BLACK COBRA, THE MARTIAL ARTS KID, KICKBOXER: VENGEANCE) did some of the mo-cap for him. I thought that made alot of sense because the pose in the still Storm used reminds me of his poses in all the photos he posts from vacations, red carpets and comic-cons.
Anyway, yeah, there's a big ass Predator. But kinda like how THE TEXAS CHAIN SAW MASSACRE has never been only about Leatherface, the greatness of the Predator series was never just about the Predators. PREDATOR is both a prime example and a smart deconstruction of the pumped up state of action movies in 1987. It's about the sweaty muscles of Schwarzenegger and Weathers, the growling macho of Ventura and Landham, the preposterous arsenal of gigantic guns firing what seems like 100 million rounds into some trees for five minutes… and not hitting one god damn thing. It's also about the location – the pitiless heat of the jungle, where the human war going on is only the second most violent current event. And PREDATOR 2 has its own amped up vibe in its then-near-future Los Angeles where police pretty much wage a guerrilla war in the streets with heavily armed gangs, and Morton Downey Jr. runs around reporting on it.
THE PREDATOR has a totally different thing going on. It repeats the ensemble approach, but intentionally undercuts their heroics with humor instead of erecting them as fifty foot iron statues like Schwarzenegger and Glover. And though the wonderfully bombastic score by Henry Jackman (ABRAHAM LINCOLN: VAMPIRE HUNTER) helps make it feel like the same world as part 1 and 2's heightened hellholes of hostility, it's just, like, the place that E.T. landed. Which is intentional, and funny, but if you demand bigness or badness, you will be deprived. If you just want to see a Predator bite a guy's head, though, you're in luck.
Personally I'm into it. I definitely see some of MONSTER SQUAD's lovable Little Rascals spirit in the bonding between these goofy fuckups and even McKenna's ex-wife (Yvonne Stahovski, I, FRANKENSTEIN), who hears what's going on, produces a rifle in about 2 seconds and demands to help. I like that every Predator movie has a different approach. I just hope this won't be the last one.
This entry was posted on Wednesday, September 26th, 2018 at 11:36 am and is filed under
Action
,
Reviews
,
Science Fiction and Space Shit
. You can follow any responses to this entry through the
RSS 2.0
feed. You can skip to the end and leave a response. Pinging is currently not allowed.