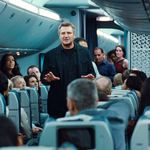 So far I think I like the idea of Liam Neeson action vehicles more than the actual execution of them. Both TAKENs were fun, but with post-actiony scuffles and not as tight of storytelling as I prefer in a formula revenge movie. UNKNOWN from what I remember was kinda fun, but what was it about again? He was playing an amnesiac I believe? Yeah, that's about how I feel about that one.
By far my favorite of this cycle is THE GREY, but that's because it was all about manly drama. Most of the actual action (anything involving wolves) was as indecipherable as they come. So I came to his new airplane suspense thriller (from UNKNOWN director Jaume Collet-Serra) pretty jaded, but I enjoyed it more than expected.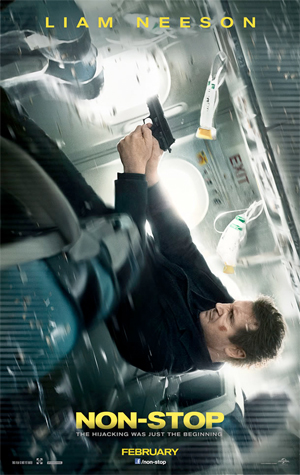 Neeson plays depressed grieving alcoholic air marshal Bill Marks, who starts getting threatening text messages during a late night flight to London. Somebody seems to know alot about him, and they seem to be on the plane, and they're threatening to kill someone on the plane every 20 minutes until $150 million is transferred into an account. Of course, people do start turning up dead, and he's trying to figure out who's responsible (he does a whole lot of watching people to see if they're texting) and how to stop them.
I've never been on an international flight, do they really give you this much room? Not only is there a "business lounge" and a decent-sized flight attendant hang out area, there's so much legroom! They can lean their seats all the way back. One couple even screws around. And they never seem to be pushing carts down, blocking the aisle. Not claustrophobic. It's an impressive set because the camera is able to float through it freely, it looks like it's really inside a plane but it never feels like it's gonna bump its head on the overhead compartment.
That said, there's no bar like there would be on a train, so Bill has to go into the bathroom every time he wants to sit and brood with a drink. Also, it's still a plane, there's no room to crawl under the seats like he told his daughter to do under the bed in TAKEN. So he's fucked.
It's big for a plane, but for a movie setting it's very contained. It's always fun to take such a limited setup and then cram it full of complications: drugs, bombs, traitors, a set up. He has previous relationships with a flight attendant, the pilots, another air marshal, and people he talks to over the radio. He develops new ones with an asshole passenger who keeps annoying him, the crazy lady who trades to sit next to him (Julianne Moore, ASSASSINS), and various others on the plane. You get to know way more people than you would get to know on an actual flight. Even the guy who's gonna play Dr. Dre is on there as a sullen teen. There's kind of a message to how it develops these characters: the camera stops on their grimacing features many times, casting them as suspects before we find out who they are. Profiling.
As a whodunit it worked on me. The first major twist caught me by surprise and I munched on at least one of the red herrings. [SPOILER: that the pilots make him talk to someone on the ground who he doesn't know and then he keeps answering the phone instead of calling convinced me that the pilots were in  on it and having him talk to a fake person] By the end I didn't care that much about who did it, and didn't completely understand the plan of the revealed perpetrators. But unlike in actual air travel it's the journey that matters, not the destination.
Another mild spoiler: I kept thinking Academy Award winner Lupita Nyong'o was gonna be the bad guy, because she plays a flight attendant and barely has any lines. But of course it's just because they had no idea she was anybody when they filmed the part. At least she's not dancing around, spinning a basketball and singing into a comb like Jamie Foxx in STEALTH right after his Oscar.
This is about as post 9-11 as a thriller could get, because not only the subtext but the premise are dependent on the world created by those assholes that did that thing back then. Because of what happened on that day everyone on planes has to consider that a hijacker might want to crash the plane and therefore it's very reasonable for the innocent passengers to think they have to risk their lives to kill this guy with the gun. They have every reason to worry that he's the bad guy. At one point you really wonder if he's gonna have to beat up every passenger on the whole plane.
Incidentally, the little bit of fighting in the movie is pretty cool. I like the fight in the bathroom. Talk about close quarters. Very fast and blunt, like early Seagal hand-to-hand.
What really impressed me though is the war on terror satire. You got a good idea that Neeson is right about this, but it's still really uncomfortable to watch a guy go so overboard in his investigation while the movie seems to be telling you he's the hero. He makes everybody in the plane put their hands on the seats in front of them, questions and frisks people, looks at their phones to see who they called last, threatens people who hesitate to cooperate, pulls his gun on people. They all feel violated and threatened and don't trust him. They keep demanding to know what's going on, and he keeps lying or avoiding the question, making people more and more upset.
In a way though I suppose that's a pretty optimistic take on the state of America. Another way to do it would be to have him terrorize the people like that and everybody is okay with it.
One of the three credited writers, Christopher Roach, previously worked as a writer for WWE. So this coulda very well ended up starring Triple-H and Parker Posey. Director Collet-Serra has yet to deliver on the weirdo promise of ORPHAN, but this is good enough for me to keep giving him a shot.