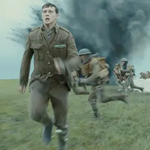 I've never been a war movie guy. I'm not actively against them like when I was young and rebellious and thought they were propaganda, but I don't seek them out. Of course there are some great ones, but I wasn't in the market for Sam Mendes, director of AMERICAN BEAUTY and AMERICAN LONE WOLF AND CUB (and producer of Shrek: The Musical) doing his take on DUNKIRK. So when I saw the trailers for 1917 I wasn't buying.
That is, not until they started playing little featurettes showing off that Roger Deakins (THE MAN WHO WASN'T THERE, JARHEAD, NO COUNTRY FOR OLD MEN, THE ASSASSINATION OF JESSE JAMES BY THE ETC. ETC., PRISONERS, BLADE RUNNER 2049) is the cinematographer and he did it all in connected long takes. Okay, that I'll watch. I'm into shit like that.
I thought it was funny that in the interview Mendes says that when they looked at the script they realized that was the way to tell the story – as if there was some way to have written the script not planning that. What are you, a pro-wrestler, you gotta tell obvious lies to make the story sound better? Be honest with me Mendes. (read the rest of this shit…)
VERN has a new action-horror novel out called WORM ON A HOOK! He has been reviewing movies since 1999 and is the author of the film criticism books Seagalogy: A Study of the Ass-Kicking Films of Steven Seagal and Yippee Ki-Yay Moviegoer!: Writings on Bruce Willis, Badass Cinema and Other Important Topics as well as the crime novel Niketown.