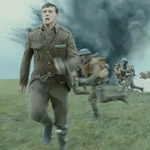 I've never been a war movie guy. I'm not actively against them like when I was young and rebellious and thought they were propaganda, but I don't seek them out. Of course there are some great ones, but I wasn't in the market for Sam Mendes, director of AMERICAN BEAUTY and AMERICAN LONE WOLF AND CUB (and producer of Shrek: The Musical) doing his take on DUNKIRK. So when I saw the trailers for 1917 I wasn't buying.
That is, not until they started playing little featurettes showing off that Roger Deakins (THE MAN WHO WASN'T THERE, JARHEAD, NO COUNTRY FOR OLD MEN, THE ASSASSINATION OF JESSE JAMES BY THE ETC. ETC., PRISONERS, BLADE RUNNER 2049) is the cinematographer and he did it all in connected long takes. Okay, that I'll watch. I'm into shit like that.
I thought it was funny that in the interview Mendes says that when they looked at the script they realized that was the way to tell the story – as if there was some way to have written the script not planning that. What are you, a pro-wrestler, you gotta tell obvious lies to make the story sound better? Be honest with me Mendes.
It's a simple idea. Lance Corporals Blake (Dean-Charles Chapman, THE COMMUTER) and Schofield (George MacKay, DEFIANCE) are sent on a mission to deliver orders to a general. They have to call off an attack because the general thinks they've got the Germans on the run, but new aerials show that it's a trap and they'll get massacred. Blake was chosen because he has a brother there and will take the job very seriously. Schofield was chosen because Blake brought him along when he went to get his orders, not knowing it was gonna be something so serious. Gulp.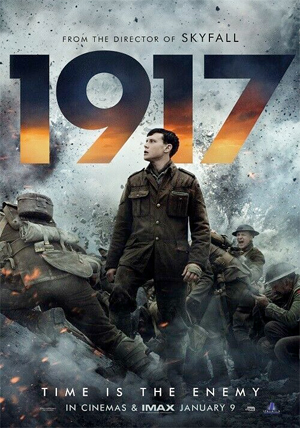 So you watch them hustling the wrong way through the trenches, bumping into people, pushing people, asking to be let through, touting their orders from the general, offending people by accidentally stepping on their dead colleagues. You watch them climbing through barb wire, trekking across mud, traversing no man's land like Wonder Woman and War Horse before them. (They walk past a couple dead war horses, and also Benedict Cumberbatch is in the movie. I haven't looked it up, but for sure it is the same character and part of the WHCU.) They hide from planes, watch distant dogfights, get real fuckin unlucky about being in the exact wrong spot whenever some shit goes down. They search abandoned German trenches, always nervous about who could be around each corner.
Alot of it is like a post-apocalypse movie. War is a traveling apocalypse.
There are definitely some parts that reminded me of SAVING PRIVATE RYAN, especially when Schofield is blindly exchanging gunfire with an unseen sniper in an abandoned village.
The scope of the production is incredibly impressive. Occasionally there are more obvious digital enhancements – flies, rats, a Marvel-style shot following Schofield as he leaps into water – that are a little distracting, but not dealbreakers. I like when he wakes up at night, the sky glows orange from nearby fires, and flashes in the sky make huge streaking shadows from the shards of structures around him. Deakinsville.
It actually simulates two shots, not one. So you wouldn't be able to make the entire movie into a GIF and post it on One Perfect Shot. There's a part where he blacks out in the middle, and they take advantage of the opportunity to skip over some time. Hopefully there will be an extended cut where it just stays on him the entire time he's laying on the floor unconscious. There were many parts where it seemed obvious to me that was the cut, but they can make it pretty seamless with these fancy movie computers they use now days. The only one I thought was silly was when he comes up and meets Mark Strong and they go into a little house and come out the other door and the camera stays outside and pans along the outside wall of the house. But you can see that it would've been faster to walk diagonally and not go inside the building at all. I don't think there was a reason for them to go in there except to a hide a cut, but I forgive them.
I think the gimmick is effective, because it's a new way to vividly paint a portrait of the horrors of war. You follow them walking and walking and walking and walking through the soldiers camped out waiting for battle – it's alot of god damn soldiers. And when they do get away from the others and walk through the areas that are abandoned because of the war they never stop walking past dead bodies in pits or poking out of the side of hills or piling up clogging a dam.
If you saw the trailer you know there's a part where he's running sideways across a field of rushing soldiers, barely dodging the people and explosions and flying debris and things. At one point he falls and does a nimble somersault and keeps going. The scene reminded me of watching those clips of O.J. Simpson running with the football. Not that this guy is gonna turn out like O.J. I mean, it would've had to have happened a long time ago. We'd know about it.
There's something I should mention but it's a BIG-ASS SPOILER IN THIS PARAGRAPH. I think they were trying to pull a Janet-Leigh-in-PSYCHO type move treating Blake as the lead and then killing him, forcing Schofield to take the reins. Unfortunately I'd seen the trailer a bunch and most of it only focuses on Schofield by himself, so it didn't trick me. Blake looked like the sidekick the whole time. But I like the dynamic of Schofield trying to slow down and think things through while stubborn Blake insists on immediately hauling ass to save his brother. Blake is also the one who attempts to save the downed German pilot instead of killing him, and he gets stabbed to death for his efforts. That kind of seems like a nihilistic message – mercy won't redeem you, it'll get you killed – but maybe it's just more evidence that war is, pardon my French, the absolute pits.
AH SHIT, MORE SPOILERS THIS PARAGRAPH. There's a part where he comes across a platoon in the woods gathered around a guy singing some kind of Celtic type song, reminded me of LORD OF THE RINGS. By this point he's so exhausted, but he hasn't achieved his goal. I like that once he delivers the message, saves the day and is complimented on a good job (kind of a "That'll do, pig" moment) he does not seem relieved and you realize he still has to find Blake's brother and tell him what happened. Again it's hard to believe the dramatic timing of how he finds him (and that people know who he's talking about when he says his name) but it's hard not to be moved by the heartbreaking conversation they have.
The National Hockey League was founded in 1917, and Ernest Borgnine and Thelonious Monk were born, but I guess it makes sense that they didn't really get into those things in the theatrical cut. The Battle of Aqaba also happened that year, so hopefully somebody will do a fan edit combining this with LAWRENCE OF ARABIA. I guess I don't really know how they would make it look like one shot.
Speaking of edits, I looked it up and the Critics' Choice Awards, plus a whole bunch of critics groups (including two I was rejected from), nominated 1917 for best editing. The Hollywood Critics Association even gave it their award! I understand it required careful planning and FX work to hide the edits but come the fuck on, man. Clearly the intent of such awards is to recognize the power of rhythm, pacing, juxtaposition, etc. on cinematic storytelling. Not just pulling off this one type of sleight of hand. I mean, imagine how much more thought and experimentation editor Lee Smith had to put into his non-one-continous-shot movies like DUNKIRK, INCEPTION, THE DARK KNIGHT, THE TRUMAN SHOW, ROBOCOP 2, DEAD-END DRIVE-IN and HOWLING III: THE MARSUPIALS. Have some respect.
I was thinking it would be cool if this was the origin story prequel to Alfred Hitchcock's ROPE, but by my math Jimmy Stewart was about 18 years too young to be the same guy having changed his name and become a prep school headmaster who solves mysteries on the side. Despite that enormous oversight, this is a decent movie.