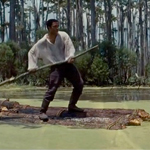 We all know the grand American tradition of the movie about the black man but in the POV of the white man. It's the story of the civil rights struggle and the brave white FBI agent or country lawyer who stood up and made a difference, or the spunky white lady who gave the mistreated black maids of Jackson a voice, but with her name on the cover. These are well-meaning, sometimes good movies, but they're suspect in assuming the audience can only follow if they have a white surrogate on screen. They don't trust us to put ourselves in the shoes of black characters. If Spike Lee hadn't made MALCOLM X I bet it would've been about a white dude trying to understand Malcolm X, or giving him his ideas.

Steven Spielberg's AMISTAD is one of the best of these types of movies, the story of a bunch of white people arguing a court case over a group of kidnapped Africans, debating property law with the "property" sitting right there in the court room. Chiwetel Ejiofor from REDBELT made his big screen debut playing Ensign Covey, a free man whose knowledge is crucial in winning the case. Now, in 12 YEARS A SLAVE, the great and upsetting movie from director Steve McQueen UK (SHAME, HUNGER) and writer John Ridley (UNDERCOVER BROTHER), Ejiofor plays a similar character with a much worse fate.
Solomon Northup is a free and educated gentleman living comfortably in Saratoga Springs, New York with his wife, two kids, a violin and a top hat. But some scumbags (Scoot McNairy and a guy from Saturday Night Live) pretending to be interested in his musical talent are able to abduct him and others and sell them as slaves in Louisiana.
And here's the thing: the movie follows Solomon. He even has a white friend who the movie could've been about, trying to find out what happened to his friend and rescue him. But it's about Solomon.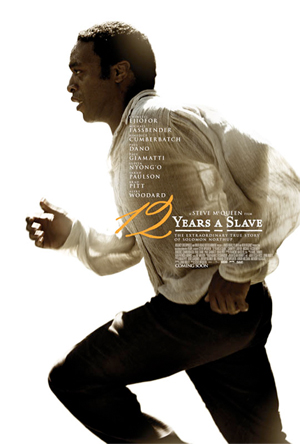 To get away with it the kidnappers convince him to come with them to Washington DC, where he'd have to carry his "free papers" to prove he's a free man. All they have to do is separate him from those papers and lie about who he is and he has no recourse. There's a haunting shot where his unheard cries echo from a barred window within sight of the Capitol.
If you never want to hear Paul Giamatti say the n-word, by the way, don't watch this. He has a brief appearance as the guy that sells them. Probly not one of the more enjoyable cameos he's done.
The enslaved in this movie are different from most depictions, partly because many of them haven't lived their whole lives this way. They are eloquent, even poetic. But the slavers beat and terrorize them until they're afraid to speak. When they're first abducted Solomon and the others buy into an idea of slaves being different than free men. They want to try to escape the ship they get transported on but they assume they can't count on any of the other people onboard because they're "niggers" and will be too afraid to fight. (They must've heard that famous Chris Rock routine.) But they soon learn what it's like to be that scared.
We see how Solomon stubbornly tries to maintain his identity – not responding to the new name they give him, asserting his knowledge of the correct way to build a house, demonstrating a better way to transport lumber through the swamp, even grabbing the whip from an overseer and defending himself – until he realizes that this endangers him. He eventually crumbles and begins to hide, even deny his intelligence.
Solomon is not allowed to be Solomon. He's forced to beat a woman, to miss his children growing up, to hide his intelligence, to lie about his education and abilities, to hide his past, his name. White people call them animals, then get mad at them for not fitting the description.
He doesn't want to take it like anyone else. He doesn't want to find solace in religion and music, like you always hear about. In one unique scene he sits silent through a long closeup before he finally joins in on the singing. I think he doesn't want to just be another member of the group. He doesn't want to give up on being a unique individual. But eventually he has to take the plunge.
His first owner (Benedict Cumberbatch) is one of these MANDINGO style "nice" ones. Solomon describes him as a "good man" (as the real Northup did in the memoir this is based on) but McQueen doesn't let him entirely off the hook. At best he's too wimpy to stand up for Solomon, whose talent and correctness he's more aware of than the other white people around. Paul Dano, who specializes in playing little shits who demand a hard kick to the nuts with every smarmy sentence out of their mouths, is an overseer who can't stand  to be outsmarted or shown up by this slave, which is gonna happen alot because Solomon is way smarter than this chump. So he looks for every excuse to whip or kill him.
There's something vivid and true about Dano's depiction of hatred. Obviously it comes from this monstrous racist system, but also it's recognizable as one of those dumb assholes you meet sometimes, they hate you for some reason you don't even know and they will not let it fucking drop. Remember, he pulled this same type of shit on Daniel Craig in COWBOYS AND ALIENS, so you can only imagine how bad he gets when you throw white supremacy into the equation.
McQueen likes to bluntly show the audacity of people believing in their own religious righteousness while involved in a wicked system. Cumberbatch is a preacher who performs an outdoor church sermon for everybody on his plantation. One time it's juxtaposed with the sound of Dano singing a racist folk song, another time you hear a woman sobbing the whole time, still mourning that her children were taken away from her days or weeks ago (it turns out that the white lady was wrong when she told her she'd forget all about them after some food and rest). At first I assumed it was just playing the sound of one event over the footage of another, like the earlier scene. Then we see that she's sitting right there with the congregation, bawling non-stop. The service just goes on anyway.
This is a time and place so evil that most of the good things that happen are done by accident or for the wrong reasons. When Solomon is rescued from being lynched it's more of a "that would be a waste of resources" than a "stop, murderer!" And even his rescuer leaves him dangling by the neck, standing on his tip toes in the mud. McQueen shows this in an agonizingly long static shot like it's a Michael Haneke movie. Worse, a group of slave kids play nearby, not even paying attention to it. They're used to this kind of shit, obviously. Unimpressed. That's the world Solomon is trapped in, and the best his "good man" master can do is say that it's not safe for him here and send him somewhere even worse.
Of course, Cumberbatch sends him to his fellow British-actor-from-the-British-Isles-who-is-in-pretty-much-every-movie-now-being-released Michael Fassbender as Epps, an even more hateful bastard than the one Dano played. This part actually has alot in common with MANDINGO, because Epps is obsessed with a young slave girl named Patsey (Lupita Nyong'o, who's gonna get an Oscar nomination I bet) who picks the most cotton of anybody but he obviously has other interests in her. He has a jealous wife Mary (Sarah Paulson) who sees right through him and takes it out on poor Patsey. Any time Mary stops her husband from doing something bad to Solomon it's just part of their petty domestic dispute and not the result of actual kindness or honor. And he can't always count on that happening.
By historic necessity the plot does hinge on a nice white man, and he's played by producer Brad Pitt in LEGENDS OF THE FALL long-haired hunk mode with abolitionist beard variant. He's a carpenter from out of town who Solomon hears expressing anti-slavery views to asshole Epps so he risks telling him his story. This movie is so bleak I was worried even this Caucasian angel wouldn't help, but mercifully he does get word to Solomon's friends back home. Another white man comes to get him but what's significant is that this guy is not his savior, he's his friend. They're peers. His attitude is "what the fuck are you doing to my buddy here?"
Also important: the carpenter doesn't relate to the slavers because he's Canadian. In Canada slavery was not nearly as common, mostly didn't involve Africans and had been abolished a good 20 years before this scene takes place. So he's like, "these fuckin Americans and their slavery, what's that all aboot?"
It goes to show what drastically different ideas of morality we can have going on in different places at the same time, not just in other countries but also within our borders. In that sense I think this story is very relevant today, even separated from anything it has to say about race relations and the legacy of slavery. Thankfully those days seem like a million years ago, but it's easy to see echoes of that division in the modern United States, where different states allow different rights, and have such starkly different attitudes. It seems insane to me that there are other states where you're encouraged to carry guns and "stand you ground" on neighborhood children and where governors openly go out of their way to prevent access to affordable health insurance, birth control and voting. It seems like a different country and century than I'm living in, and I'm sure some of the people in those states think my state is nuts for having marriage equality, legal marijuana, a $9.19 minimum wage, a good WNBA team and Phoenix Jones.
But the divide also exists within states, with tension between liberal cities and conservative rural areas. We're dependent on each other but we're politically at each other's mercy. Here's a pretty good article about this phenomenon in Washington state. The Eastern half feels like it's not fair that their right to not have gay rights is being taken away by a bunch of yacht owners (that's what a guy says in the article) in Seattle, while the western half feels like since we have 2/3 of the population plus Microsoft, Boeing, Amazon, Starbucks, Nintendo, the Seahawks, Mariners, Bumbershoot and Bruce Lee's grave it makes sense that our agenda wins at the ballot box and those motherfuckers should just cool it and be nice to gay people and hey thanks for the apples though guys, not being sarcastic those are real good. My favorite is Fuji. Buy local.
The whole country is divided like that, you can't just slice it into North and South anymore. I don't know how the fuck we're gonna get anything done again. That civil war didn't exactly tie up everything, there are still some loose ends. They even still use that fuckin flag.
But whether 12 YEARS A SLAVE makes your mind go off on tangents about contemporary politics or if I'm just being an idiot, I tell ya it's a hell of a powerful movie. All of the actors are great in it, with Ejiofor knocking it out of the park as one would expect if they ever saw him in a movie before. He's been killing it for years but now he finally has his universally acclaimed role, so expect to see him in a comic book movie within 3 years, playing Black Panther or somebody. That's how it works.
Hats off also to the excellent score by Hans Zimmer, getting a chance to do something different from both THE ROCK and INCEPTION, so I was surprised when I saw his name at the end.
This movie is as grim and upsetting as you'd think, maybe worse because yeah, he gets away (SPOILER) but it doesn't feel like that much of a victory. He gets back to his family and it all seems broken and weird, his wife stands back while his daughter hugs him, and for some reason he feels he needs to apologize to them. The dramatic true story text appears, and this is where we expect to get some kind of closure, some hint of a happy ending at least in this one case. Instead we're informed that although he took the kidnappers and slavers to trial they all got off. No justice at all.
(It could've been even harsher, though. The text mentions that no one knows when or how Northup died, but not that he later disappeared and that there were rumors he'd been enslaved again or killed.)
This movie has really stuck with me since I saw it on the weekend. Yeah, that probly sounds like a bad thing. It's haunting. But it's powerful filmmaking telling a fascinating story, based on one of the few first hand accounts we have of what it was like to be a slave. And the more I think about it, and the echoes it has in modern life, and the stupid shit that some people still say about race or the civil war, the more I feel like our culture still hasn't come to terms with this horrible part of our history.
With the Holocaust it's easy to focus the blame on one particular dead guy with a funny mustache. For this there was no leader, no originator, no specific name or face to pin it on. It was our country, our ancestors, who were the perpetrators and the victims. We white people don't like to think that we come from that, or that we would take part in that, or that any of our attitudes are shaped by it. So it's easier just to not talk about it, to forget any of this happened. But that's no answer. This is a great story, and a great movie, about a not-great part of America. But it is America, so let's face up to it. This movie is as American as the real Steve McQueen.