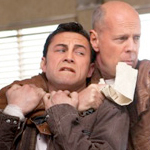 LOOPER is the new time travel related science fictional picture by Bruce Willis. But due to scheduling conflicts Bruce is only in part of the movie, most of the time he's played by Joseph Gordon-Levitt (SHADOWBOXER) with a fake nose. This one is written and directed by Rian Johnson, the guy that did BRICK.
"Looper" is a made up futuristic word similar to how "Rian" is a made up spelling of a real name. I'm not buying either one. But I did like the movie.
Gordon-Levitt plays Joe, a "looper," which he explains through a very large amount of narration is a hitman who stands in a field and then shoots a guy that gets sent back in time by the mob 30 years in the future when time travel has been invented. Sounds like a super easy job for those lacking in the scruples, but the catch is that if you're gonna live for 30 more years they'll send you back to be shot by yourself. Young-you gets a big bonus and you know for sure you get to live for 30 more years, but still. It's gotta be a little stressful.
(Idea for future crimelords: send each looper to different looper to kill instead of trusting their younger selves to do it. I'm surprised you guys didn't think of this, actually. It's like, the clerk at the grocery store isn't allowed to ring up his own groceries.)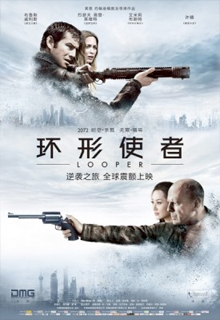 So as we know from the trailer or possibly you've figured out just from reading this, Joe is gonna be asked to kill the older version of himself, played by Bruce. And you can imagine where it would go from there. Except actually probly not, because it didn't take the route I expected, and then takes a couple other left turns without signalling. Drives over a median at one point, almost fucks up the tires, but seems to get away with it. Doesn't get pulled over at least.
You know what, this is pretty much gonna have to be a SPOILER type of a review. This review can wait until you've seen it. I think it's worth seeing, and almost everybody else seems to like it way more than I did, so you probly won't regret it too much. Or you can read this first but I'm just warning you I'm gonna make it less enjoyable by giving you an idea where the story is going.
What surprised me is that it's not a movie about the young Joe and old Joe working together to save their asses. No, young Joe is pissed that the old man is making a run for it, and he tries to cooperate with his bosses and kill his older self. 'Cause if he kills him at least he gets 30 years and some money to live off of, but if he fails then the gang is gonna alter his future. The stakes are cleverly established in the earlier, horrifying scene where the future version of his friend Paul Dano escapes and soon begins to grow scars and lose body parts, telling him that his younger self has been captured and is being worked over. That's one of the best scenes in the movie. I never seen a concept like that before.
Another part I like is the montage of all the Loopers celebrating after killing their older selves. They slam down drinks and want to party and their faces make it clear that if they weren't doing this they'd be shitting their pants. A good depiction of willful ignorance and/or making the best of a bad situation.
It's fun to see Gordon-Levitt imitating Bruce. He doesn't mimic his voice, but he obviously studied the way he smiles, the things he does with his eyebrows, the way he holds his head, the way he stays quiet. Specifically, I believe he watched the scene from PULP FICTION where Bruce sits silently while Marcellus Wallace tells him what's gonna happen at the boxing match.
But if we're gonna have a fake-young Bruce Willis, is it fair that it's a fake-young version of old Bruce Willis, the one we have now who's quiet and serious? Wouldn't it feel more real if Gordon-Levitt was doing wisecracking Blue Moon Detective Agency era Bruce, wearing sunglasses and singing "Doo Wah Diddy" and throwing a limbo party at the Looping Office? Wouldn't busting out a harmonica be a good ol' timey thing to put in there instead of the stop watch? Gordon-Levitt is 31, Bruce was 31 in '86, toward the end of Moonlighting season 2, the year before Return of Bruno. If you're gonna wear the man's nose you oughta honor the attitude that went with it. And Curtis Armstrong should play his friend instead of Dano.
In some ways this LOOPER is designed like a big fuck-you to Bruce Willis. You're constantly thinking about him because Gordon-Levitt is made up to look like him, but it takes a while to actually get to the real Bruce… and then he disappears again. Fake-Bruce is trying to kill Real-Bruce, calling him an "old man," assuming he's wrong about what he's doing, overruling the greater experience and knowledge his older self has by definition. And worst of all, when the movie does briefly focus on Bruce's character through a 30-year montage they give him long hair that makes him look like an idiot. (His main look for the movie is kind of a Gene Siskel around-the-sides look that for some reason makes his head look fatter than usual.)
But at least they didn't ask Bruce to get made up to look like Gordon-Levitt. That they did the reverse is a sign of respect. And Bruce gets top billing even with way less screen time. That might've been some union rule though, I guess he's technically the lead just because his nose appears in virtually every scene.
Anyway, young Joe is trying to track down old Joe to kill him. I like that, that's a unique concept. This young protagonist is not a very good person, for example he makes the selfish decision to betray his friend for a bunch of silver. (OH MY GOD WAS IT 30 PIECES OF SILVER, HOLY SHIT I BET IT WAS. YOU KNOW WHAT THAT MEANS? THE BIBLE.) But then again old Joe is even more morally questionable, because he's trying to save his wife. By murdering the child who's gonna grow up to cause her death. Except also he doesn't know for sure which child it is so his plan also involves murdering two innocent children, just to be safe. Cover all the bases.
This brings me to a small complaint I have about this movie. There are some things about these futures that are a little much. For example, I do not buy a future where people willingly call their guns "blunderbusses." Even if that was the proper or brand name they would not throw that word around like it was cool, the way Dano does. What kind of word is that, something from Dr. Seuss or Willy Wonka? In fact, I'd sooner believe they would call them "chittychittybangbangs." And I don't really think it is that cool that in the future-future there's a master criminal who calls himself "The Rainmaker" and maybe has a fake jaw (?) and makes his thugs wear ridiculous hats that are (SPOILER) apparently based on an action figure he had as a child. Or that we only see that allegedly awesome character as a pouty little boy. It's a very good child performance but he's playing kind of an annoying little shitbag.
Actually I have a bigger complaint about a thing in the middle that in my opinion is bad storytelling. You probly know what I'm talking about even if you didn't have a problem with it yourself. It's the part where Bruce comes back from the future and manages to escape without Gordon-Levitt shooting him. A little later we see him coming back from the future again, but this time he gets shot like he's supposed to. Then there is a great montage of years passing as Gordon-Levitt lives his life and grows into (ridiculous-wigged) Bruce.
Watching the movie I didn't know what had happened there. I was okay, I just went with it, figured they'd come back to it later and it would make sense. They didn't come back to it later.
After discussing it with a couple people and listening to an interview with Johnson I think I understand what is supposed to happen there and the reason why it's done that way. Basically, it's shown out of order. If it was to go in order, we would skip that scene where he gets away, we'd first see him get shot, then young Joe grow into old Joe, then old Joe goes back in time and then he escapes.
Johnson didn't want to do this, because if you were following old Joe as he escapes he felt that dramatically it would make it the escapee's story, but he wants it to be the guy hunting him's story.
Okay, fair enough, but I feel like if that's your choice you gotta find a way to communicate what's going on there, and the one you chose didn't cut the mustard for me.
But admittedly I might have not been focusing hard enough 'cause I kept being distracted by these weird fuckin eyebrows: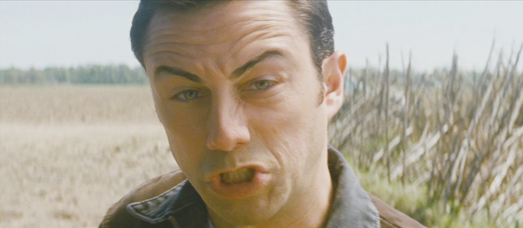 Jesus.
Other than that sore thumb there though I think the storytelling is all very clean and elegantly explains what could be a convoluted sci-fi concept. I like the sort of half-assed futurism on display: there are some CGI cityscapes, there is a speeder bike (the technology for depicting these has apparently gone downhill since RETURN OF THE JEDI), but like DREDD it's not BLADE RUNNERy at all, it's pretty down to earth and lived in. And enough of it takes place in regular old farms and diners and shit that I saw the trailer a million times and had no idea it would take place in the future.
You know what, this is gonna sound like a joke but I swear to you there's been more than 5, maybe as many as 10 times this week when somebody was saying something to me about LOOPER and at first I thought they said HOOPER. It would be cool if this movie caused a resurgence for HOOPER.
Gordon-Levitt has grown into a fine young man, I think we are all proud of him for doing a bunch of interesting movies, figuring out who Batman is, etc. He leads a good cast including a fun part for Jeff Daniels (BLOOD WORK), a sudden appearance by good ol' Garret Dillahunt, and Emily Blunt is really good as a spunky lady who knows how to rack a shotgun and talk tough (although it would be more awesome if it was to threaten a bad guy instead of a retarded homeless man looking for food).
There's a little bit of action, and it's done pretty well, the old fashioned way where you point the camera at what's going on. When Bruce gets a hold of some guns it's got some of that excitement his part in EXPENDABLES 2 was supposed to have.
I don't really agree with the rest of the world that there's deep ideas in this movie, but there's some unique twists on classic sci-fi concepts, and that's good enough. I like the unpredictability of it turning into li'l CARRIE at the end, although I thought that section was less interesting than the earlier parts of the movie. But the way it ends, the way young Joe chooses to resolve everything, really makes the movie for me. It's this old idea of "if you could travel through time to kill Hitler…" but this guy decides that you can't make things better by figuring out the right kid to kill. His only shot is trying to give that kid a better life so maybe he won't turn into a murderer with terrible, terrible taste in henchman uniforms. I mean seriously Rainmaker, I don't mean to hammer on this topic too much but jesus christ dude. They look like the weasels from Roger Rabbit. You are not a cool villain. Work on the name, too. thanks.
Based on the intensity of the outpouring of love and support for this movie from both the internet and people I actually know, I feel a little out of step here. I mean I like it, but I don't want to fuck it. When it was over I felt like that was enough, I don't feel like I'll necessarily want to watch it again. Trying to read about that weird transition that confused me I learned that there are theories about "Jeff Daniels is Kid Blue" and different symbolism and shit. I'm down with that kind of analysis of movies but for some reason the characters and world here don't give me that kind of excitement where I want to know more about them or see what's beneath the surface or anything.
Maybe this Rian Johnson and I just aren't on the same wavelength. I remember my feeling on BRICK at the time was that it was well directed, but I just couldn't get past the inherent corniness of the premise that it's a hard boiled detective story only get this, it's TEENS! I had this plan that I would give his second movie a shot. But then I saw the beginning of a movie somebody was playing and asked "What is this fake Wes Anderson shit?" and that's when I decided to pass on THE BROTHERS BLOOM. (I know some say it's good.)
Of the two Rian Johnson joints I've seen LOOPER is by far my favorite. He's definitely improving. I'll try to watch the next one. It's great to watch a movie unfold and not know where it's going, and ultimately feel like it did some new things and wasn't based on any obvious formulas. It's way better than Bruce's SURROGATES, and quite possibly Gordon-Levitt's GI JOE: THE RISE OF COBRA.
This entry was posted on Tuesday, October 9th, 2012 at 2:16 am and is filed under
Bruce
,
Reviews
,
Science Fiction and Space Shit
. You can follow any responses to this entry through the
RSS 2.0
feed. You can skip to the end and leave a response. Pinging is currently not allowed.