June 12, 1998
CAN'T HARDLY WAIT is a summer of '98 teen comedy that seems to mean something to people who were the right age then. I'm too old, but for some reason I saw it back then and it didn't work on me. And now I gave it another shot.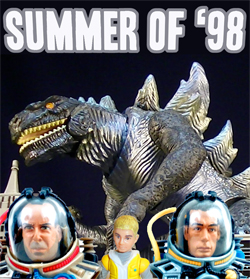 It's a one-day-right-after-graduation story in the tradition of AMERICAN GRAFFITI or DAZED AND CONFUSED or BLADE [citation needed], centering around a party where Preston (Ethan Embry, LATE PHASES) is trying to get up the guts to talk to his secret crush Amanda (Jennifer Love Hewitt, I KNOW WHAT YOU DID LAST SUMMER, GARFIELD) because he heard she broke up with her jock asshole boyfriend Mike Dexter (Peter Facinelli, TWILIGHT). Preston thinks he can win her over by giving her a love letter he's been revising for four years. Good luck with that one, pal. He drags along his cynical best friend Denise (Lauren Ambrose, WHERE THE WILD THINGS ARE), who I was relieved to realize does not have an unrequited crush on him (in fact they laugh about having briefly dated in middle school). She's very unhappy and ignored at the party, which obviously means she'll have her rocky heart softened by an unexpected love connection or some shit, but she's the most charming and relatable character, the one who seems like she probly wouldn't like this movie, and I'm sure the main reason why some people do.
Another plot thread involves Kenny (Seth Green, THE ITALIAN JOB), a former nerdy kid now trying to be cool in his harem pants [important correction: my friend Cristin says "I think they were JNCO jeans…  ultra-wide straight legs"] and goggles, talking about "hos" and "bitches" because he's hoping to lose his virginity tonight. He's supposed to be a kid who's too imitative of black culture as he perceives it from rap videos and such, but Green's performance is BULWORTH-level uncomfortable – not just awkward slang and accent but full-on caricature voice and making it clear that Kenny believes the most base stereotypes about black men being misogynistic sex hounds. And when Denise calls him on it she doesn't say "You're not being yourself, you're a phony, and you have a degrading view of black culture," she says, "You're white."
I did laugh, though, when it got to the punchline of what happens when Kenny's friends try to talk like that to black people. It doesn't go well.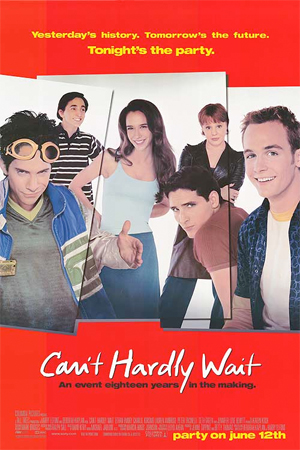 This is the directing debut of Deborah Kaplan & Harry Elfont, after having written A VERY BRADY SEQUEL. Three years later they did JOSIE AND THE PUSSYCATS, which I found much more enjoyable. I suppose they're similar in their light-hearted goofiness mixed with sincerity about friendship and what not. This one's not as funny or clever, though.
One touch that's kind of cute is that most of the characters outside of the leads don't have names. Instead it's like "Girl Whose Party It Is" (Michelle Brookhurst, FOXFIRE), "Ready to Have Sex Girl" (Nicole Bilderback, MERCENARIES) and "Reminiscing Guy" (Victor Togunde, LEPRECHAUN BACK 2 THA HOOD). Also I kinda like the conceit of the band (including Donald Faison from CLUELESS on drums) excited about playing their first show, already having t-shirts, facing internal conflicts, breaking up and reuniting without ever getting around to playing their music.
I can't tell if the opening is a stylistic experiment gone wrong or a desperate postproduction compromise, but it's a scene at graduation where you see their gowns, not their faces, and there are snippets of conversation clearly recorded in a studio very much in the style of a local radio ad with adults trying to play cool teens. I don't know how the youths of 1998 didn't accuse the movie of being a narc and walk out, but they didn't.
Parliament, Busta Rhymes, Missy Elliott and Run DMC find their way onto the soundtrack, along with the namesake Replacements song, but also lots of the kind of business from the period that I have been complaining about. You've got your Third Eye Blind, your Blink 182, and (it probly goes without saying) your Smash Mouth. I guess that's just life in 1998.
I think the hollowness of the central love story is a big weakness. We learn very little about Preston's life or personality outside of his wide-eyed mooning for the girl and interpretation of trivial coincidences as signs from the universe. Embry makes some of this funny – he seems dumb in a likable way – but I still had a hard time respecting him when he seemed to have no existence outside of his dumb romantic notions about a girl he doesn't even know.
Hewitt, likewise, has little to work with outside of being mad at her boyfriend for breaking up with her, then realizing he's bad, then falling for this kid she doesn't even know by name despite sitting next to him in class just because she finds his love letter on the ground. Sure, she's got the shy smile and cartoonish figure to cause such an obsession in a teenage boy, but they know even less about each other than we do, and the getting to know each other happens in AMERICAN GRAFFITI style postscript text (which when this showed in 1998 was being beamed in from the future, I guess, since this is not a period piece).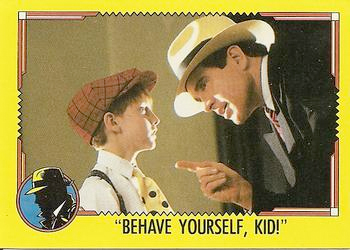 Charlie Korsmo gets what must be his biggest role after DICK TRACY as William, a nerd who plans revenge on Mike Dexter but while undercover at the party he gets drunk for the first time and ends up having fun instead. This seems like a weirdly irresponsible message for kids:
1) If you get super drunk you will be cool
2) If you karaoke Guns 'n Roses with enough enthusiasm everyone will think it's the greatest thing they've ever seen and worship you as a god, like when Ferris Bueller lip-synched in that parade. And three women will run over to you and fight over which two get to make out with you.
But I guess the '80s movie spirit was still alive in '98. Also I laughed pretty hard at the part where he comes up to the keg and asks some bros "Is this the beer?"
I have a hard time buying that drunkenness would cause this kid to forgive the bully he has a vendetta against. But I suppose the ultimate result of that (SPOILER: Mike lies to police to keep William out of trouble, but then is mean to him the next day like it never happened) isn't too far off.
I think all will agree that the worst and most dated part is a brief homophobic streak. William's nerd friends chloroform Mike and his friend and set them up to look gay, and a cop sees them and calls them "sickos." This is similar to a thing that happened in HEATHERS, except here you're laughing at the victim of the homophobia, not the homophobe. This is more clear in the scene where somebody yells out "Fag!" and it's clearly supposed to be a crowd-pleasing comeuppance. I forgot they still did that shit in movies this late.
Other 1998isms: The two nerd friends wear "Trust No One" and "The Truth Is Out There" shirts and are credited as X-Phile #1 and #2. The internet is mentioned a few times. No one has phones. There are a bunch of bit parts by actors who are better known now: Jason Segel as "Watermelon Guy," Selma Blair as "Girl Mike Hits On #1," Amber Benson as "Stoned Girl." Also I noticed Freddy Rodriguez (the guy who got his nose ring pulled out in PAYBACK) and Jaime Pressly (D.O.A.: DEAD OR ALIVE), Clea DuVall (GHOSTS OF MARS) and Eric Balfour (HELL RIDE, BEATDOWN). Also Breckin Meyer is in the band; he will ultimately hook up with Jennifer Love Hewitt in the GARFIELD duology.
CAN'T HARDLY WAIT wasn't very well reviewed, but it more than doubled its low budget at the domestic box office, and seems to be remembered well. Ten years after the fact it made an appearance as the movie teen girls watch in the PROM NIGHT remake. On DVD it got a "10 Year Reunion Edition" including a new commentary with filmmakers and cast reunited. If that didn't suggest they thought it was a teen classic, maybe the featurette "Can't Hardly Wait: The Making of a Teen Classic" does. And I've found many lists and articles to prove that some writers agree with that. In 2011, Complex put it at #50 on "The 50 Best School Movies." In 2012, Entertainment Weekly ranked it 44 on a list of 50 Best High School Movies (though their write up includes the phrase "It may be a typical teen, comedy, but…"). In 2016, Cosmopolitan called it "the most underappreciated teen film of all time" and "the greatest teen movie of all time" (tellingly this was more of a collection of gifs than an article). And E Online called it the "one real and true teen party comedy to beat all teen party comedies… In the discussion of what makes this genre so great, there is no better example."
I would blame this on nostalgia, but Mallory Carra wrote about the movie on Bustle in 2015, saying that she never liked it as a 17 year old but does now. That surprised me. It hasn't started to win me over yet. I'll have to try again when Jennifer Love Hewitt turns 60.
This entry was posted on Thursday, June 21st, 2018 at 12:19 pm and is filed under
Comedy/Laffs
,
Reviews
. You can follow any responses to this entry through the
RSS 2.0
feed. You can skip to the end and leave a response. Pinging is currently not allowed.