I almost didn't bother trying out the sequel, but I'm so glad I did. It turns out 1993's BEST OF THE BEST 2 is an unheralded gem of the '80s style American b-action movies. It's such a huge leap in entertainment value from BEST OF THE BEST that I couldn't even believe it. I guess this is a spoiler for the next couple reviews, but not only does BEST OF THE BEST 2 best BEST OF THE BEST, but BEST OF THE BEST 2 is the best of the BEST OF THE BESTs, too.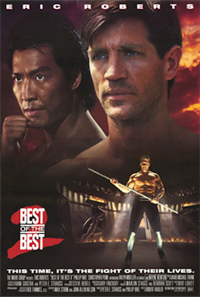 Director Robert Radler is back, so are Eric Roberts as Alex Grady, Phillip Rhee as Tommy Lee (the karate man, not the blow job receiving drummer) and Chris Penn as Travis Brickley. Even Kane Hodder and Eddie Bunker, who had bit parts in the first one, return for new bit parts. Also making a victory lap is the trademark BEST OF THE BEST approach to manly melodrama. But instead of another sports drama they turned this into a full-on action movie with guns, explosions, revenge, a larger than life villain and way more enjoyable absurdity than part one.
No mention of what happened to the other best of the bests like Sonny Grasso and Virgil. But the three aforementioned most memorable characters from part 1 stuck together and opened a karate school in Las Vegas, teaching kids including Grady's son, still played by the same kid. In the tradition of part 1 there's a nice lesson here as the son fails his black belt test (he can't break a brick with his fist) and Roberts makes a tearful speech about how proud he is for how well the kid handled his disappointment and how that's what makes him a man.
Meanwhile Travis is still kind of an asshole, and his more honorable partners don't know that he's been taking part in a secret gladiator-themed underground fighting competition hosted by Wayne Newton. (Newton's character has a name in the credits but I never noticed them saying it in the movie and assumed he was playing himself.) It's a club called The Coliseum where rich people in formal clothes bet on the fights, and the owner/champion is 6'5″ Mr. Universe Ralf Moeller (GLADIATOR, SCORPION KING) as Brakus. The DVD extras repeatedly claim that it was his first movie, but he had already been in CYBORG and UNIVERSAL SOLDIER. Those are better known movies, but this is a way better role. That's clear in his very first scene when one of his security guards sets off the metal detector. In his thick accent he scolds, "What did I say about guns? Warriors fight here. Get rid of it!"
I think you can guess what happens to Travis when he fights Brakus, so Alex and Tommy karate their way into the Coliseum club and start asking questions. Wayne Newton tries to play it cool and deny everything, but when Alex spots the hulking Brakus across the room he gets a hunch and asks "Did you kill Travis Brickley?" If Brakus had a lawyer present he'd be advised not to comment or to pretend not to know who Travis was, but without that advice he simply brags "Easily."
We thought they were the best of the best because they could've but chose not to defeat the Korean national team, but it turns out Alex and Tommy are still not quite the best of the best, because they're not ready to beat Brakus. They get some shots in though and get away. Brakus wants Alex and his son killed, but wants Tommy left alive for him to defeat in gladiatorial combat. Why? Because Tommy scratched his face. Brakus angrily stares at the cut in a mirror, plotting his revenge. So we got two sides here who want revenge on each other but in my opinion the good guys have a better thing to avenge (death of friend) than the bad guys (small cut on cheek).
So our heroes go on the run, followed by colorful hitmen including the big bald guy from DARKMAN. They hide out with Tommy's adoptive grandmother, and this is when we learn that he was raised by Native Americans. But he's upset to find out that his estranged alcoholic brother is back home. It's none other than Sonny Landham (PREDATOR), giving a Mickey Rourkian performance, drunkenly picking a fight before revealing that (and I'm realizing now this is a pretty huge coincidence) the "car accident" that he always blamed for ruining his life was no car accident at all, but in fact a fight with Brakus that caused car-accident-worthy injuries.
Landham says that he's one of three people in the world that can teach our boys to defeat Brakus. The fact that this is mentioned without explanation of why there are three people with this knowledge or who the other two are is an example of how god damn spectacular this movie is. I love it. Anyway, the point is there are training montages, stick fighting, and a sweat lodge scene where Landham guilts Roberts into not giving up by saying "Brakus would stay." I'd like that to become a common saying to try to pressure somebody to stay out late or whatever. Or those guys on the street who are always trying to get me to stop and talk to them about saving the children or the environment, if they said "Brakus would stay" I'd have no choice but to listen to their shpiel.
I would also like to note that Landham pronounces "Brakus" more like "Barakus." Mr. T could also have made a good villain in this, but not as good as Ralf Moeller. He seems like a real prick, he's physically menacing and his vanity makes him funny. It's like somebody combined Schwarzenegger's DNA with Lundgren's and then raised the clone to be evil. This is definitely the best role I've seen Moeller in. He's usually just a big dude and not very memorable.
Because it's a true action movie there are more types of violence than in part 1, and since they're fighting outside of the ring there are a couple Seagal-style gorey bone-breaks – at least one of them more graphic than even Seagal does. In the Coliseum fights the choreography is much better than in part 1, with more variety since the competitors usually represent a certain style like American boxing or muay thai. This came out in '93, same year as the first Ultimate Fighting Championship, so that type of idea must've just been in the air.
Of course, Roberts and Penn still aren't entirely convincing as martial arts masters. Penn especially cracks me up when he keeps doing the same shadow boxing moves over and over before his match starts. But like in part 1 the actual martial artist Rhee does most of the fighting, and he seems improved (and buffed up) since we last saw him.
My favorite thing in the original BEST OF THE BEST was the corny-beyond-belief-but-right-up-my-alley ending. If you haven't seen it don't read this, but if you have let me refresh your memory: Tommy has just about defeated the eye-patch wearing Korean Dae Han, who killed his brother in competition years ago. He's about to kick Dae Han into oblivion, but Alex and James Earl Jones yell for him not to do it because they know it would kill Dae Han, and killing is even worse than losing. So Tommy holds back, and because of it loses the competition for everybody. But as the Korean team is being declared the winner Dae Han recognizes the profound gesture of forgiveness and not only gives his medal to Tommy but publicly apologizes for killing his brother and offers himself as a new brother.
Part 2 hints at a similar "I need time to change" ending (SPOILER: instead it goes for a WAY OF THE DRAGON you-can't-say-I-didn't-warn-you neck-break). Still, it delivers big time on the manly emotion by having Dae Han show up at Travis's funeral and later follow through on his promise of brotherhood by helping Tommy and Alex fight Brakus and his men. For the bad guy from part 1 to back the hero in part 2, no questions asked, got the male bonding part of my brain tingling. Also, let's face it, eye patches are cool.
I already used this term loosely in the last review, but I thought about it and I think a pair like Tommy and Dae Han would have to be called "fight brothers." It's like Seagal and Cupcake in ON DEADLY GROUND, or Clint and miscellaneous in ANY WHICH WAY YOU CAN – after they've fought they for some reason have an unbreakable bond stronger than blood relation. Not a bad cliche. The world has too much fighting and not enough fight brothers.
In '93 this type of picture was heading toward the door and being replaced by slicker, more expensive studio action movies. This was the year that Brandon Lee died and Andrew Davis traded Steven Seagal movies for Harrison Ford and a best picture nomination with THE FUGITIVE. John Woo was still pulpy 'cause he did HARD TARGET, but Clint was classin it up in IN THE LINE OF FIRE. LAST ACTION HERO and ROBOCOP 3 rushed along the death of the '80s approach to action. But somehow BEST OF THE BEST 2 got through, and it's an absolutely topnotch example of its genre, one of those fun movies with a perfect balance of awesome and ridiculous. It has conviction, emotion, a little intentional humor, a little unintentional, some good fights and explosions, a wide variety of gruesome violence, some unexpected weird touches, a great villain, a scene-stealing mentor, an admirable philosophy of forgiveness and multi-culturalism. I highly recommend this picture even if you skip part 1 (although watching it will make the Dae Han business more impressive).
This entry was posted on Wednesday, July 28th, 2010 at 1:26 pm and is filed under
Action
,
Martial Arts
,
Reviews
. You can follow any responses to this entry through the
RSS 2.0
feed. You can skip to the end and leave a response. Pinging is currently not allowed.