Not since THE HURT LOCKER have I seen a movie that so convincingly captures the mental toll that the pressures of a war zone take on our soldiers. I'm not talking about GI JOE, I'm just saying I haven't seen another movie like that since THE HURT LOCKER.
I don't know what you've heard, I don't know what kind of rumors are flying around, but this here is not what anybody should call a "good summer popcorn movie." GI JOE can't be mentioned in the same breath as JAWS or even JURASSIC PARK or even INDIANA JONES AND THE KINGDOM OF THE CRYSTAL SKULL, so don't ever read this sentence out loud. But there is something unique about this movie and I would recommend it to some of you. If you're the type of individual with room in your heart for a ridiculous movie that comes out in August that you go see in a half (or all) empty theater for a laugh, then I believe this movie will deliver for you spectacularly. For example I paid money to see STEALTH a few years ago and it was kind of funny. If STEALTH was a single this is a grand slam. I was laughing pretty much from the extravagant new Hasbro logo at the beginning to the weirdly intelligence-insulting final scene, without many lulls in between. For some of you it will be unwatchable crap, but for me it's hilariously terrible and/or terribly hilarious.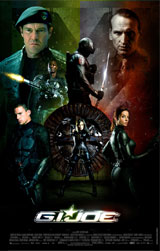 It's supposed to be an epic so it begins in France, 1641, and spans Asia, Africa and the polar ice caps. It includes powersuits, underwater bases, jet packs, robotic fish, ninjas, submarines, helicopters, laser cannons, asskicking supergenius babes, giant drills, Humvee bulldozers, high tech training programs, CGI polar bears, snowmobiles, experimental jets, missiles, air craft carriers, throwing stars, nanobots, mind control, invisibility suits, holograms, silly masks, the destruction of the Eiffel Tower, a secret entrance next to the pyramids (I wonder why they didn't know about that ancient doomsday machine hidden inside the pyramid in TRANSFORMERS 2?)… all of it depicted with the help of digital effects that might qualify as state of the art in the Hong Kong film industry of several years ago. It has all kinds of stuff constantly on display but doesn't look or feel like a modern cutting edge movie. There's a little bit of a MORTAL KOMBAT or POWER RANGERS kind of feel in there.
I think that's part of what makes it enjoyable, and why so many of the nerd websight guys are saying it's "fun." I have no idea what the fuck director Stephen Sommers is thinking, but he seems serious, and there's something kind of charming about that fearlessness and/or cluelessness. Most modern movies take a "property" like this and instead of just running with it they try to legitimize everything, explain everything or apologize for everything. For example in that other notable adaptation from the works of Hasbro, the TRANSFORMERS saga, they're worried about people accepting a story about robots from space so they make it about a kid trying to get laid who happens to know some robots. They don't want to be laughed at so they have every character constantly joking, trying to keep an ironic distance. GI JOE revives the ancient tradition of the annoying comic relief character – Marlon Wayans is the one guy who makes lame jokes, the rest of the characters take everything seriously, and that makes it much funnier and more tolerable.
I can't imagine this movie will catch on big or get the same "check your brain at the door" pass that TRANSFORMERS got, because it just does not try to be hip, ironic, modern or grounded in the real world. It says "fuck it, I'm a GI Joe movie, why lie?" So you got these characters who are not embarrassed to melodramatically spew exposition and call each other names like "Ripcord" and "Storm Shadow" and "Snake Eyes" and "Dr. Mindbender" and never stop to point out that it's goofy or wink at the audience or any stupid shit like that. And then on the other hand you got a couple over-the-top villain characters who are just known by their first names. In one of the early scenes Duke (Channing Tatum)'s convoy is attacked by a helicopter full of robotic-looking troopers, their leader is super-hot Sienna Miller in all black leather. As she climbs into her futuristic helicopter carrying a case of stolen WMDs Duke looks at her and says "Anna?" Turns out the super terrorist he ran into is his ex-fiancee. (Next time the bad guys threaten the world he should send some of their private photos to one of those ex-girlfriend porn sights.)
Man, there's so many flashbacks. There's this Scottish arms dealer at the middle of the whole thing, he has a mask he keeps that was used to torture one of his ancestors in 1641 for selling weapons to the wrong people. He could easily just explain that's why he has the mask in his office but for some reason they feel they need to show flashbacks to it. Snake Eyes (Outlaw Award winner Ray Park) is the good ninja and Storm Shadow is the bad one and they keep flashing back to them fighting each other as kids (young Storm Shadow is played by the kid who led the drug cartel in TROPIC THUNDER). Snake Eyes doesn't speak and can do flips on top of moving vehicles and looks like his entire body was dipped in black rubber. So it made me smile whenever they'd show "the Joes" all standing together because nobody cares that one guy has black rubber muscles and mouth. He just walks around wearing that shit like it's normal. I guess it shows that GI Joe is a safe, non-judgmental work environment for people with alternative lifestyles.
In a way the Snake Eyes/Storm Shadow rivalry subverts the usual ninja coloring system, because the good guy is dressed in black and the bad guy in white. But of course in the White Ninja tradition the good guy is the Caucasian trained in Asian ways.
Sometimes the characters set up each other's flashbacks. One of my favorites is when Anna says "We all have regrets," and the camera pans over to Storm Shadow looking sad. Man, nothing sadder than ninja regrets. Later Anna is the one having regrets, she keeps flashing back to her old boyfriend and you'd think somebody would notice her "oh my goodness what have I done?" face while standing in the midst of an evil planning session in an underwater lair, but if they do nobody says anything.
I bet when the actors came in to try on their costumes somebody told them to stand in front of a green screen holding a steering wheel. There's alot of slowly rotating around these guys in the cockpits of CGI planes, helicopters and submarines.
There's so many goofy things in the plot that don't quite fly, like the scene where the GI Joe supercomputer has figured out who Anna is. It doesn't seem that impressive because much earlier in the movie Duke already told them who she was and handed them a photo of her from his wallet.
The great Billy Zane lookalike Arnold Vosloo has a small role as Zartan, who is a master of disguise. We know this from when another character says "you are a master of disguise". But he never puts on fake noses or anything, he just steals a soldier's uniform and later wears an eyepatch. I gotta wonder how Vosloo felt about this, having played a less lazy master of disguise in DARKMAN 2-3. Seems like kind of an insult to his disguise mastery.
There's a whole storyline about Zartan having his face transmutitated to mimic somebody, they don't say who at first. Maybe 2/3 of the way through the movie he goes in to replace the president of the United States. Then at the very end of the movie the president starts whistling "For He's a Jolly Good Fellow," the same song Zartan annoyingly whistled in all his other scenes. You're supposed to be surprised that Zartan has replaced the president, even though this was clearly communicated in an earlier scene! A real head-scratcher of an ending, especially since it's all about setting up a part 2 that I'm guessing (sadly) will never be made.
By the way the president is played by Jonathan Pryce, so this is a movie where the star of BRAZIL and Lance Henriksen's henchman from HARD TARGET play the same character.
The bad guys have created a race of mindless soldiers who have no fear and are immune to cobra venom. I don't know how handy that last part's gonna be, I guess that's just a "better safe than sorry" type feature.
Joseph Gordon Levitt (HALLOWEEN H20) plays Anna's kid brother/Duke and Ripcord's best friend in one scene, but he turns out to secretly (SPOILER) be an evil cyborg mad scientist working for the bad guys, and then at the end he puts on a different silly mask to become their leader. He does a cartoonish Evil Voice for the doctor character and then when he puts on the other mask (not to hide his identity by the way, since everybody knows who he is) he switches to an entirely different Evil Voice. I wonder how he decided which one was which? Did he bank on there being a sequel and save his favorite one for last? Also it's funny because when discussing his evil plots everybody just refers to him as "Rex," even the people who don't know him personally. It's all very informal.
As long as we're talking SPOILERS I gotta say I was disappointed when Sienna Miller turned good at the end. They must've figured she was too hot to be evil, but paradoxically making her not evil anymore makes her less hot.
Somebody said the action scenes are good, but I don't agree. I think people are only saying that because of TRANSFORMERS 2, QUANTUM OF SOLACE and other recent movies setting the comprehensibility bar so low. GI JOE isn't the worst offender but its action scenes are very chaotic with lots of wobbly cameras, unnecessary closeups and quick cuts making them confusing. It seems more like sloppiness than stylization (except for a war flashback that hilariously switches to shakycam to remind you of BLACK HAWK DOWN). I thought maybe it was just me, that I'm getting too sensitive to these things, but then two people who aren't as concerned with that issue brought it up to me and seemed to have more trouble with it than I did.
But I don't know man, it still kept me laughing. I'm not sure exactly what to make of this fuckin thing. I'm not even sure if it "knows what it is," and that's what makes it interesting. It's a kind of crappiness you've seen before but not on this level, not this extravagant. The effects are all low rent and cheap looking, it's not at all the kind of spectacle that TRANSFORMERS is. But they just keep coming at you, they didn't get lazy with it. Every 30 seconds somebody pulls out a jetpack or bursts out of a wall driving a giant drill machine or says "send in the sharks!" to deploy an army of submarines. And I'm pretty sure about 300 civilians were killed just by the good guys during the Paris chase scene.
Obviously this is some stupid shit, and I enjoyed it. So you might be asking what makes this more tolerable for me than the TRANSFORMERS movies. If not, I'm asking myself that. I already mentioned a couple reasons: it doesn't have the constant barrage of terrible jokes (because Marlon Wayans is sometimes off screen) and it has the balls to make it about ninjas and soldiers in power suits, not a kid in a Strokes t-shirt who befriends the ninjas and soldiers in power suits. But I think it's also that it's not as mean-spirited. The TRANSFORMERS movies have this cruel undercurrent – Bernie Mac calling his grandma a bitch, Bumblebee smashing a girl's head for trying to seduce whatsisdick, John Turturro getting pissed on, the soldiers scaring the Obama administration bureaucrat by tricking him into skydiving, Optimus Prime murdering the giant wheel for being on the wrong team, all the ugly racial stereotypes, etc. I didn't sense that same hateful undercurrent in GI JOE, and I guess maybe since it all looks so low rent it seems more like the underdog you want to like instead of the rich bully pushing everybody around by having the latest ILM effects. I can't really picture people watching this over TERMINATOR 2.
I don't know if any of that is fair, but that's my theory for why one moron movie rubbed me the wrong way and the other one didn't. They might be equal in stupidity and crappiness, but this one didn't piss me off.
It turns out GI Joe is a big thing to some males of a certain age. I know it was those dolls they used to make and then in the '80s it was a cartoon to sell toys. I never knew anybody gave a shit until they announced this movie and some of the Ain't It Cool talkbackers started having the same sort of zealot intensity as those homophobes who protest at soldier's funerals. There was a cultural misunderstanding where I think I compared GI Joe to Cheetohs commercials or something and one guy was so mad he would post on all of my reviews that I had no credibility because I didn't "get" GI Joe so nobody should listen to me and I should fuck off, etc.
Some of the more moderate GI Joeists explained that it's not what it seems like, this is not adults getting a little too nostalgic about a cartoon they grew up on that was churned out without much care just to brainwash them into getting their parents to buy products. Serious GI Joe fans don't like the cartoon, they only like the more nuanced long running Marvel Comics series, which was written by a Vietnam vet with a history in writing war stories who had more time to really flesh out the long histories and relationships of the characters. Also they like playing with the little dolls and what not and maybe wearing costumes. Totally innocent.
In all sincerity, I feel like these nerds sort of convinced me. I could see how this concept actually could make a cool action movie. GI Joe is this elite military team where every character has a different specialty and colorful nickname, and they have high tech weapons and fight against a colorful snake cult terrorist cell. They could be larger than life badasses like the team in PREDATOR if somebody good was making the movie. But that's the problem I was trying to warn the Joephiliacs about: the auteur theory. If they had high hopes for this movie they should've taken them out to the shed for a talk as soon as they heard the director was Stephen Sommers.
I gave up on Sommers after the first MUMMY. I know some people like DEEP RISING, maybe I'll give it another shot some day, but both of those movies were obnoxious, just steamrollering through, no rhythm or pacing, no quiet moments. Just one long, loud, pan-banging sequence that doesn't even fade in or out. When THE MUMMY ended I had no idea that we had reached some sort of climax. It's almost like you could play it backwards and it would be the same movie. When I think of THE MUMMY I always think of the scene in the library where for no reason Rachel Weisz clumsily knocks over all the shelves domino-style, destroying the entire library. In RAIDERS OF THE LOST ARK Steven Spielberg figured an audience would be okay with his professor character having a few quiet conversations at the beginning, but Sommers doesn't share that belief.
So I haven't watched THE MUMMY RETURNS or VAN HELSING but this one looked too funny to miss, and I don't regret my decision. I don't want to call GI JOE "a masterpiece of camp" or anything like that. It's not a masterpiece. But it's a piece of something.
Best toy adaptation so far!
This entry was posted on Monday, August 10th, 2009 at 12:39 pm and is filed under
Action
,
Reviews
,
Science Fiction and Space Shit
. You can follow any responses to this entry through the
RSS 2.0
feed. You can skip to the end and leave a response. Pinging is currently not allowed.