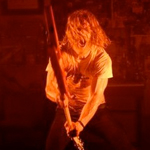 All I knew about THE DEVIL'S CANDY (2015) was
1) I think it's one of those ones with some kind of satan/heavy metal theme and
2) I've been meaning to see it because it's the second movie from Sean Byrne, the Australian writer-director of THE LOVED ONES.
That's why it took me a bit to figure out that this is taking place in America, and that the big Pruitt Taylor Vince looking dude is in fact the genuine item, and most of all that the muscly, tattooed, long-haired, bushy-bearded Matthew McConaghey looking lead was CAN'T HARDLY WAIT's Ethan Embry. I only realized it like 2/3 of the way in when I checked IMDb for somebody else in the cast. And I've even seen him in grown up roles like CHEAP THRILLS and LATE PHASES. So this is quite a transformation for him.
Embry (Masters of Horror: Incident On and Off a Mountain Road) plays Jesse Hellman, an edgy painter who is able to move his family from a small apartment to a roomy house thanks to a combination of soul-grinding sell-out commissions and a two-people-died-here discount. But, as I personally have noticed sometimes happens in movies, there seems to be something demonic or haunted or cursed or evil or unlucky or fucked up or at least just super, super uncool about the place. I mean, we already saw in the opening that Ray Smilie (Vince, K-9, CONSTANTINE), the adult and seemingly developmentally disabled son of the previous owners, heard whispers telling him to kill. His method of shutting up the voices is to play his electric guitar loud, but his mom makes him stop. It's like George Wendt and Macaulay Culkin at the beginning of the "Black or White" video, but with more deadly results.
The voices could totally be in Ray's head, not some supernatural thing, but Jesse starts getting visions and nightmares and painting terrifying shit he doesn't even remember working on, with images related to things Ray has done or will do. It's a good depiction of the feeling that we Artistes sometimes get when work just flows out and it's kinda spooky to wonder where it's coming from. Shots of Jesse mixing acrylics cross cut and blend with Ray mopping up blood, as if they're similar activities.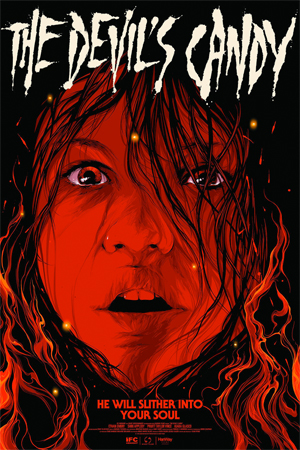 Ray is staying in a motel, having urges, and he gets noise complaints there too. So off goes the guitar and on goes the weird behavior like showing up at the house and being told to leave. Vince makes a really compelling psycho because he has this Of Mice and Men quality of a big confused guy who oughta be harmless but is doing these things that his favorite televangelist characterizes as the Devil working through him. He keeps talking about "having to do" what he doesn't want to do, and he really seems like he thinks he's a hapless victim while he's being the perpetrator.
The other thing that makes this really work is the unorthodox family at the heart of it. Kiara Glasco (MAPS TO THE STARS) is outstanding as Jesse's teenage daughter Zooey, who teases him about his butterfly mural for a bank being "not very metal." I don't think I've ever seen a movie where a father and daughter share a love of heavy metal. And if there was one you'd think it would be the parent trying to understand what the kid was into, but this seems more like the other way around. It's so unusual I assumed at first that he wasn't her dad, but her mom's cool boyfriend.
There's some stuff about Zooey wanting a flying-V, and since dad's tastes don't go against that it rules out empty rebellion and seems more like pure creative expression and self-fulfillment.
Even aside from that they have a really heartwarming closeness – she hugs him when being dropped off at school and never acts embarrassed of him. When horror movie circumstances cause that standard issue movie dad fuckup of leaving her stranded at school without a ride home it's more upsetting than usual because he seems genuinely invested in their relationship and in wanting to be there for her as she adjusts to a new school and deal with trauma. It's not just that he failed to fulfill his obligation.
I do feel a little bit sorry for Mom, Astrid (Shiri Appleby, CURSE II: THE BITE), who does not get any joy out of family headbanging sessions in the car. It's cool that she's open-minded enough to get in with Mr. Hell Man, but when her little girl started riding the lightning she must've been pretty bummed. Not because her daughter didn't grow into a little princess, but because it must be lonely being the odd one out. She also has to be the person appalled by her husband's inexplicable behavior, notably when he paints a giant picture of their daughter on fire. Which actually Zooey might think is pretty cool, but that's beside the point.
Though there's this demonic thing going on in the movie, the scary part is very down to earth: an unpredictable, mentally disturbed man violating boundaries and fixated on a young girl, with the police trying to help but not really having much they can do. There's a scene where Ray lays next to Zooey while she's asleep that got my heart crawling and skin pumping or whatever.
I couldn't have identified any of the bands on the soundtrack, but research tells me the songs heard are by Machine Head, Metallica (x2), Cavalera Conspiracy, The Wanton Bishops, Queens of the Stone Age, Spiderbait, Goya, Pantera, Sunn ))) (x2), Slayer and Alessio Randon. It's by no means a wall-to-wall song soundtrack, but guitar riffs are important to the mood of the horror scenes and also to Jesse when he's on a painting spree. I am a non-metal person and sometimes find it hard to relate to people who are deep into it, and I can say that this movie makes it seem more appealing than it usually seems to me.
I'd say this is actually enough to be a movement now – like LORDS OF SALEM, MANDY and others it plays around with 1980s religious paranoia about satanic rock 'n roll, but it's a story told by the metalheads instead of their clueless parents or the psychos behind the religious tracts, educational videos and teen boot camps. In this case the rock 'n roll is actually the thing that could've protected Ray from the Devil, and taking it away doomed him and his victims.
But it's really not so much about the music. I found an interview with Byrne where he said it was about his fears of being a new father, but also about his frustrations as an artist doing endless unused treatments and rewrites without being able to get his own stuff off the ground. Unfortunately that seems to continue, as it's three years later and he has nothing new listed on his IMDb page. I hope that doesn't last for long.