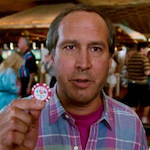 VEGAS VACATION is a standout in the VACATION franchise saga in that it's the only one that doesn't have a NATIONAL LAMPOON'S in the title. I don't know if they sued to get it off of there, like Stephen King did with STEPHEN KING'S THE LAWNMOWER MAN, or if National Lampoon said "VACATION is old hat, we decided to be strictly in the VAN WILDER business now," or if it's just an acknowledgment from Hollywood that by 1997 nobody who didn't go to Harvard in the '70s gave a shit about that magazine or was even totally clear what exactly it was. Whatever the reason, the name wasn't on this one, the brand showed weakness, and before long if I'm not mistaken National Lampoon was forced to change its name to American Pie Presents Magazine.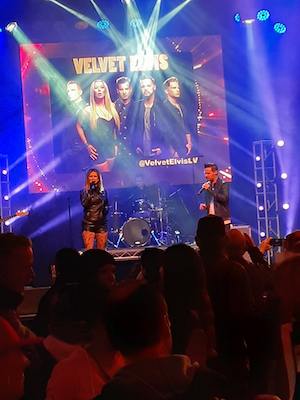 I can't claim to be an aficionado of the VACATION mythos, but after watching NATIONALLY AVAILABLE SPIN-OFF OF THE HARVARD CAMPUS COMEDY MAGAZINE'S EUROPEAN VACATION for the Summer of 1985 series I decided to be a completist and watch the only one about a vacation I've actually taken. I first went to Las Vegas with some friends who, like Clark and Ellen in the movie, went to renew their vows. I honestly have no interest in gambling, but it's interesting to watch for a little bit and then walk around taking in all the people, the art on the slot machines, the crass opulence everywhere, enjoying food and alcoholic slurpies and a zipline and late hours and walking past outdoor stages with '80s cover bands and realizing the unifying power of Bon Jovi. Seriously, I never liked Bon Jovi growing up, but you hear those songs and somehow everyone seems to know them and want to sing along and it's weirdly inspiring.
I can completely understand having an aversion to the place, especially if you don't drink (a little day drinking is part of the fun for me), but I enjoy it there, I find it interesting. So I have a soft spot for Vegas and I like seeing movies filmed at places I've seen in real life. I'm easy that way.