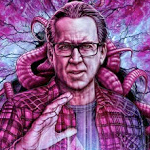 COLOR OF OUTER SPACE is last year's comeback film for Richard Stanley, known for not directing THE ISLAND OF DR. MOREAU. Working on a lower budget with the cool production company SpectreVision (MANDY, A GIRL WALKS HOME ALONE AT NIGHT) he was able this time to successfully achieve his weird literary adaptation dreams without ever having to hide out in a rain forest disguised as a dog man.
This one's based on H.P. Lovecraft's "The Colour Out of Space," originally published in a 1927 issue of Amazing Stories, and it opens with a young woman in a cape with a white horse performing an occult ritual. Nice trick – I assumed it was a prologue in the faraway past, but it's the modern day, and she's just a weirdo. She's Lavinia Gardner (Madeleine Arthur, BIG EYES), daughter of Nathan (Nic Cage, known for not starring in SUPERMAN LIVES) and Theresa (Joely Richardson, MAGGIE), who have recently moved from "the big city" (as all normal humans call their home town) to an isolated farm in Arkham, Massachusetts. They're kind of trying to live Off the Grid, so they get their water from a well, don't have reliable wi-fi, and are raising alpacas, "the animal of the future" according to Dad.
The story is told mostly through the perspective of young hydrogeologist Ward Phillips (Elliot Knight, Sinbad) – an alumni or student of Miskatonic University, says his t-shirt – who wanders onto the property while doing a water survey to prepare for a dam that's being built. There's sort of a flirtation between him and Lavinia, and I'm unclear whether this is supposed to be age appropriate or not. But he happens to be in the area the day after a meteor the color of hip 2010s movie posters, including MANDY – Nathan describes it as being kind of like pink, except not a color he's ever seen before – lands in the yard and begins an unstoppable progression of weird ass shit.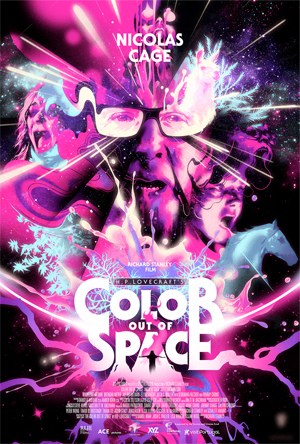 I should mention that they have a younger son named Jack (Julian Hilliard, the little kid with the glasses in The Haunting of Hill House) and their one neighbor is a lovably burnt out hippie squatter named Ezra (Tommy Chong, TRIPWIRE), who lives in a shack artfully decorated with junk like the brother-in-law guy in Tobe Hooper's THE MANGLER (note: I'm gonna start referring to THE MANGLER all the time as if it's a universally understood reference), which I imagine is similar to a shed where Stanley stores his extra crystal balls and tarot cards. So there are several characters for the weird sort-of-like-pink business to happen to. For Jack it means seeing a bizarre mantis/dragonfly creature and deciding it's his friend. For Ezra it means making reel-to-reel recordings of aliens under the floor. In one of the most normal creepy moments Theresa chops the tips of two fingers off while cutting carrots and doesn't even notice.
While Nathan takes her to the hospital the kids become very aware of the supernatural goings-on but of course mom and dad don't believe them when they get home, and don't seem to notice that they are not acting like themselves.
There's alot of focusing on triangles – the barette on the back of Lavinia's head, the attic and the window in the attic – and I believe there was similar imagery in MANDY, HEREDITARY and MIDSOMMAR, but I suspect it's some authentic occult shit Stanley knows about. Man, those weirdos from the '80s always looking for satanic symbols on heavy metal albums to protect their good Christian children, I hope they're still alive and having a field day analyzing all this, subscribing to Shudder, etc. If they're not too busy with Q Anon.
Due to the source material, some of the horror involves, like, magic beams and shit, which I don't think is easy to make cinematic. For example I always felt LIFEFORCE (by Tobe Hooper, director of THE MANGLER) lost its steam during the beam-heavy last act (though it played better when I got to see it in 70mm). Stanley performs admirably under these conditions, making some of the beams kind of cool, strengthened by strong foggy atmosphere and a slowly building score by Colin Stetson (HEREDITARY), and not leaning too heavily on them. They transform into some cool psychedelic imagery, but mostly they're a precursor to some crazy THINGish grossout business, much of it done with animatronics and what not. The animals transmorph, mom and son melt and grow together, shit gets nasty. You could say it starts to smell like Bottin spirit, if you can dig such puns, and I hope you can.
When the world outside of this property comes in, like when the mayor (Q'orianka Kilcher, HOSTILES) visits, it seems a little more cartoony. But it's kind of funny when Nathan is interviewed by reporters about the meteor and they call it a UFO, so the family makes fun of him.
The main cast is all strong. Cage gets somewhere between a few and several funny parts. He starts out as just a nerdy dad, but the color pulls the mega out of him, and even gets him talking like VAMPIRE'S KISS for a minute. Then he starts to slur and talk to invisible people and scratch at his nasty, leathery arm rash he got from a jellyfish bite in the shower. I bet he was excited about the scene where he tastes his tomatoes and throws a fit about them tasting bad. I don't think it's a career high like MANDY, but more like MOM AND DAD, where it's a pretty good movie that encourages him to utilize his unique skills.
I think Knight's performance as Ward is key to the movie working. He's a likable guy in a dorky hat, then a voice of reason, trying to warn people of danger, with little success. His reactions to everyone's craziness (before he knows this cosmic shit is real) are very credible. And at the end he seems truly transformed, like he's really been through some shit, but probly without having turned away from science. He wants nothing to do with that other stuff.
I also appreciated Josh C. Waller (director of RAZE and CAMINO) in his small role as the sheriff, because he's the most rugged, capable-looking person there but seems too taken aback to do anything except shoot (badly) in one part.
I thought of this as kind of an indie horror take on ANNIHILATION, though the truth is that ANNIHILATION movie and/or book must've taken inspiration from the source material. If you like seeing a family take that sort of one-way trek out into the swamp of unhinged reality, this is a decent stroll.
This entry was posted on Monday, February 24th, 2020 at 7:11 am and is filed under
Horror
,
Reviews
,
Science Fiction and Space Shit
. You can follow any responses to this entry through the
RSS 2.0
feed. You can skip to the end and leave a response. Pinging is currently not allowed.