Somebody requested I review EXTRACT, even knowing that I have a hard time writing about comedies and whether they're funny or not. But you know how I am, I strive to achieve excellence, make everybody happy and proud, etc.
EXTRACT is the new picture from Mike Judge who did cartoons, then OFFICE SPACE, then IDIOCRACY. It's a low key comedy but made me laugh alot and gets better and better as it goes along. There's not really a high concept to explain here, which was also true of OFFICE SPACE, but at least with that one you could say it was about the torment of being an office worker. This one is about a guy who owns an extract factory being sexually frustrated and dealing with a worker injury lawsuit. Does that sound awesome, or what?
Jason Bateman, whose work in TEEN WOLF TOO we recently enjoyed, plays the guy in question. It's not a stretch for him, it's pretty typical of his work these days and also fits the Ron whatisdick role in OFFICE SPACE of the everyman who has more common sense than the other people around him, but still does some stupid shit. The rest of the people in the movie are all kind of supporting roles with lots of the kind of observational character detail Judge is so good at. Most memorable are:
-Ben Affleck as a shaggy-bearded, drug obsessed bartender friend who keeps giving him stupid advice that he seems to eventually take just to get him off his balls.
-Clifton Collins Jr. and Beth Grant as rival workers in the factory
-David Koechner as his neighbor who's hard to get rid of. I never really liked this guy when he was on Saturday Night Live, but he's usually funny in movies.
-Gene Simmons is really good as a scary personal injury lawyer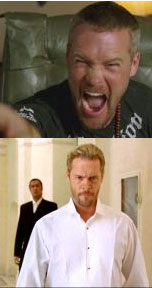 and most impressively Matt Schulze has a small but effective role as Willie, a psychotic drug afficionado and/or dealer. Most of you probly don't know who that is, but he was one of the special ops vampire guys in BLADE II (also in part 1 somewhere as a different character). I know him mainly from OUT OF REACH as Faisal, the white slaver and sword expert who kidnaps Seagal's penpal. He's hilariously awful in that one so I love that he is genuinely menacing in this comedy. What he does in the movie is pretty over-the-top but he still comes across to me as very authentic, less cartoonish than, say, the construction worker neighbor guy who was so good in OFFICE SPACE.
Like many (most?) comedies, most of the story comes out of the protagonist doing something completely asinine – he hires a gigolo to try to seduce his wife so if she falls for it he can hit on his super hot intern (Mila Kunis) and not feel guilty about it. You see characters cause problems like this for themselves all the time, but sometimes you're just supposed to make a leap that a supposedly reasonable person would decide to do something like that. Judge respects the character's decision-making more than that so he has him under the influence of alcohol and horse tranquilizers when Affleck pushes him into this plan.
Of course it (SPOILER) doesn't go well. This is a unique and laidback comedy with many unexpected turns and laughs that sneak up on you. Even at the end you know it's basically over and you expect an obvious little wrapup, and then something kind of nuts happens. And it has a little bit of sincere sweetness. You know, it's not alot of punchlines and big laughs, it's more the kind of jokes where you laugh a little and then you kind of think about it more and keep laughing into the next scene.
If I have one complaint it's that I think the women get a little bit of a raw deal. Mila Kunis is basically the villain who uses her hotness to take advantage of guys. She doesn't really get to be funny and only gets any dimension to her in a little touch near the end. Beth Grant is actually one of the funniest characters I think, but she's a small part and basically an awful person too. And Kristen Wiig as Batman's wife (I meant to type Bateman but now that I typed it wrong I think I'll leave it. Sometimes the greatest discoveries are by accident, like that whole thing with penicillin or whatever it was) I think could use more fleshing out. In some senses it's a great character for a woman in a comedy, because she does get to be funny and also gets to be sexual without being a sex object – it takes seriously the idea that she deserves to be sexually satisfied. But with a little more screen time I think she could've had more dimension to her character so you had more of an idea of her personality and why Bateman/Batman fell in love with her in the first place.
But I also gotta admit that I liked her in the movie and usually hate her on Saturday Night Live, so that says something.
I really liked this movie, but it's a small one, it won't appeal to everybody. I think it's a more solid and consistent movie than IDIOCRACY, but at the same time it doesn't feel as great because that one had such a strong point about what's going on in our culture. It had bigger laughs and it hit hard enough to hurt. OFFICE SPACE (still Judge's best I think) maybe wasn't as much of a gutpunch as IDIOCRACY but its observations about working are so universal. I've never worked a job anything close to that but still felt like I could relate to it.
EXTRACT doesn't feel as much like it's "about something." But it's some good shit. I hope Mike Judge keeps making movies like this, but clearly the geniuses in the movie marketing business disagree with me. They have done everything they could to end his career from movie 1. To be fair, he makes their job hard. I mean, any idiot should've been able to do a better job of explaining IDIOCRACY, or at least releasing it in theaters. But like I mentioned, OFFICE SPACE and EXTRACT are both pretty tough to describe in traditional advertising.
Still, I gotta call bullshit on these posters. I mean look at these: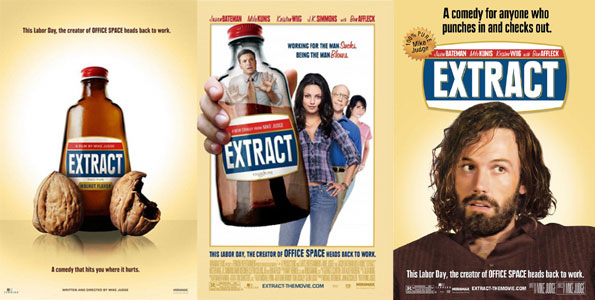 The one on the right pisses me off the most. "A comedy for anyone who punches in and checks out"? What the fuck, man. The movie is about the boss at the company. The character shown on the poster is a bartender at a sports bar, and he seems to enjoy himself at work. That has nothing to do with the movie, and nobody wants to see a rehash of OFFICE SPACE. This poster reminds me of some bullshitter trying too hard to sell me magazine subscriptions. Fuck this poster.
The one in the middle I guess is arguably the least ugly, which is sad. This one says "Working for the man sucks. Being the man blows." I guess that is at least somewhere around 45% accurate about the content of the movie. But Mila Kunis really isn't working for the man, and doesn't have a giant hand either.
The one on the left, the only one I've seen printed on actual paper, is sadly the best one. If you've seen the movie it actually kind of makes sense, because there's a testicle injury that's central to the story. That's why there's one crushed walnut and why it's "a comedy that hits you where it hurts." This also kind of makes me think maybe there's something more to the title – he's a maker of cooking extract, but also he's having this crisis in his marriage, there is alot of symbolism about having balls and maybe the semen is the extract of mankind, and– well, maybe not. It made more sense before I typed it.
Anyway, that's if you've seen the movie. If not it just says "Ha ha. Balls." It's like they say, IDIOCRACY is a documentary.
There's a couple other posters I found online, one with a less ugly design and one that just shows Mila Kunis, and both say "Sticking it to the man has never looked so good." Again, this has no connection to the movie at all. Kunis isn't some kind of folk hero and doesn't ever pretend to be. One of them shows Bateman with a black eye, as if he is "the man" who we are "sticking it to."
I don't know, man. I'm not saying I could do a better job. But I bet they could. Or at least they could follow MEN WHO STARE AT GOATS's example and just make it look like the cover of my book.
I will end with an important rhetorical question related to the terrible marketing of IDIOCRACY. You ever notice how often they use that "guy shrugging" approach to comedy posters?

This entry was posted on Sunday, September 20th, 2009 at 2:51 am and is filed under
Comedy/Laffs
,
Reviews
. You can follow any responses to this entry through the
RSS 2.0
feed. You can skip to the end and leave a response. Pinging is currently not allowed.