I remember when this movie came out everybody said it was terrible, then the longer director's cut came out and it started to build up a reputation as underrated. Just to be safe I wanted to allow some time for that rep to foam over and then dry up and harden into a solid surface. The effects of oxygen on the polished surface create the ideal viewing circumstances. So I watched it 7 years later.
It takes place during 12th century and the Crusades, as Christians and Muslims in fancy armor are fighting over Jerusalem. When the movie begins the city is controlled by the Christians ruled by the leprous King Baldwin IV (Edward Norton) who politely wears an iron mask to spare people the sight of his Elephant Man type face. He's in a truce with Saladin (Ghassan Massoud), leader of the Muslim armies, but he's got a bunch of assholes and zealots around him always trying to start up some holy war, 'cause they believe God is on their side, so they'll always win and always be right no matter what stupid shit they try to pull.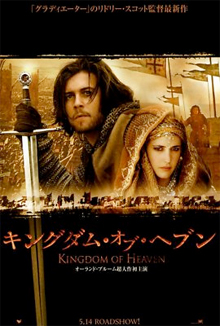 But this is an epic, so it's gotta start in the dirt somewhere and work its way to the throne. It begins on the outskirts with some gravediggers burying a "witch" for an asshole priest (Michael Sheen, TRON LEGACY). When some knights returning from the Crusades pass by them they act like it's Suge Knight and his entourage – a combination of fear and awe. The leader of the group is Sir Godfrey (Liam Neeson, DARKMAN), "a knight looking for his son" according to the STAR WARS-esque opening text.
I didn't know Liam was gonna be in this or that (SPOILZ) he wouldn't be in it for long. He's come to tell the town blacksmith Balian (Orlando Bloom, very loosely based on a real guy) that hey pal, you should know that I'm actually your father, and I didn't rape your mom or anything but she did sort of have to do it because I'm a Lord's brother, so that was pretty shitty of me to do. Sorry champ. Anyway, I'm a Duke, so if you want an army and shit you can come along with me, it's your right as my biological son. Or– you don't want to? Well, you catch up with me later then, if you want. Or not. My duties as father have been fulfilled now. Okay, see ya.
Balian's half-brother, that shitty priest, tries to get him to go. It's probly pretty good brotherly advice, but he makes the mistake of trying to nudge him along by telling him that his wife is in Hell and that he cut off her head before he buried her. So Balian stabs him with a hot sword he's forging, then pushes him into fire. The priest gets what he deserves, but also what he wanted, 'cause now Balian's a murderer and has to go to the Holy Land where rumor is all sins are forgiven. It's like the 12th century Vegas, but even better. What happens in or out of Jerusalem is forgiven in Jerusalem.
So Balian catches up with the knights, gets very brief lessons from Neeson (less than Batman or even Anakin did), gets knighted, inherits his dad's title and land.
Like I said, this is an epic, so our hero builds himself up from nothing. His land is not much better than a gravel parking lot, but cars haven't been invented yet so he helps his people build a well (even does most of the digging himself), irrigates the land, turns it into an oasis, befriends the King, pisses of a douchey French guy named Guy (Marton Csokas, xXx) fuck's Guy's wife (Eva Green) and lets her move in, somehow becomes such a badass knight he can be unarmed and defeat 3 guys attacking him on horseback. I like that his fighting style isn't just clanking swords together. He seems really good at spotting openings for any possible type of death blow. He's stomping on necks and shit.
He's also gotta be the most enlightened guy, so he admits to not earning his title, sees through religious zealotry (an agnostic during the Crusades!), makes a big speech about the endless cycle of fighting over a land that neither side could truly own. I remember when this came out in 2003 thinking hey, thanks alot, Ridley Scott. That's just what we need in the world right now is a movie about Christians killing Muslims, telling them their relgion is wrong and stealing their land. Of course, that's not what this movie is at all, it's obviously about the fruitlessness of that fight, and ends on a less-subtle BLACK BOOK type note of "see, this shit has been going on for a thousand years, do you really think one side can ever be the winner?"
But if anything it goes too far in trying to make sure that message comes across. The attitudes are too modern. I wonder what Verhoeven's Crusades movie would've been. I'd like to see one where both sides believe what they're doing, and are total monsters, and the audience is trusted to know this without it being pointed out to them. Then again, I like this movie's depiction of Saladin as a noble warrior until pushed too far by fucking Guy cutting off the head of his messenger. Great job, Guy. And I winced at the sinister delight on Saladin's brother's face watching Reynaldo getting beheaded. That seemed too mustache-twirling to me. But I can't have it both ways.
There are alot of colorful characters. Some of them meet gruesome deaths. I was hoping Sir Godfrey's buddy with the piggy tails would stick around for more violence. Who was that guy?
One thing that surprised me on the music credits: they used a piece of the score from BLADE II. I thought that was funny but then I remembered that I was watching the director's cut, and they probly had to use some recycled cues for the new footage. I hope there are people out there who are very familiar with the score to BLADE II who noticed this while watching and did a double take.
KINGDOM OF HEAVEN is no BLADE II, but it's definitely worth seeing. Stylistically it's very modern Ridley Scott, with some absolutely gorgeous shots, lots of things floating in the air, very atmospheric. The action is a little on the chaotic side, but much more effective for me than, say GLADIATOR. The vivid photography prevents it from being just another dull slog with a bunch of dudes in armor clunking around under grey skies in the mud. It's a corny but at times beautiful and entertaining myth about an interesting time and place.
This entry was posted on Thursday, May 31st, 2012 at 11:35 am and is filed under
Fantasy/Swords
,
Reviews
. You can follow any responses to this entry through the
RSS 2.0
feed. You can skip to the end and leave a response. Pinging is currently not allowed.