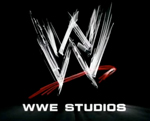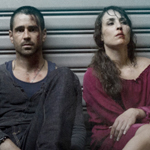 Nothing has changed since yesterday. I'm still against WWE Studios flying their prestigious banner above movies starring non-wrestlers. But I gotta admit that DEAD MAN DOWN is probly the best movie they've had their initials on so far. It stars Crusher Colin Farrell, Notorious Noomi Rapace and Terrence Dastructshon Howard in a moody revenge romance. (The token actual wrester is somebody named Wade Barrett as some character called "Kilroy.") I think the movie it reminded me of most is LEON, but it's a little more downbeat, and no uncomfortable underage business. But that's a pretty abstract comparison, I don't even know what it is that connects them. This is the rare movie that feels like it doesn't really follow an existing template. Or if it does it's a bunch of different templates collaged together in a weird way that's hard to recognize.
When the story begins Victor (Farrell) is one of several henchmen called to kingpin Alphonse (Howard)'s residence, where their colleague Paulie has turned up dead in the basement freezer. Some poor sucker was probly going for a popsicle and ended up disappointed. The body has on it a cryptic note and a little square cut out from a photo, part of an ongoing threat campaign against the boss. He's been collecting the puzzle pieces like it's the McDonalds Monopoly game, carefully putting them together, looking at the clues, trying to figure out who's after him, what they're trying to say to him.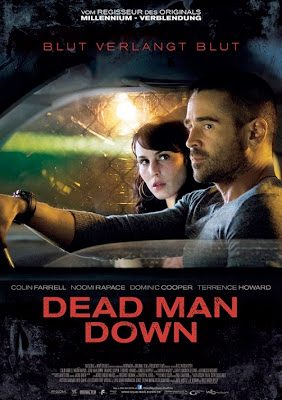 Victor lives in a tall apartment building, and one night Beatrice (Rapace), who sees him from a building across the way, waves to him. She used to be a beautician but quit and went to live with her mom (Isabelle Huppert) when a drunk driver hit her and scarred the left side of her face. She figures out his apartment number, leaves him a note, goes out for a drink with him. They're obviously both lonely people but that's not why this meeting is awkward – it's because they both know this isn't an innocent courtship. She's there to tell him she saw him murder a guy (recorded it on her phone, in fact) and wants to blackmail him into doing something for her: kill the motherfucker that did that to her face. Come on man, I know you know how to kill people. I think you would be really good for this.
We're not surprised he killed a guy, but he's not who we thought he was. Pause for spoiler warning. He's not just another one of these lovable movie hitmen. He's actually the guy who killed Paulie and left all the weird letters. He's undercover in the gang, not as a cop, but as a civilian on a Punisher-style mission of revenge because they killed his wife, his kid (and they think him) over a land grab deal. He created a new identity and infiltrated their gang. Motherfuckers willing to kill a guy they won't even recognize later on.
This takes place in a world untouched by cops. I don't remember if you even see one. They are irrelevant to these people. Victor has a secret room full of clippings, charts and phone taps, going through this elaborate plan like he's Jigsaw or somebody. Meanwhile he works with his friend Darcy (Dominic Cooper), who we know is a crucial character because the movie opened with him holding a baby and talking about his wife's influence on his life. But his wife influences him not to stay out of trouble but just to work hard and rise up the totem pole. He's trying to impress the boss by following leads to find out who his letter-writer is. And to Victor's dismay he's getting close enough he might have to end up in a freezer like Paulie.
That's plenty of plot there, but really the movie is more about these two broken people finding each other. They obviously have some interest in each other, but are they gonna requite that shit? Or are they too wrapped up in their trauma and their thirst for vengeance (T4V for short)? Victor is very shut off, but he signals his feelings by letting her into his Batcave, revealing what he's up to. You don't get much bigger demonstrations of trust than that. She reciprocates by helping him out, even surprising him and saving his ass after a sniping. Getaway driver on spec.
All this mayhem is supposed to help them deal with their tragedies, but both of them are taking their damn time finishing the job because – as Victor's revenge-associate Gregor (F. Murray Abraham) points out – they're afraid it won't work. What if they kill the motherfucker and then nothing changes? And they start worrying about each other's plots too. Should they be stopping each other? So it becomes a really interesting conflict. I equally wanted for them get their revenge and for them to decide they didn't need it. Usually the love story is just part of the formula, but here I was actually more invested in them getting together than in killing the assholes who wronged them. Although there's always a chance for both.
I don't really consider this an action movie, but it does have some shootouts and a car crash and I like how they're done. It's more of the slow motion things-splintering-isn't-it-beautiful school than a traditional thrilling approach. But I think it fits the material.
Farrell and Rapace are both really good. And despite the concept being pretty over-the-top it's the small human moments that make it excel. There's a whole bit about Beatrice bringing Victor her mother's food in tupperware that ultimately reveals something very normal and vulnerable about her and really grounds all this. Or the whole thing about her putting on a nice dress and getting blood on it. Or when she's losing it and shows up at her old job and just starts working, freaking everybody out. It's like a nightmare I would have. Rapace is great at playing these interestingly layered characters. Sweet and sad, but also kinda psychotic.
It's weird actually, there is nothing about DEAD MAN DOWN that screams WWE, or producer Neil Moritz, for that matter. It's neither fast or furious. It's quiet. Not really a crowdpleaser, more of a mood piece. I don't know if you guys are gonna like it, but I did so I win.
Not a bad type up job from J.H. Wyman, an actor from PROM NIGHT IV: DELIVER US FROM EVIL who also wrote THE MEXICAN. And I think it's an impressive American debut for Niels Arden Oplev, who it turns out is Danish even though we know him as the director of the Swedish GIRL WITH THE DRAGON TATTOO (starring Rapace, of course). I liked that movie but didn't think it was that distinctive filmatistically. This one has a strong look and mood that makes me take the guy more seriously. At least when he's working with WWE Studios.