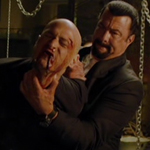 "I think the streets are clean for a while. I'm a dinosau'. Ain't nobody around like me no more, so…"
Steven Seagal's new one FORCE OF EXECUTION isn't really a movie I would recommend to most people, mainly because they would ask what "force of execution" means and I would have no idea what to say. I guess it means the same thing as "reservoir dogs," but just doesn't sound as cool or poetic.
However, as a dedicated Seagalogist (in fact, one of the West Coast's most respected, if I do say so myself) I found plenty of things interesting about this one. In fact, I watched it without reading anything about it and it kept confounding my expectations for a Seagal picture. In the opening scene Seagal's character Mr. Alexander has a guy tied to a chair and he's threatening him, saying "You broke the code, Sasha," and stuff like that. He gives him a knife and tells him to slit his own throat as punishment for being "a rat." When the guy tries to defend himself Mr. Alexander beats him to death and complains about getting blood on his suit. I mean, Seagal characters are always kinda over the line, but they don't usually capture a traitor, torture and kill him.
Holy shit, is he playing the villain? That would be a first outside of MACHETE, which is kinda in a different category in my opinion because it's more comedy than serious action movie and not sold as a Seagal vehicle. In this one he sports a rare goatee, like when we see him doing law enforcement or attending UFC events. It's kind of an evil twin look if you think about it. I'm not saying I can prove this publicly, but consider the possibility that it's actually Seagal's evil twin that hangs out with Joe Arpaio and Vladimir Putin and stars in this movie. We would know for sure if he was wearing an eyepatch or walking with a cane, but Seagal's evil twin would obviously be too ex-CIA for a stupid giveaway like that.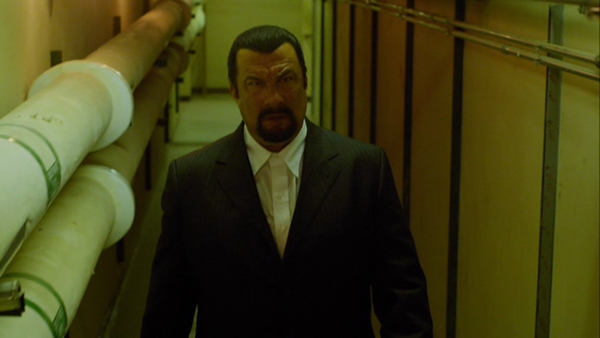 Anyway, he seems like a bad dude, a F.O.E. if you will. That's FORCE OF EXECUTION surprise #1. Surprise #2 is when the movie starts to follow a younger star named Bren Foster as Roman Hurst, Mr. Alexander's henchman of 15 years who stands watch motionlessly during the opening beating and who is only shown reflected in one lens of Seagal's sunglasses on the cover. This guy's such a badass assassin that when they need a prisoner killed they don't pay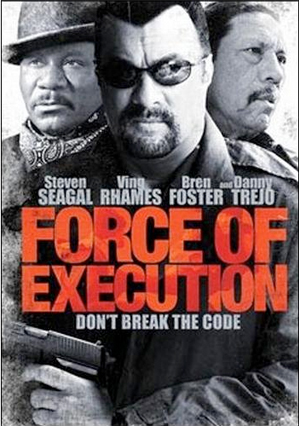 off some other prisoner to stick him, they send Roman storming in dressed as a prison guard. He does his job but the contact on the inside, Iceman (Ving Rhames, but I don't think it's supposed to be Iceman Chambers from UNDISPUTED) points out the wrong guy to kill, setting Roman up for a fall and kicking off a power struggle for the Iceman to exploit when he gets out of the joint soon.
Out of a sense of honor, Roman accepts responsibility for the mistake, and Mr. Alexander allows his client to hammer the poor guy's hands until they're uselesss. You don't get a gold watch when you retire from this business.
So Roman becomes this homeless cripple. You can tell he's a street person 'cause of his black knit cap and fingerless gloves. He lives on the stairs by a little diner run by Danny Trejo. I'm not clear if Roman knows this place is owned by Mr. Alexander and waitressed by his daughter (Jenny Gabrielle). But he endears himself to them by rescuing them from thugs using all kicks, no hands.
Around this time, out of the blue, Mr. Alexander shows up and gives Roman a bunch of money. "You're family. It's like that." He wants Roman to disappear, but luckily the kid doesn't listen because later he gets called in to help fight off Iceman. At this point the movie takes its most outlandish turn as Trejo reveals himself to be a "Mexican witch doctor," re-hammers his hands and stings him with rare scorpions that are supposed to reset and quick-heal the bones. Sometimes this kinda plays like the not-joking version of MACHETE, and I appreciate that. Trejo does play it for laughs, though, admitting that he's not 100% sure it will work and saying his technique "goes way back to Mayans, or Incans. Some shit. I don't know, old."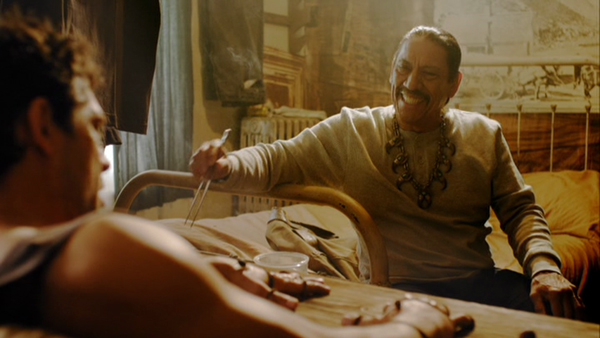 It's nice too see Trejo in a Seagal vehicle where he's not just in one little part of the movie, as in MARKED FOR DEATH and URBAN JUSTICE. This time he's a legitimate supporting character, doing his streetwise but kind old man persona like in BADASS. It's kinda cool that after so many years exclusively playing bad guys now he's the guy everybody loves. Let's get Al Leong and Tiny Lister doing that too.
At the beginning it seems like they pulled a fast one and this is actually gonna be a Bren Foster vehicle with an appearance by Seagal as a villain. But then it keeps going back to Seagal and not giving Foster enough to do, like they couldn't decide which one the story was about. Foster does get one big emotional scene, though, where he tries to commit suicide but misses the shot (SPOILER) because his hands are so fucked up. So that kinda seems like the main character and not the sidekick.
I guess Foster was in MAXIMUM CONVICTION, but I didn't pay attention to him. He was also on Days of Our Lives, and looks like a guy who would be on Days of Our Lives, but he's apparently a legitimate martial artist because he appears on National Geographic's Fight Science. And he's clearly doing most of his own fighting here. The prison break-in is a good scene with a well-shot hallway fight and some flying spin kicks that were never part of the Seagal repertoire, a nice addition. But when he's talking instead of kicking ass he lacks the charisma to be captivating. Maybe it's partly because he fakes an American accent. Shoulda gone full Van Damme and not worried about it.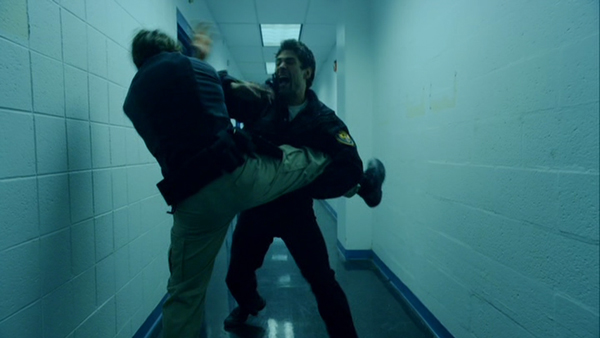 It turns out Seagal's not playing the villain after all, he's more like an anti-hero, really indulging his obsession with honorable gangsters (also seen in OUT FOR JUSTICE and DRIVEN TO KILL). It's possible that he started out playing the villain and then kept convincing them to give him more code of honor scenes until he ended up just being another protagonist. But more likely he just wanted to act like the villain at the beginning as an excuse to roll like this: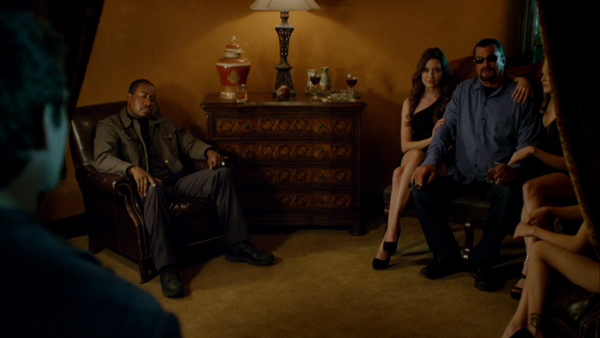 Obviously Seagal always has the younger ladies, but he only really got to have a harem like this in MACHETE and in Lightning Bolt commercials. And maybe you could count KILL SWITCH, where he's a bigamist.
It seems like his part is almost entirely improvised, so he gets to make little speeches and have mumbly conversations about such topics as honor, respect, face, etc. He has a scene where he's pulling out his different handguns and talking about their "guncraft" and their various strengths and weaknesses. He also gives Roman the gift of matching pistols with eagle heads on their white handles, and uses a machine gun that he boasts on a behind-the-scenes featurette "we tried to model after what I'm really using."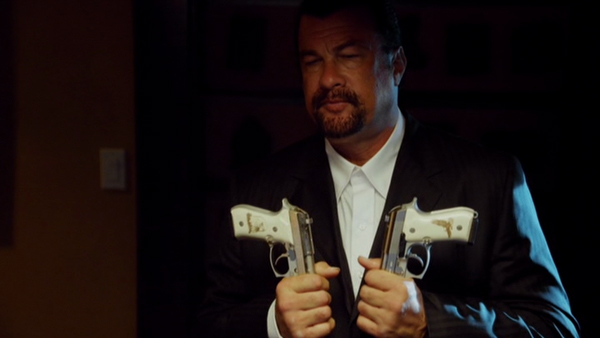 In another scene he huddles a team around a table to discuss the strategy of their raid, just like he would do on Steven Seagal: Lawman. And he has a bunch of that dialogue I talk about in Seagalogy where he seems to be riffing and throwing in some of his "you and I, we're puppets in the same sick play" type political ideas. For example, the part where he tries to make peace with Iceman:
"The people who run countries, war's the greatest business. But we street people, man, we ain't gonna make no money warrin. So, I was thinkin, I'll go up in the mountains of Thailand, where I learned my original bad habits, and leave all this to you. But you know what? I'd like to leave with my face, you know? So, give me a little bit, just enough to wet my beak. It's about respect, it's about face, and I'll be gone."
Of course, Iceman pretends to accept the offer, but Mr. Alexander knows he's full of shit, so he's immediately giving one of his henchmen a motivational speech:
"You know how it is, Eric. Tactics of gunfightin. If you don't maneuver you will be outmaneuvered, if you're outmaneuvered you will be killed. So – let's go home, get our gear in order, and prepare for war. Do what we do best."
Probly my favorite "had to be Seagal's idea" moment is when he muses that Sasha the Rat can't commit seppuku because he doesn't have any honor.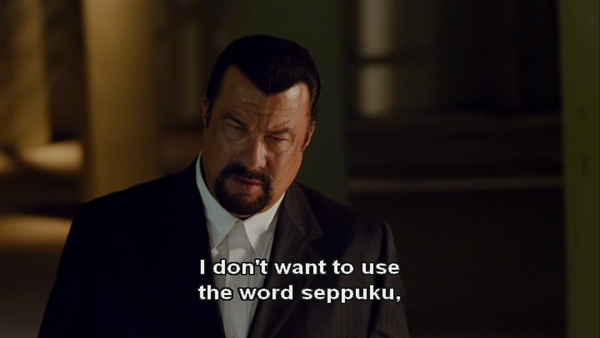 This is a sloppy story that seems as made-up-as-it-goes-along as Seagal's dialogue, and doesn't flow as well. But to his credit Seagal seems to be into it, and never had to be dubbed by another actor as far as I could tell. He even provided narration for the beginning and end, telling a story about how he "used to work for the guvmint," because obviously if Seagal plays a crime boss it's gonna be an ex-military crime boss. They sent 12 or 13 guys to kill him and Roman helped him chop off their heads and get "creative and stuff."
"And that was the last time I questioned this young man's integrity," he says.
Action-wise it at least makes an effort. Foster gets to kick a bunch of guys with the camera steady and pulled back far enough to show the whole thing. Seagal is shot mostly from the waist up when he fights, but I still enjoy the way he crushes people with his big meaty hands flying around so fast. It does look like he would slap the shit out of these guys and toss them around. He provides them an opportunity to observe the world from unique perspectives such as this one: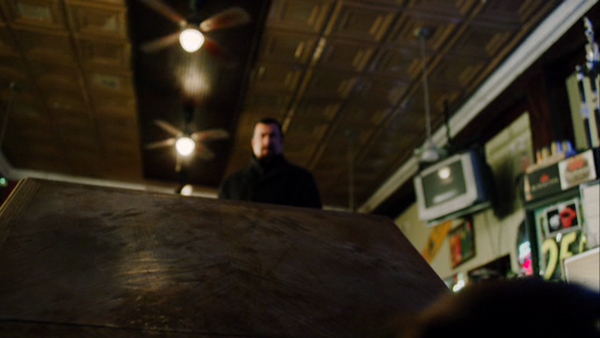 That's from one of the best scenes, where Roman is defending the diner from thugs and suddenly Mr. Alexander just walks in the door. He really is pretty menacing. You almost feel bad for those guys.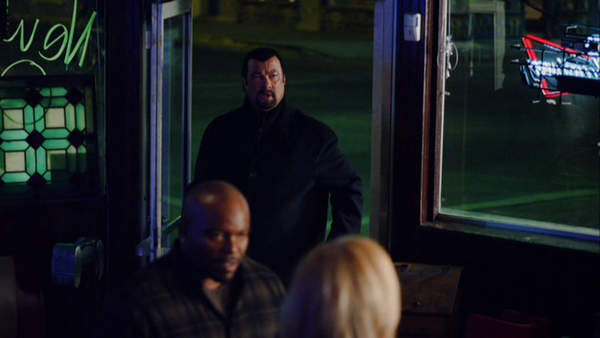 The three main F.O.E.s – Foster, Seagal and Trejo – get to fight together in that scene, and afterwards Seagal and Trejo speak Spanish to each other and share a hearty, seemingly genuine it's-good-to-see-you-again-old-pal type of laugh. I like that. Kinda meta too since the actors first worked together 23 years ago.
I noticed a couple little references to other movies I like. One is when Trejo jokes "I'm just a cook" after doing his mumbo jumbo. It makes sense in the context of the movie but it's gotta be a hat tip to UNDER SIEGE, right? The other is when they think Roman's dead and one guy's gonna chop up the body with a chainsaw. Roman kicks the guy with the saw, he falls down and accidentally saws his own leg, like what happens to Leatherface at the end of THE TEXAS CHAIN SAW MASSACRE.
In my opinion this is not as good as THE TEXAS CHAIN SAW MASSACRE. But I liked it better than Seagal's last one, MAXIMUM CONVICTION. This is from that same director, Keoni Waxman, who also did THE KEEPER, A DANGEROUS MAN, 7 episodes of True Justice, and the Steve Austin movie HUNT TO KILL. I haven't noticed any greatness in him yet, but he's a little more competent and has a wider color palette than alot of the gloomy DTV era Seagal pictures.
Seagal likes to build these relationships with directors he trusts to do movies the way he likes. What I wish he would be able to do, though, is find a young, hungry director eager to push him and use his talents in a new way, like Van Damme found in John Hyams and Mabrouk El Mechri. Hell, he likes speaking Spanish, maybe he should go to Chile and do one with Marko Zaror and Ernesto Diaz Espinoza. But, you know, that's just what I'd like to see. Seagal does what he wants to do, and that's why I keep watching.
I mean, that and societal pressure due to expectations established by my previous actions. But mainly the first one.