Word of warning: THE ADVENTURES OF TINTIN is really only about 1 (one) specific adventure that this guy Tintin has, it's not about all of his adventures. I don't know if that was a typo or a mistranslation or what but it's fucking bullshit.
Tintin (Jamie Bell from UNDERTOW) is a boy reporter from Belgium. I think. But I don't remember them specifying where it was or having Belgian accents, and I didn't notice any cameos by famous Belgians like Jean-Claude Van Damme and other famous Belgians. But I've read it's based on a Belgian comic strip.
You know, I should say "boyish reporter," because it's not clear how old he is either, and he sort of lives the lifestyle of an adult. He seems to live by himself and be able to travel the world without a parent's permission. And is a dog owner.
I guess I don't have much concrete information for you about who this Tintin is, but I can definitely tell you that he is a reporter. We know this not because we've ever seen him write a damn word in his life but because there are a bunch of framed newspaper articles on his wall. No, they're not by him, but they're about him and the headlines refer to him as a "reporter." So it's been verified.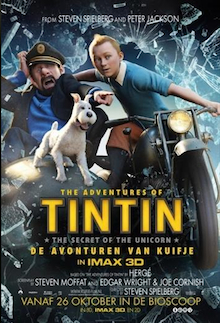 The one adventure of Tintin begins one day when Tintin is just unwinding the way he probly always does on his day off: having his caricature drawn and then randomly deciding to buy a model boat from a dude on the street. Luckily for journalism and adventure it just so happens that the boat has a clue to a hidden treasure hidden inside it and that a couple other people are hot on its trail and get there right after Tintin does and also he stubbornly refuses to take a whole bunch of money for the boat even though a minute ago he only wanted it on a passing whim.
Before long, bad guys are coming after him and he's tracing the origins of the boat, trying to find out what's going on and then chasing the treasure that turns out to be what's going on. He befriends an alcoholic captain guy (Andy Serkis in a rare human role) whose past turns out to be intertwined with the bad guy's due to reincarnation and curses and that sort of bullshit. There are boats, planes, camels, clues, etc.
I was excited for this one 'cause it's directed by Steven Spielberg, who in my opinion is almost like the Steven Spielberg of Hollywood. He's to movies what Steven Spielberg is to movies. This is the first time so far that ol' Spielberg's said "fuck all this bullshit with using cameras" and made a sort of animated style movie using the motion capture style of computer acti-mation like Robert Zemeckis used for his Christmas or Vikings trilogy. When I first heard about this I thought it was weird they didn't just do it in live action, and I read that they did tests and decided that Tintin's dog Snowy had to be animated and therefore they couldn't do it in live action. I wondered if Spielberg knew that some of the dinosaurs in his JURASSIC PARK movies were animated but Jeff Goldblum was still able to stand next to them in live action. Seems like you could do that with a dog, but maybe the technology isn't there yet.
Anyway now that I've seen it I get why this was a good choice, this way he was able to do it so it looks live-actiony but with lots of slapstick craziness that would've seemed corny and Leslie-Nielsenish with real people doing it. Also it has a very painterly look to all the colors and lighting and everything that makes it look all pretty, and you gotta do that shit pixel by pixel.
I know some people still got a problem with these unnatural human-cartoon hybrid people, like I did when I saw FINAL FANTASY, but I guess I've adjusted to them. It's just like how if you haven't been exposed to alot of people from other cultures you might be intimidated by them but after you start getting out of the house more it's nothing. Ever since A CHRISTMAS CAROL and AVATAR I think they've improved the eyes enough that the animation isn't creepy to me. I didn't have a problem with these particular abominations against God. In fact it's impressive how well they captured the round, naive-looking face of that simple drawing. And now they can make them forever without having to worry about covering up Jamie Bell's wrinkles as he gets old.
Like in A CHRISTMAS CAROL they made the characters have a certain amount of "realism" to their textures and everything but also have exaggerated cartoon features like bulbous noses and round bodies. They don't follow the "make it look like the voice actor" rule that I requested after FINAL FANTASY and received with POLAR EXPRESS, but it works. Forget wrinkles, they can also keep making them if Jamie Bell goes to jail or quits acting to become a monk. Anyway I couldn't recognize the voices, so it didn't distract me. For example I wouldn't have known the bad guy  was Daniel Craig (MUNICH) if I didn't see his name on the credits. It seemed to me like his character was designed as a combination of Spielberg and Peter Jackson (who produced the movie and is supposed to direct the sequel if they make one. I think it will – it probly did well overseas, although it's been crushed by ALVIN IN THE CHIPMUNKS IN: CHIPWRECKED in the United States. Great, American parents. You embarrassed us in front of the world.)
It's funny – I've seen quotes where Zemeckis talks about making those movies just because somebody had to break the ground on those tools and figure out how to use them. In this interview with Harry he said "I really want to make sure that we get this out there so that younger filmmakers have these absolutely breathtaking tools that they can use."
I like that he did that, but I don't think I ever really believed it would be influential. Now here's no less than Steven Spielberg following in his footsteps, and not just in technology but I think in style. The undisputable highlight of TINTIN is an elaborate chase sequence that's rendered as a single shot. It uses Spielberg's unbeatable knack for action, but I'll be damned if it isn't at least partly inspired by the show-offy tracking shots Zemeckis always puts in his mot-capt films, like the one in POLAR EXPRESS where the non-existent camera follows a train ticket that falls out a window, rides a gust of wind, is carried by birds and wolves and different things and falls down the mountain before landing back in the train.
I wouldn't say the 3D is as good as in the Zemeckis movies, but it's used well. It adds a kind of diorama quality to it, makes it more submersive, like you're riding through the story in a little boat or buggy. It does have a couple of parts with things reaching out of the screen too. I appreciate that. I don't think this 3D will convert people like HUGO did, but if you enjoyed its use in that you'll probly like it here too. It's not like the Pixars or HAPPY FEET TWO where it looked kinda cool at the beginning and then after a while I forgot and when I remembered I couldn't really tell if it was 3D or not. No, this is the preferred way to see the movie. But it'll hold up on blu-ray too I'm sure.
As a non-professional I'm allowed to admit that I feel like I gotta see this one again, 'cause after looking forward to it for months I went to see it exhausted from work and was having trouble staying awake. So I might not be trustworthy when I say that the story isn't as involving as I expected. By all accounts it's a frenzied, non-stop movie… except mine, 'cause to me it seemed kinda slow and uneventful at times.
It's possible I was put off by the minimalism of the character. I didn't completely understand why this dude cared so much about following all these clues, he didn't seem to really have a stake in it. I think it's just one of those things you gotta go with, though. And I like that, it makes the movie different, but I don't know, maybe it kept me from fully investing in what happened? It's hard to say. I was asleep.
Anyway it doesn't matter. He likes going on adventures, it's his thing, that's all. He's compelled to do it, there doesn't gotta be a fuckin mission statement about it. It's just like Indiana Jones likes going after treasure. He's not in it for the money. He gets off on it. Dr. Jones wants the glory of discovery and Tintin wants the framed article on his wall. The one he couldn't write himself 'cause it would be a conflict of interest.
Everybody's been comparing this to RAIDERS OF THE LOST ARK. It's a nice thought, but I think a little superficial. Yeah, it's some time in the past and involves international travel (including in deserts) to find treasure. And in a couple parts the John Williams music sounds Indiana Jonesy. But I mean, the tone is so different. Indiana Jones is a tough-talking, cynical, asshole type of guy. Tintin is the opposite of all of that. Indiana Jones has a new girl in almost every movie, he has a girl in his class writing "I love you" on her eyelids for him, while Tintin lives in a world where there barely are any females. This is the rare movie where the hero doesn't fall in love or already have a girlfriend. I liked that.
Also the stakes are lower. Indiana Jones was fighting against Nazis who were trying to use the power of God in their quest for world domination. Tintin is just trying to get some coins and rubies and shit before an asshole guy gets them. The raiders have their faces literally melted off because they try to see something God doesn't want them to. This guy gets thrown off a boat because he tried to smoosh them with construction equipment.
You guys are in luck though. Spielberg actually did make a movie just a couple summers ago that had alot in common with RAIDERS OF THE LOST ARK, it was called KINGDOM OF THE CRYSTAL SKULL. Look that one up, guys, I think you'll all dig it alot.
What I like though is the unfashionable simplicity of it all. I like that they don't pander to me by explaining who this Tintin guy is. He's a likable cypher. You'd think they'd feel the need to shoehorn in some backstory about where he came from and his parents died in a journalism accident and the Daniel Craig guy was secretly responsible and that's why this is so very very important to Tintin's sweet little heart. Thank you Spielberg for knowing that it's allowed for one out of every 250 movies to not have that stuff.
Spielberg recently said that he now sees it was a mistake to take the guns out of E.T. and all that. That's why he could make this movie. Tintin has a gun, he gets into gun fights. It's supposed to be funny and charming that the captain can't stop drinking, and there's a surprising number of liquor bottles broken over people's heads, which has more weight in this than in a more stylized cartoon. I'm not saying any of this is "edgy," it's just kinda refreshing to see it done un-self-consciously like in the old days. (Glad they didn't throw in any retro racial stereotypes though. That would be less refreshing.)
That's the other thing, Tintin is defiantly square. In situations where you or I would say "Holy shit!" or "Motherfucker!" Tintin would say "Great snakes!" And he'd make it work. He doesn't have to have some kind of "edge" or anything modern about him. I mean, as a point of comparison, look at these smug fuckin CGI characters:

I mean, there is obviously something to be said for a young man or animal having self confidence and all that but jesus, these fuckos look a little too proud of themselves, don't they? Especially considering their cinematic output. If anything they oughta all look apologetic on their movie posters.
Now look at Tintin: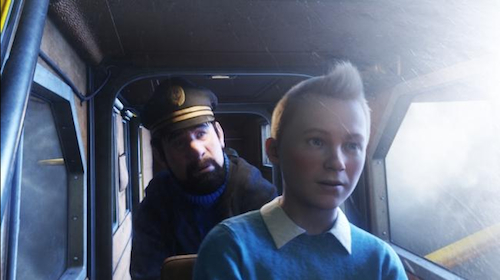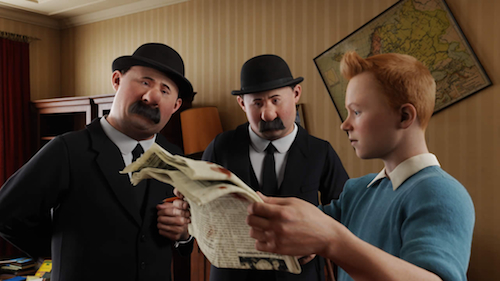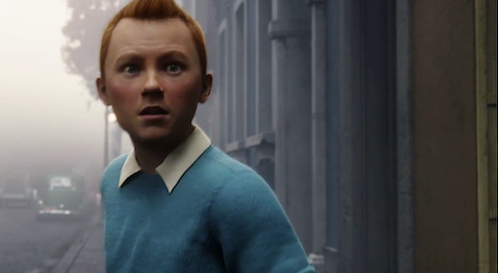 See? He's a nice young man. I can't even picture him standing arrogantly with his arms crossed, smirking like one of those fuckin jerks. He doesn't have to be some sunglasses-wearing little shitstain or a modern cynical wiseass or somebody who you can picture ever even talking to any of those fuckin guys. He's famous without having a drop of rock star in him. He's kind of a dork and it's not to be funny or ironic. He's 100% sincere. It's just what he is. I like that.
I like these characters, and this world. I'll have to take another look at the actual adventure.