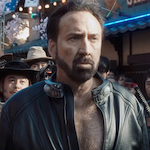 PRISONERS OF THE GHOSTLAND is the latest entry in the Nicolas-Cage-weirdo-arthouse-version-of-an-exploitation-movie subgenre (see also: BAD LIEUTENANT: PORT OF CALL NEW ORLEANS, MANDY, PIG). This one is unusual because it's the first English-language movie from respected Japanese director Sion Sono (SUICIDE CLUB, LOVE EXPOSURE, WHY DON'T YOU PLAY IN HELL). It's the first movie I've seen from him, but I promise I'll watch TOKYO TRIBE, which has been recommended to me a few times.
It takes place in what seems like a post-apocalyptic settlement, though apparently it's just a section of Japan that has been quarantined after a nuclear waste accident. The place is called Samurai Town, and it's mostly populated by Japanese people in traditional robes, but "The Governor" (Bill Moseley, PINK CADILLAC) is an American redneck. I like how it looks like a very colorful period samurai movie but then there's a car and Moseley in a white suit and cowboy hat.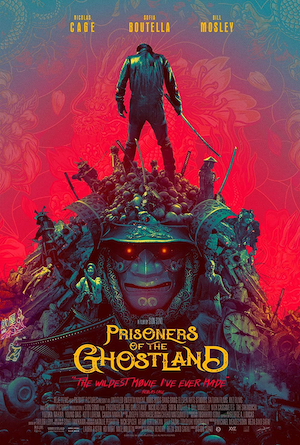 Cage plays "Hero," an imprisoned bank robber The Governor releases and sends on a mission to retrieve his "granddaughter" Bernice (Sofia Boutella, STREETDANCE 2, KINGSMAN: THE SECRET SERVICE, STAR TREK BEYOND, THE MUMMY, ATOMIC BLONDE, CLIMAX, HOTEL ARTEMIS) from the radiated wasteland known as The Ghostland. He makes him put on a leather jumpsuit that looks like something out of DEATH RACE 2000 and then explains that it has miniature bombs attached to it and they're set to explode if he tries to hit an innocent woman or tamper with the suit. There are also two explosives right over what the Governor calls his "testicules" for certain other contingencies. I like how this is kind of a sillier take on an ESCAPE FROM NEW YORK setup, with the Governor having made up more convoluted rules like there's a countdown on his wrist and he has to have Bernice speak into it to add another two more days. (So it's a problem when he finds her and she can't speak.)
We know from an earlier scene that Bernice is not missing – she and a few others escaped from captivity in the Governor's brothel. Now she's miserable living with a bunch of crazies who believe they have to hold ropes tied to the hands of a clocktower clock because if time progresses they will explode, but that doesn't mean she's gonna want to go back. Hero is not above dragging her back against her will to survive, but he's not completely heartless either. He's haunted by visions of a little boy (Hiroshi Kaname) who was shot to death during the bank robbery he was busted for. He also has bad memories of his crime partner Psycho (his FACE/OFF co-star Nick Cassavetes).
He meets the leader of the Ghostlanders, Enoch (Charles Glover, MITCHELL, SHIN GODZILLA, MANHUNT) and lots of strange mutants and deranged seeming scavengers including one named Ratman (Young Dais, THE OUTSIDER) who has big wire puffs on his shoulders that we will find out also light up with Christmas lights at night. Some good fashion in this one.
Amidst all the wreckage there are mannequins posed here and there, and there are also lots of people (some of them mutants) standing still covered in layers of pieced together parts of different mannequins. They're very creepy/cool looking and one of the many striking images in the movie is when he's pulling pieces off one of them, like unpeeling layers of an onion, and reveals just enough of the face underneath for it to be unmistakably Boutella.

PRISONERS OF THE GHOSTLAND is about 2/3 of the way to a movie I would absolutely love. It's one of the more wacko Cage movies, but with huge production value. It looks beautiful and most scenes seem to take place on huge, detailed sets with like 50-100 extras, many of them characters in the STAR WARS sort of sense – maybe they don't do much, but we watch them, examine their strange costumes and behavior, try to discern some things and wonder about them. There's that ESCAPE FROM NEW YORK ex-con-forced-to-go-on-a-dangerous-mission set up (I love shit like that) and the world of it reminds me of MAD MAX: BEYOND THUNDERDOME meets SIX STRING SAMURAI, with some imagery leaning more Jodorowsky or Julie Taymor (in strangeness, if not substance).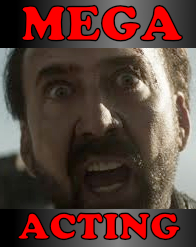 And Cage's role is novel in that it uses his mega-powers in what seems like sort of a parody of his old action hero persona. He's acting like a tough anti-hero. He has a couple fight scenes, which he handles well. He's grumpy and sullen but comes to understand his part in not only Bernice's predicament, but the nuclear accident itself, and takes on the heroic responsibility to lead a rebellion against the oppressive Governor. But he deflates his action hero glamour when one of his balls comically explodes early on and a hand gets blown off not long after that and he becomes helpless for a while. And Cage seems more interested in trying out his oddball acting experiments than portraying a character. When he's dragged out in shackles and has to act tough while a crowd berates him he does a bit of an Elvis imitation. He spends most of the section where he enters The Ghostland being carried around laying down and reacting to everything he sees. He does a couple of his tirades and adds yelling "Hi-fuckin-yaa!" in a fight scene to the legendary Cage moments pantheon along with sobbing the words "boo hoo" in VAMPIRE'S KISS.
Also, it's just really cool to see Bill motherfuckin Chop Top Moseley as the co-lead in an expensive looking movie with an Academy Award winning genius actor. You don't see that every day. If you know him from HOUSE OF 1,000 CORPSES / THE DEVIL'S REJECTS / 3 FROM HELL and stuff the voice and threatening uses of flowery language will be very familiar, but it's new to see him as this powerful figure with an entourage and being as psychotic as usual without having to commit the violence himself. I think he's scary in the parts where he's not talking, but just glowering, and it would be cool if this helps him expand the type of roles he gets a little. (Now I want to see him in a non-evil buddy picture with Cage.)
Unfortunately this is a movie that's not as compelling to watch as it is to describe. How can I explain this? It's one of those movies that kind of feels like it's asking "Wouldn't it be amazing if there was a movie like this?" more than it's actually being a movie like this. A movie in quotes. Maybe there's something missing in the script by Aaron Hendry (an actor on the Teen Wolf TV show) and Reza Sixo Safai ("Rockabilly" in A GIRL WALKS HOME ALONE AT NIGHT), or maybe it's just how it translated to the screen, but the storytelling is not very coherent. The world is amazing and I'm glad it's not explained to death, but maybe a little bit about it should be apparent without having to read up on it.
And as much as Cage is the MVP and main attraction here, is it crazy to think it might work better with a Hero who isn't as bizarre as the world around him – say, Jason Statham or somebody, playing it straight? There are so many characters and with the exception of the Governor's samurai bodyguard Yasujiro (Tak Sakaguchi, VERSUS, AZUMI, GODZILLA: FINAL WARS) – who you just know bristles every time that asshole yells for "Yah-so-jeer-roh!!!" to do this or that – pretty much every one of them is a weirdo doing and saying weird things at all times. That can be fun for a while, but it starts to feel so aimless. I feel with the exciting setup and climax there's potential to tell this story with some sense of momentum to it instead of just feeling like stumbling dizzily through a maze until you accidentally find the exit. And yeah, the latter is still a worthwhile experience, but I think the former could be truly great.
But maybe Hero would have to be a little more of a character and Bernice would have to be alot more. I've loved Boutella in everything I've seen her in, but this is probly the first one where it seems like they didn't know what to do with her. We've seen her excel as a dancer, a bodyguard, an alien, a mummy – surely she should have something great to do in this fucked up nightmare of a world where strangeness reigns! At least she gets a cool sword fight.
PRISONERS OF THE GHOSTLAND is definitely a unique experience, so don't get me wrong, I kinda liked it. And it's surely a better use of Cage's time and talents than some of the more straightforward movies he does. It's just that it's so strong and unusual in its visuals and its world and it's such a great cast that it's frustrating it doesn't have the storytelling foundation to feel like more than just goofing around being weird.
This entry was posted on Thursday, November 18th, 2021 at 11:26 am and is filed under
Action
,
Reviews
,
Science Fiction and Space Shit
. You can follow any responses to this entry through the
RSS 2.0
feed. You can skip to the end and leave a response. Pinging is currently not allowed.