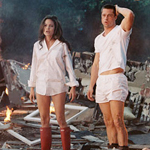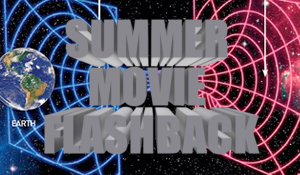 MR. & MRS. SMITH is an action comedy from Doug Liman, the director of THE BOURNE IDENTITY and JUMPER.  It has had a bigger imprint on pop culture than JUMPER because it caused Brad Pitt to ditch the lady he was with at the time and stick with his wife in the movie, LARA CROFT TOMB RAIDER THE CRADLE OF LIFE star Angelina Jolie. The two play John and Jane Smith (of course), who have been married for "5 or 6 years" without knowing that each other are highly skilled assassins for rival secret organizations. It's kind of like TRUE LIES I guess but less hateful, more equal (though also the action, like the movie in general, is not as huge).
John works out of a cluttered headquarters like a construction office, his partner a misogynist loser who lives in his Mom's basement (Vince Vaughn, his shtick already pretty worn out by that point). John keeps his weapons in a secret bunker under the tool shed. Jane's firm is a high tech MISSION: IMPOSSIBLE type joint in a high rise. She seems to be the boss, pampered by an all female, all model staff including Kerry Washington. At one point she tells two of them to make her coffee. Her weapons, of course, are in a secret compartment under the oven.

They didn't realize it but they met overseas when they were both on missions. So they're not surprised about each other's constant business trips. We see them on the job, Jane undercover as a dominatrix, having to rapell out a tall window, John wandering fake-drunk into a back room, dumb-charming his way into a poker game until the target shows up. Only after they get sent out to the desert after the same target (Adam Brody), and even then not right after the bat, do they figure out each other's secrets.
So then they try to kill each other. Jane finds his stash, clears him out, they both go to live at work, there are car chases, he locates and attacks her office, her and the ladies fire grappling hooks out the window and zipline to safety on another building. John calling her "Chicken shit!," her yelling back "Pussy!" And she gives this smile that means she still likes him.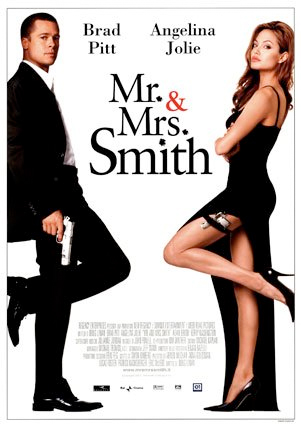 That's the tightrope they're trying to walk, with mixed results I think. You gotta not take it literally, otherwise this is a movie about a husband and wife trying really hard all night to horribly murder each other, setting off explosives and earnestly firing off hundreds of rounds at each other, repeatedly chasing and trying to outsmart and ambush each other to death. Which, in my opinion, is not as charming as sweet as this movie is clearly trying to be. Because all the while they are flirting and sort of remembering that they care about each other. And then throwing knives.
You just gotta accept it, and you gotta believe that nobody would notice them throwing knives at each other on a crowded dance floor, or that 5 minutes of automatic weapons fire in the living room would draw a comic check-in from the neighbors and not a squad of police in kevlar.
In the middle of a lengthy and surprisingly hard-hitting hand-to-hand fight a remix of "Express Yourself" by Charles Wright & The Watts 103rd Street Rhythm Band pops in awkwardly. What, express your feelings by stomping on your spouse? Or is this beating a metaphor for an open and honest communication, an expression of their frustrations? I don't know, but it seems kinda like a desperate plea to show that it's supposed to be fun and not upsetting. Hey everybody, husband and wife are trying to beat each other to death in the living room, let's dance!
I don't know, it's weird, but when they get tired of fighting, and they're impressed by each other's skills, they start laughing and next thing you know they're fucking and then they're hanging out together in their underwear in their wrecked home, drinking wine out of broken glasses. Now that they know each other for real it's like they're starting over with a new first date. And I gotta admit it's kinda charming how real their attraction obviously is. (Sorry, Jennifer Aniston. No offense. And thanks for reading outlawvern.com by the way that's awesome)
I think the stranger part of the movie is when they team up, though not all of the bickering humor works. I like how John becomes kind of protective, giving her gun tips and stuff, and calling her "sweetie." The action is well done and debris intensive. I like the earlier car shootout better than the climactic department store one.
But I don't know about the running gag of him hating her cooking. This is 2004, the wife is not always expected to do all the cooking. If you don't like it cook it yourself you dick. It seems like kind of an evisceration of standards that don't really exist anymore. On the other hand this is a wife who's very capable, possibly more capable than the husband, not an idiot like Cameron Diaz in the similar-toned KNIGHT AND DAY.
The worst thing about the movie is the score by John Powell. I suspect it would work alot better if the music was treating it seriously, but instead it's some "isn't this whimsical?" comedy bullshit. I'm against it.
The best thing is the chemistry between Pitt and Jolie, and that Pitt is pretty funny in it. The ultimate combination of these two qualities is during the shootout at the end when Pitt is sneaking around and he starts clowning by swinging two big wrenches and making a face, and Jolie laughs. It seems like it might've been something he genuinely did just to make her laugh.
He plays kind of his funny-dumb guy, so out in the desert, unaware that he's being spied on, he takes a piss and accidentally gets some on his boot and that's why he misses his target. I also like when he figures out that his wife is a killer and his response is "Sweet Jesus mother of God." Not theologically sound, but provides the desired effect.
The script was a spec by Simon Kinberg, who had done xXx: STATE OF THE UNION, later did some X-MEN movies and now is working on STAR WARS movies. He and Liman tried to turn this into a TV show with Martin Henderson (TORQUE) and Jordana Brewster (FAST AND FURIOUS SAGA), but it didn't air. I'll give him some credit for this but I think it goes a little too cute and obvious for my tastes. It seems a little too confident in how hilarious and subversive it supposedly is that this good looking couple with the nice house are actually killers. But I like the exchange "I missed you." "I missed you too." At first I thought they were being sarcastic and then I realized they were talking about guns.
This entry was posted on Tuesday, August 27th, 2013 at 12:31 pm and is filed under
Action
,
Comedy/Laffs
,
Reviews
. You can follow any responses to this entry through the
RSS 2.0
feed. You can skip to the end and leave a response. Pinging is currently not allowed.