Hey, remember Leon from THE FAST AND THE FURIOUS? Of course not, nobody does. He's the guy that doesn't really get to do anything, or come back in any sequels for a second chance. He's played by Johnny Strong, the lead in this movie. Strong also wrote and performed the songs, so this must be a passion project for him. He plays one of these Over the Edge Cops, you know. Going Too Far, because of various troubles (son died, wife left him, also war and Katrina vet). At first I was suspicious of Strong as a leading man, but he pulls it off. He's pretty good.
Johnny's a street crimes cop in New Orleans sent to help out homicide with a string of brutal burnt-alive executions. By coincidence the whole thing centers around his old friend Colin (Sean Patrick Flanery), who he knew was in some kind of trouble, but he didn't know it was gonna be this. I guess since Johnny's on thin ice with internal affairs anyway he doesn't bother recusing himself from the case.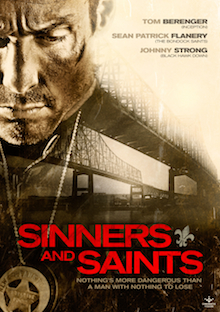 Alot of recent DTV movies have been filmed in New Orleans because of the tax breaks, but this is the rare one that really needs it for the theme of the movie. I noticed a hint of left wing politics in director William Kaufman's THE HIT LIST, where a screwed-over war veteran snaps after watching an anti-gay marriage editorial on cable. Here it's even stronger. This is a movie for these times – Bush is gone, but the effects of his era still linger. Parts of New Orleans are still a hellscape of dilapidated, spray-painted, abandoned homes. Soldiers and mercenaries are back home from Bush's wars, but hardly back to civilian life. They're fighting over evidence of their war crimes – "evil, evil stuff" Flanery says (although the tape we see later is standard shootings and not the fucked up Abu Ghraib type shit his description conjures in your mind).
Costas Mandylor (with a big scar on his face) is the heavy, and I was happy to see Bas Rutten, one of my favorite MMA personalities, in a rare movie role as one of his henchmen. At first it seems like he's just gonna be wasted as a standard Bald Guy With Accent Standing Behind Bad Guy, but toward the end he gets to be real mean and do a small amount of pummeling. Strong actually slams Bas (yeah, right) and then does some moves on knife-wielding guys that suggest either Rutten helped with the choreography or Johnny's seen his self defense video. I'm still waiting for the role that takes advantage of Rutten's craziness and sense of humor, but this is better than nothing.
Method Man (credited under the silly pseudonym "Clifford 'Method Man' Smith") has a small but excellent role as a feared gang leader. He has a freaky Two Face type disfigurement and gets to seethe with anger, reminding me of the scary pre-deodorant-commercials-with-Redman Method Man of the early Wu-Tang records. Good for him – he gets alot of roles, but usually not very good ones.
Tom Berenger plays the chief, who actually gives him sincere advice instead of yelling at him. The chief shakes his head in disgust at a Picayune headline that says "Baghdad on the Bayou." I'm glad he didn't see the opening credits, which intercut footage from the war with footage from the flood. These characters are still at war – even the cop who's not a veteran might as well be after what he goes through. At the end there's a typical situation where Johnny could take the bad guy in, but is about to shoot him instead. Just when you expect the straight-laced partner to say "Don't do it!" he says, "Finish him!" like it's MORTAL KOMBAT. Afterward he's shaken, and Johnny gives him PTSD advice.
I prefer THE HIT LIST for its great premise and the tight structure it lends itself to, but Kaufman is definitely one to look out for. This is a pretty standard type of cop thriller but with a strong mood and texture that make it work as an explanation of its time and place. Even as DTV movies start to improve you can't really say that about most of them.
Anyway, I figure Johnny Strong is ready for his FAST AND THE FURIOUS sequel.