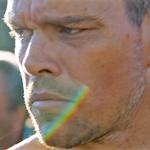 JASON BOURNE opens with clips from the original Doug Liman/Paul Greengrass/Matt Damon BOURNE trilogy of 2002-2007. Those movies came to reinvent the spy thriller for a new age, even influencing the subsequent 007 movies and unfortunately inspiring an age of impressionistic action sequences. But the last time Damon played the character was almost a decade ago.
THE BOURNE ULTIMATUM doesn't seem like very long ago to me, but think about how much has changed in our world. When it came out Obama was still a senator, Heath Ledger and Paul Walker were still alive, Margot Robbie was 17 years old, only serious fantasy nerds had ever heard of Game of Thrones, movies were projected from 35 mm prints, there was growing excitement about a comeback for 3D, and Vin Diesel had not yet returned to starring in the FAST AND FURIOUS series. Along with FASTs 4-7, action movies we've had in the interim include the entire IP MAN series, the entire EXPENDABLES series, THE RAID 1 and 2, JACK REACHER, the John Hyams UNIVERSAL SOLDIER movies, JOHN WICK and MAD MAX: FURY ROAD. So one could argue that the genre has changed.
And when JASON BOURNE cuts from blue-tinted, baby-faced everyman flashback Damon to the 2016 model – chiseled features, convincing grimace, gray hairs, a wider color palette – it's a thrilling leap. He just looks so much cooler now. Having done, you know, whatever the stuff was in the other movies, Bourne is now living the way of the dragon, bare knuckle brawling for cash in Greece. That tells us he'll probly never stop killing, because he's clearly some kind of genius who could change his name and get all kinds of high paying jobs, and still he chooses to be a human cockfighter. I wish he lived in a Buddhist temple to complete the RAMBO III homage.
But if you thought Greengrass was gonna leave his shaky closeup action sequences in the Bush years where they belong, the opening scene has bad news for you. You may have seen the trailers use of the ol' underground-fighter-walks-up-and-gets-a-one-punch-knockout (see similar scenes in HARD TIMES, DIGGSTOWN, ONG-BAK, LIONHEART, UNLEASHED, SNATCH, BLOOD AND BONE, NEVER BACK DOWN, WARRIOR, BARE KNUCKLES, etc.) In the trailer you see the opponent, you see the punch, you see him fall to the ground, all in one simple shot.
Surprisingly clear staging for Greengrass. That's why it's not in the movie. They chose to use a different, obstructed angle where you only see part of the opponent and don't see him drop. Though the movie has a couple hand-to-hand fights, a motorcycle chase and a car chase, we seem to see more of the motion blur than we see of the exciting stuff.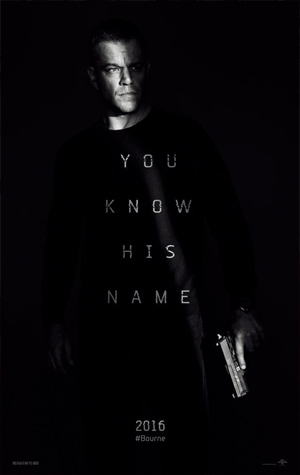 I noticed a good ways into the movie that Bourne had barely spoken. Even when he picks up a phone he doesn't say "hello." I thought maybe they were trying to do something different, turn him into some iconic Mad Max or spaghetti western type of badass. Nah. Then he starts talking more in the second half, like a normal movie.
Supposedly Greengrass and Damon weren't willing to return to the series unless they had a really good reason why the story had to continue. Well, I don't know about that, but it is a solid version of the same kind of thing. It turns out after three movies of recovering his memories there was still a little bit more secret government shit about his past for him to illegally uncover and sneak around fighting people about. I would rather the title JASON BOURNE meant it was like ROCKY BALBOA, a redefining look back at the story from an older perspective. It's still a pretty good title though, because in the end he (hopefully) has accepted that this David Webb chump who he was born as is gone, and now he is the Jason Bourne of legend. (You know, like Richard Chamberlain's Bourne learned at the end of his mini-series way back in 1988.)
This time around the Brian Cox type guy after him is CIA director Dewey (Tommy Lee Jones, ROLLING THUNDER). I forget how exactly it worked in the other ones, but Dewey is not some corrupt part of an agency, he is the actual official government straight up ordering murders and shit. He's trying to stop Nicky (Julia Stiles, SAVE THE LAST DANCE) from leaking files about their secret programs through some douchey hoodie wearing hipper version of Julian Assange (Vinzenz Kiefer, SPEED RACER). She gives some new information to Bourne, which is kind of shitty because he was completely off the grid and now he is totally on the grid. And the grid is where you get spotted and they send an "asset" (Vincent Cassel, MESRINE) to kill you and he has a deep personal hatred of you if you are Jason Bourne. That's why the grid sucks and is not recommended to be on.
This time the surveillance state is sort of the topic instead of just a cool thing for them to use to catch Bourne. The new angle is "Deep Dream," which sounds right in line for the code name of a creepy black ops program, but turns out to be a Silicon Valley social media giant whose services Dewey wants to use for domestic spying. We see sneaker-wearing tech insiders worshipfully applaud the utopian talk of moguls (specifically one played by Riz Ahmed from NIGHTCRAWLER) whose creations are complicit in the erosion of privacy and freedom.
I wouldn't know, but to me the hacking suspense sequences don't seem as believable as in my preferred thriller franchise (I wish), BLACKHAT. Nicky breaks into some files and immediately there's a war room of CIA computer experts clickety clacking away while their boss barks "SHUT IT DOWN!" and they update her on their moves.
And you know how it goes with all the security camera feeds: Wait, go back. There! Zoom in. Enhance that. That's him!
Their boss is eager-to-earn-her-bones CIA cyber division head Heather Lee (Alicia Vikander, EX_MACHINA), who talks herself into the job of chasing Bourne. There are hints of other motives that make her part a little more interesting and suspenseful, and she looks so dainty I was proud of her for putting herself out there. This is a dangerous world, if she doesn't watch it she could get beat up with a paperback book or a rolled magazine. She could stay behind a computer the whole time, but she chooses to get out of the van.
The conventional wisdom is that Greengrass popularized the closeup/handheld style that basically tore the heart out of American action movies for the past decade, but that he's very careful about it and makes it easier to comprehend than the people who followed in his footsteps. I thought so with SUPREMACY but started to think he was pushing it in ULTIMATUM. This time he's as messy as most of the other guys.
Dan Bradley is often given credit for this so-called shakycam style, since he was the second unit director for BOURNEs SUPREMACY and ULTIMATUM as well as GREEN ZONE and QUANTUM OF SOLACE. For this one they have a different guy, Simon Crane, who did the Bourne-ian SALT along with more clear action like the TOMB RAIDER movies, TERMINATOR 3 and MR. & MRS. SMITH. (Wait a minute – and MALEFICENT. And WORLD WAR Z. And TROY. And IN THE LAND OF BLOOD AND HONEY. This is the go-to guy for the Jolie Pitt family!) The fight coordinator is Roger Yuan, aka The Fiendish Dr. Wu in BLACK DYNAMITE. I bet he would've liked to have a little more choreography in the fight circuit portion of the movie, seeing as how he is a martial artist who appears in AMERICAN KICKBOXER 1, AMERICAN STREETFIGHTER, SHOOTFIGHTER: FIGHT TO THE DEATH, RING OF STEEL and DEATH MATCH. But you watch an action movie like this and you wouldn't think the people making it would ever be interested in ones like that. They might even think they made up this idea that he would go off and become an underground fighter.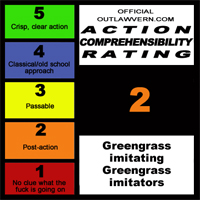 But there are a variety of Greengrassian action smears that seem like they would be pretty exciting. The best would probly be the chase in Vegas with a stolen SWAT truck knocking cars away like bowling pins. Also there's a motorcycle. I noticed that my favorite shots were the dashcam and helicopter footage from the CIA's surveillance. They sort of prove that the quasi-documentary style of these movies is bullshit, because real documentarians in the thick of it would be able to get way better shots. Still, they manage to get some excitement that way they do, where you can piece together enough of what's happening to joy it on a story level if not on a visceral, I am watching good filmmaking that moves my soul like only movies do type of level.
At the climax a man who I figured out was probly Jason Bourne catches up with his rival in a sewer and it seems like a pretty good fight was going on in there. I was happy when you could tell that Bourne started using his fists because he's been pro for a while now, he is gonna be pretty proud of it and show off.
If they ever make another one I would like to see it either be
a) The UNFORGIVEN of Bourne movies (I don't even know what that means)
or
b) Desperately trying to assert itself as relevant to young viewers by totally changing the style to copy a more recent movie like JOHN WICK or something
That would be an ironic development for the series that youthified the spy thriller genre.
I liked JASON BOURNE better than other people I've talked to, and that's a shame, because this wasn't made for me. I was the one who was excited about Justin Lin directing a BOURNE LEGACY followup with Jeremy Renner. Poor guys spent a bunch of time working on it and then "oh hey, sorry fellas, Paul Greengrass has something important to say about the convergence of public technology and domestic spying, please return your keys on the way out." The studio very responsibly made the movie that the public thought they wanted, but then it turned out the public didn't actually give that much of a shit. So they should've said fuck the public, I'm gonna make Vern happy and make the fresher, more interesting movie.
But if freshness and interestingness don't seem necessary to you for a new Bourne movie, you might, like me, find this pretty enjoyable in the same way that all the other ones were. They have a good range of exotic locations, introduced with nice helicopter establishing shots. You got your snowy Iceland, your dusty Greece, your neon Vegas. They have Bourne appearing threateningly in people's apartments, sneaking around in his celebrity-going-out-to-get-groceries style baseball hat disguise outsmarting people, and even falling off a thing and swinging on a cable at one point. That was a new development I think.
If we needed another one of these Bourne movies, then good, because here one is.