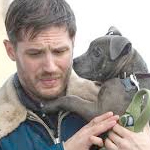 There's something I love about a movie where English Tom Hardy, Swedish Noomi Rapace and Belgian Matthias Schoenaerts play Brooklyn neighborhood folks. It's this international cast, directed by Michaël R. Roskam (who previously did the "Best Foreign Language Film" Academy Award nominee BULLHEAD starring Schoenaerts) but there's still a theme of characters having to correct each other's ignorant statements about nationalities and languages: no, those gangsters aren't from Russia, they're from Chechnya. And you call them Chechens, not "Chechnyans." And the language they speak in Brazil is called Portueguese, not Brazilian.
Rapace actually doesn't put alot of effort into hiding her real accent, but Hardy, being Tom Hardy, throws himself into the task head long, especially in his occasional voiceover narration. He loves to mumble and slur, and to be funny-dumb, but also intelligent-inarticulate. As good as he is at playing eloquent snobs I suspect he has way more fun playing louts like this.
There is one American co-lead, and it's a good one: the late James Gandolfini of New Jersey. His character Cousin Marv is a likable but bitter man, once the owner of Marv's Bar, now just the guy forced to run it for Chechen gangsters who use it as a money drop. Hardy plays Bob, Marv's younger cousin and bartender (who seems to do the actual work). All the sudden one week Bob and Marv step into two types of shit:
1) some guys in Halloween masks stick up the bar, and the Chechens consider Marv liable for the loss
2) Bob finds an abused pitbull puppy in a garbage can and decides to keep it. Not only must he face the perils of first time pet ownership (with the help of Rapace, owner of the garbage can) but he eventually finds himself in conflict with the previous owner. And before you ask he's not exactly Gino Fellino, so he can't just kick the guy in the balls from behind.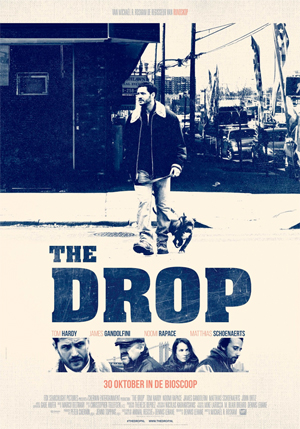 Written by Dennis Lehane from his short story "Animal Rescue," this is a very leisurely and understated sort of crime tale. It focuses more on Bob's time with the dog and the girl than with the gangsters and the detective (John Ortiz, aka Braga from FURIOUS 6) who's circling him. It's not at all jokey but it has an extra-dry sense of humor. Hardy seals it with his offbeat timing; you can see him thinking. I love when the detective is harassing him and he just stands there looking dumb, giving his response only to himself after the guy walks away. He's no idiot, though. He knows there are things you don't say, things you let go.
Marv is a sad character. He had a taste of being the neighborhood bigshot, but that's never happening again. He has his gangster problem but also run-of-the-mill money shit. He lives with his disabled sister Dot (Ann Dowd) and still gets nagged like he would if she were his actual unfulfilled wife. She blames him for her not achieving her dreams either. They talk about going on vacation together.
Rapace's character Nadia is a little more standard issue. She's less physically scarred than she was in DEAD MAN DOWN, but it's another nice lady trying to get past a horrible life. As usual the character is made more interesting by her playing it.
Schoenaerts plays Eric Deeds, one of the villains, and he's got his got a real creepy style of menace. I only knew him from RUST AND BONE, where he's kind of a mono-syllabic bruiser. Here he's less physical, more psychological. His mental state is described as "squashed." He usually threatens without coming out and saying it. Pretending to just be a random guy talking to Bob in the park, but saying a few odd things. Then showing up at his door and asking to come in. Hardy is noticeably smaller than him, and not shown to be a fighter at all, but he doesn't show any fear. Doesn't even puff his chest out. You're not sure if that means he's tough enough to take him, or he's just very calm. But I mean, he lets this stranger into his kitchen of his own free will. Eric tries to scare him by pretending to be friendly, and Bob pushes back by playing along.
Compared to most stories about taking on a rescue dog, this turns into a pretty big adventure. But compared to most stories about stealing from the mafia it stays pretty small and intimate. I like that about it. It's humble.
I like the movie overall, but mostly I like it for Hardy. I bet he'll have a great career and do mostly strong material for a long time, but if he ends up a bloated old man playing gangsters in shitty b-movies I bet he'll make that enjoyable too. He's one of those special type of actors who could be in almost anything and it's fun to just watch him going at it. Acting. Getting his mind around the character, his mouth around the way he talks. He's detailed. You watch his eyes, his posture. Maybe he's better in a movie like this without too much going on. It gives him more space to move.