I'm very late to this one, but I have finally seen and written down words about Thor picture #4, THOR: LOVE AND THUNDER, directed by the suddenly controversial Taika Waititi. I see most of the Marvel movies right away, but various other happenings conspired to make me wait until three weeks later on this one, and honestly it was kind of nice to miss most of the conversation and see it after the storm had passed. I'm curious to see if this review will still generates anything close to a new release level of discussion, or if the interest in such topics dissipates with exposure to oxygen. I honestly don't know the answer.
It was also good to see later because I was aware that the response had been much more widely negative than for most MCU movies, and especially than the in-my-experience-universally-popular THOR: RAGNAROK from the same director and general attitude. Before that I had taken for granted that it would be one of the better Marvel movies. I concede that it's the opposite. But maybe the lowered expectations contributed to me still being entertained and not hating it.
Chris Hemsworth (A PERFECT GETAWAY) returns as Thor, the initially pretty serious, now mostly comedic Asgardian Thunder God turned Avenger. His alien rock monster pal Korg (voice of Waititi) gives us the "previously on Marvel" rundown in the form of a children's story: Thor has now gotten back into (ridiculously perfect) shape, has kind of a hair metal look and still runs with the Guardians of the Galaxy, which is getting boring because he's way more powerful than necessary for most of the situations they deal with. They decide to part ways, and he returns to New Asgard – remember, his planet/dimension/whatever was destroyed and now the refugees live in a Norwegian coastal village ruled by Valkyrie (Tessa Thompson, MAKE IT HAPPEN)? That last one really left things in a weird place, I'm starting to realize.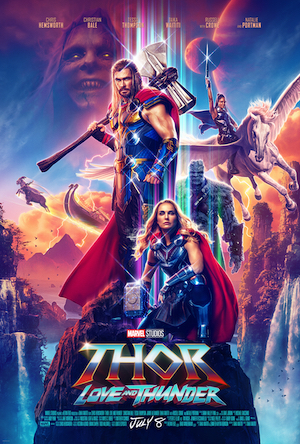 Here's the thing though. Thor's old earth girlfriend Dr. Jane Foster (Natalie Portman, JANE GOT A GUN) has stage four cancer, and none of the treatments are working, so she had this idea to come to New Asgard to look at the remains of Thor's magic hammer Mjolnir (remember, his secret evil sister Hela [Cate Blanchett, HANNA] broke it with one hand?) and then it re-formed and flew into Jane's hand and now she has amor and power like Thor and calls herself The Mighty Thor. Long story. That happened mostly off screen. So when Thor shows up at night and starts fighting off a monster attack, Jane is there dressed like him, and it's awkward.
The monsters come courtesy of the villain of the piece, a being called Gorr, street name The God Butcher. He's played by Christian Bale (SHAFT) and he's the best part of the movie, maybe because he's the only part that's not treated as a joke. In the opening he's a grey and tattooed humanoid of unknown species, protecting his daughter in a desolate desert wasteland. Shortly after she tragically succumbs to the elements he stumbles across a beautiful oasis, where a bunch of gods including his own, Rapu (Jonny Brugh, WHAT WE DO IN THE SHADOWS), are sitting in VIP smokin and drinkin and kickin it. When he realizes that Rapu knew what his followers were going through and just didn't give a shit it inspires Gorr to steal the mythical (and cool looking) Necrosword and murder him with it. So he Gorr good reason to be pissed, plus the sword does a Lord of the Rings type number on his soul, so he decides to dedicate the rest of time to going around slaying all the gods he can find. Including, say, a thunder god super hero guy, maybe.
(That mythological villain origin prologue is likely the best part of the movie, just like the one in THE MUMMY.)
As scary as Gorr is, he loses the fight in New Asgard. The bad news is he kidnaps a bunch of children and puts them in a cage in the Shadow Realm (floating in space, basically). The late Heimdall's son (Kieron L. Dyer, JINGLE JANGLE: A CHRISTMAS JOURNEY), who is really into Guns 'n Roses and renamed himself Axl, is able to contact Thor telepathically, depicted through a goofy superimposed floating head that has been savagely made fun of on Twitter, but seems to me intended to have a goofy SHRUNKEN HEADS sort of look that they honestly should've gone further with. Oh well. Long story short, Thor and pals go to Omnipotence City to try to get help from Zeus (Russell Crowe, THE MAN WITH THE IRON FISTS) but he turns out to be an absolute douche, and then Gorr steals Thor's magic ax Stormbreaker and (obviously) uses it to summon the Bifrost and find Eternity, a giant cosmic being made out of the stars who (as I'm sure we're all aware) can grant one wish which they assume will to be to kill all of the gods.
I don't mind the random narrative bobbing and weaving. It fits the personality of this colorful cartoon world of mashed up mythologies. And I don't mind all the jokes. Waititi's recognition of Hemsworth's humor from seeing him in GHOSTBUSTERS is part of why RAGNAROK helped the Thor series finally (briefly) find its footing. The problem I have is that this is a comedy that would work better with some grounding to it. There are movies that are really funny but you take the story and characters seriously, but this one takes the approach that those don't matter because they're only there to set up the jokes.
For example, there's a scene where Thor finds his friend Sif (Jaimie Alexander, REST STOP) gravely wounded. She tells him it's okay that she's dying because she'll be able to go to Valhalla, and he tells her that actually you only go to Valhalla if you die during the actual battle, but maybe her chopped off arm will get to go there. It's a funny line, but it requires us to accept that this great Asgardian warrior who fought beside him since childhood (so, about 1500 years), appeared in his first two movies and crossed over to Agents of S.H.I.E.L.D. and Loki, doesn't know the basic rules of her own belief system. Because the joke is more important. A bad choice, in my opinion.
I first realized something was off about the movie in Jane's first scene, where she's getting chemo, a kid sitting next to her is reading her book, and she gets to show off that she wrote it. It's a cute idea, but it just seems so not-at-all thought out, with this pile up of unlikely things you have to swallow. This kid, the only other patient here, is unusual enough to read books about astrophysics, and didn't kinow he was in the same hospital as the author? It's really a coincidence? And as I'm trying to get past that she's for some reason trying to explain a concept to him that he hasn't gotten to in the book yet, and I have to accept that she would just tear a page out of the book to re-create the scene from INTERSTELLAR. And in retrospect it occurs to me that this was not reminding us of a concept that we would need to understand for the story, like when Ant-Man explains time travel in AVENGERS: ENDGAME. It's just trying to be funny, and maybe it would be in some other context where I wasn't distracted by everything being so awkward. I mean, it's funny to think of Jane Foster being really into EVENT HORIZON. I can dig that.
While we're trying to recover from the oddness of all that, Jane tells Darcy (cameo by Kat Dennings, DEFENDOR) that she's dealing with cancer in her own way, which turns out to be doing experiments in her lab to try to cure it? That's very comic booky, sure, but it just seems so stupid in a story where she's not gonna end up Hulking or Morbiusing herself. She's just gonna fail to cure cancer. She really thought she could just put in enough elbow grease to hash this cure for cancer thing out?
I just think making this character deal with the real world part of the story in a way that's as silly as any of the fantasy world stuff is a missed opportunity. Portman is a great dramatic actress, that's kinda her thing. I try to avoid reviewing a movie for what it's not, but I can't help but imagine how much better this could be if it just spent a little time treating cancer as a real thing, something that has defeated the science she trusts in, before she resorts to the magic. Then she can be funny because of her unexpected new life of being a viking super hero.
I like the cute explanation of why Mjolnir called out to her and turned her into Mighty Thor. And it's cool how it's still in fragments but holds itself together and then can come apart and turn into shrapnel for combat purposes. The self-deprecating humor about her wanting to have a catch phrase but the stuff she comes up with is always bad isn't very funny, but maybe it would be if there was a serious Jane we got to contrast it to. And maybe then it would feel a little more exciting to see her with super powers. I was excited that Portman got to come back as something more interesting than Thor's Love Interest, but they didn't exactly make her into one of the great super heroes either.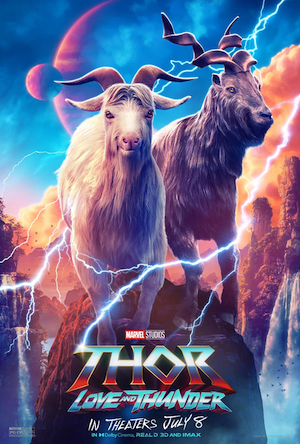 One reason the Marvel movies caught on is that they found a good balance of bringing comic book adventure to life and being able to laugh about it. I felt it started to become formulaic around the time of AVENGERS 2, that every big super hero moment seemed to be followed by a beat and then a quip making fun of it. But they've mostly made it work. THOR: RAGNAROK handled it well because Hemsworth charisma had always been the main thing driving the THOR movies. Allowing him to be funnier kind of unleashed that, and at the same time the colorful Jack Kirby inspired alien planets were an enormous improvement over the drab ice giants and shit that Thor had previously dealt with, whether or not they were being taken seriously.
But for me LOVE AND THUNDER has gone too far over the line into just not taking enough things seriously to work as a dramatic story. Everything Thor does is a joke or a riff or a set up for a punchline… until the climax. Then all the sudden he's crying and telling Jane he loves her. I tell you, I'm a softy these days, it could've got me if they would've taken one or two things half way seriously at any point earlier in the movie. It's not quite as bad as if Ricky Bobby had a dramatic crying scene at the end of TALLADEGA NIGHTS, but it's not that far off from that either.
So as a result it doesn't seem very earned when the movie ends with some sweetness, basically a setup for the next movie, even though it turns out to be the meaning of the subtitle. Unless they change course, the next one will be about Thor raising Gorr's daughter, resurrected and super-powered. She's actually played by Hemsworth's daughter India Rose Hemsworth (uncredited, I believe). I didn't notice this, but Hemsworth's wife Elsa Pataky (INTERCEPTOR) also has a cameo in the movie as a wolf woman he has sex with on the back of a giant wolf. I hope Thor gets back together with the wolf woman so part 5 can be a family affair.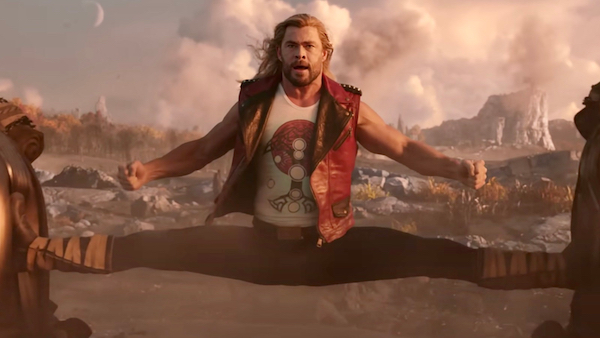 But I'm afraid the legends were true, THOR: LOVE AND THUNDER is a haphazard mess, maybe a product of a Marvel overconfident that we're charmed by certain things and if they catapult them at the screen it doesn't matter precisely where they land. It does, at least, continue to express the personality of its director, though some have claimed that he was not entirely in charge of the post-production (some using this as a dig on Marvel, others on him, depending on which one they're more mad at).
I don't really get the Waititi backlash. For a while I thought I was a little less into him than everybody else, having not seen his early works, and only liking WHAT WE DO IN THE SHADOWS enough to be amused by once and never think about again. There were a few years there were it kinda replaced SHAUN OF THE DEAD as the comedy I liked but just didn't relate to the religious fervor for. Then a few of my friends started holding a personal grudge against him because he was allegedly coked out and/or obnoxious at a Fantastic Fest Q&A one time. Others started to find him annoying in interviews, while still others talk about JOJO RABBIT as if it's so self-apparently disgraceful that we need not even discuss why it must be removed from the planet earth. I'll just say, whether in good or bad faith, these people are interpreting that movie so drastically differently than I am that it's frustrating. I think they take the movie as an attempt to humanize Nazis – if this kid grows up as a Nazi, then Nazis were kids once, so have some empathy for them. I think that's backwards. I think it's saying if this kid grows up indoctrinated with these fucked up beliefs that just seem like patriotism to him, what did you grow up with? How many of the beliefs you've inherited are you willing to question? How sure are you that you're not part of the problem?
Dealing with the most sensitive of all subjects using humor is very risky and obviously not for everyone, and of course I can understand people not being comfortable with it. But also I'm not Jewish, so if I did have a problem with it I certainly wouldn't tell this Jewish director how he should approach the subject.
Anyway, this should be less controversial: THE HUNT FOR THE WILDERPEOPLE is a funny and charming movie I would recommend to absolutely anybody. For that movie alone I can't hate the dude. Furthermore, he's the producer of one of my favorite shows on TV, Reservation Dogs. He co-wrote the pilot so he's credited as co-creator, though it seems to be Sterlin Harjo who's really the voice behind it. Still, it was Waititi who had a production deal with FX, asked Harjo if he wanted to make a show, and made it happen. That is an admirable use of the clout Waititi has built up. That's what you're supposed to do.
So I respect him, but LOVE AND THUNDER certainly shows he's fallible. It seems like maybe RAGNAROK was the best big studio type movie he had in him and now he should focus on his own type of stuff, but I'm not gonna tell him what to do.
P.S.
Maybe it's time to check in with a state of the MCU in what I have just read is Marvel Cinematic Universe Phase Four: The Multiverse Saga Part 1 of 3. Unfortunately BLACK WIDOW didn't live up to my hopes, but I guess at least it gave us the gift of Florence Pugh as Yelena Belova. SHANG-CHI AND THE LEGEND OF THE TEN RINGS was I think a very good Marvel movie, mostly standing on its own, introducing a version of the world more influenced by the cinema of Hong Kong and China. ETERNALS, unfortunately, did not impress me enough to even write a review. My main memory of it is that the side characters like the ones played by Angelina Jolie and Ma Dong-seok were interesting while the central characters were too bland to give a shit about. SPIDER-MAN: NO WAY HOME is not the best of these as a stand-alone film, but is the most entertaining as a novelty concoction taking advantage of its place tying together a larger body of work (or bodies of work!). DOCTOR STRANGE IN THE MULTIVERSE OF MADNESS is a little less successful at that sort of stuff, but certainly benefits from the injection of Sam Raimi's style and personality (instead of just borrowing his characters).
You know what's kinda funny, when I saw THE ETERNALS people were saying that it didn't really have an effect on the larger MCU story. And I thought are you crazy? At the end of the movie the whole world has to deal with the fact that a giant space god is sleeping on the earth and humanity has a limited window to prove our earth or be destroyed! But then SPIDER-MAN: NO WAY HOME, DR. STRANGE & THE MULTI-VERSE OF MADNESS and THOR: LOVE AND THUNDER have all come out and not one character has mentioned there being a giant space god and all that. Nobody gives a shit. I guess after Thanos you get pretty blase about this stuff.

I'm still on board enough that I've watched all the Disney+ shows, a feat I might not have pulled off if they were dumped all at once like Netflix shows, but luckily they release them episode by episode. WandaVision is kind of the most interesting, because it actually takes advantage of and comments on the television format, and would not work at all as a movie. The Falcon and the Winter Soldier, on the other hand, might've been improved at movie length, finding something better than these mediocre TV level bad guys. But there's some good buddy movie interaction and admittedly some stuff about Falcon's life as a Black man (but also Avenger) in America that they might not find time for in a movie.
Loki was pretty imaginative and had its own visual style, but it was the first one where the season ended and it didn't feel like a complete story, just an explanation of a concept and the beginning of an ongoing story that may or may not build to something more interesting. I don't personally need a season 2 on that one, so of course it's the only one we know for sure is getting one.
Hawkeye was way more my speed. I think that's my favorite. It does feel like an extended movie, but it works. A good action comedy tone, some strong action sequences, and a very charismatic lead duo in Hailey Steinfeld and Jeremy Renner. Also it's more characterization than Hawkeye ever got in the movies, and Pugh returning as Yelena is a total delight. I laugh just thinking about the way she says "Kate Bishop."
Moon Knight started out interesting-weird and pretty cinematic, but I mostly shrugged at the end. I at least respect that they had the balls to make one that had no connection or reference to any other MCU stuff.
Ms. Marvel is my second favorite, not because of the overall super hero story but because Kamala Khan, her friends and family are just so funny and lovable, and also because it has some cool stylistic flourishes like animated graffiti murals and texts that we see light up as neon signs on a store window behind a character.

There's one more movie in this "phase," and it's BLACK PANTHER: WAKANDA FOREVER. It's such a mystery how it's gonna work, since obviously it was a vehicle for this one character and then they had to make it into a movie without that character at all. But we do know that Ryan Coogler is a Real Fuckin Director and man, that trailer looks like a Real Fuckin Movie. Not because it's the new chapter of the Marvel story or because of what will happen to this character or that, but as a movie on its own. I recently saw the trailer in a theater for the first time and I got goosebumps. Man, Coogler is so good. I don't want him to be stuck making Marvel movies forever, but on the other hand, maybe that wouldn't stop him from greatness. Time will tell.
This entry was posted on Thursday, August 11th, 2022 at 2:10 pm and is filed under
Comic strips/Super heroes
,
Reviews
. You can follow any responses to this entry through the
RSS 2.0
feed. You can skip to the end and leave a response. Pinging is currently not allowed.