These days Luc Besson is mostly thought of as a producer of action movies (DISTRICT B13, TAKEN, THE TRANSPORTER, UNLEASHED). But man, there was a time there a while back when his heart was in being a writer/director, and LEON aka THE PROFESSIONAL is a hell of a good action movie he did.
The year was 1994 and American crime movies were having sort of a resurgence. Young men with movie cameras were reading the Psalms of John Woo and rediscovering the joys of onscreen bullet discharge. It was the year of KILLING ZOE, THE LAST SEDUCTION, FRESH, the Alec Baldwin version of THE GETAWAY and of course DEATH WISH V: THE FACE OF DEATH.

Oh yeah, and PULP FICTION. Tarantino also had his script turned into NATURAL BORN KILLERS that year, and TRUE ROMANCE the year before. Most of the attention justifiably went to him, and he took any chance he could get to wax on about his influences in Hong Kong cinema and the French New Wave and whatever else he was talking up back then. But coming along on this same cultural wave was Frenchman Besson, who had his own type of international sensibilites (which is how over the years he ended up producing English language movies for French directors starring Jet Li or Jason Statham or even Bruce Willis, having his finger in importing Tony Jaa, exporting parkour. Bringing the different parts of the world closer together.
(Hey, this is weird – Besson was a producer on THE THREE BURIALS OF MELQUIADES ESTRADA and I LOVE YOU PHILIP MORRIS. I did not know that.)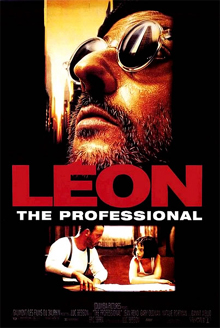 So LEON is I think his version of an American action/crime movie. It even opens with a camera flying over the water toward New York, as if saying "Follow me, countrymen, to a magical land where the mafia does battle." It zeroes in in on New York, into LIttle Italy, into this specific building where Danny Aiello is meeting with the elite hitman Leon (Jean Reno).
Leon accepts the job of assassinating a crime boss who's been fucking up. We don't see Leon clearly yet, he's a mysterious presence, but he doesn't mind giving his prey forewarning by letting the doorman call upstairs to them. Now they know he's out there, they're looking for him, waiting for him to arrive. They watch the lights on the elevator the way the Colonial Marines in ALIENS watch their meters as the aliens get closer.
I think Besson is sometimes considered schlocky now, but this is not the work of a schlocky director. This is the work of a guy who loves storytelling. He gives his guy a great entrance, he makes him mythic, he develops suspense, and alot of this he does through visual style, moving the camera around methodically to tell you this guy is over here, this guy is down here, soon they will meet and bullets will fly.
On the job Leon works like Batman, appearing and disappearing from shadows, hanging upside down from the ceiling, making his enemies quiver in fear. His Batman even has a Joker, but he looks like Commissioner Gordon. Gary Oldman plays Stansfield, the maniacal, pill-popping thug who leads a crew in gunning down an entire family and then (SPOILER) turns out to be a cop. It's a classic piece of mega-acting. I hadn't seen this in years and remembered him being over-the-top alot more than he actually is, but the character has a few scenes where he goes into such overload that there oughta be sparks popping off his brain out his nostrils. His eyes turn Nic Cage, he screams, he plays air piano. My favorite Gary Oldman moment is the overhead shot of him cracking his neck and shoulders as he enjoys his pills. It seems like he's making a transformation into a bizarre lizardman or something.
But back to Leon. With his sunglasses on he obviously means business. He terrifies hardened criminals into compliance. But on his own he's a goofball. He watches Gene Kelly movies with a look of little boy joy on his face. He doesn't like swearing or smoking, and usually doesn't drink alcohol, but always a glass of milk. He owns an oven mitt made to look like a pig. But that's not his badass juxtaposition – I think that would be the potted plant that he carries with him every time he has to move to another hotel. It's like it's his pet.
Leon lives in the same apartment building as Mathilda, played by 12 year old rookie and now Academy Award winner Natalie Portman (R-Naboo). She's a tiny little girl with a hip hair do (similar to Uma Thurman in PULP FICTION) who smokes cigarettes, talks tough and happens to be out buying milk when Stansfield guns down the aforementioned family – hers. She knocks on Leon's door and he lets her in, saving her life. When she finds out his line of work she wants to hire him to avenge the death of her little brother (not the rest of the family, who she doesn't give a shit about). She can't afford him though so instead she starts working for him, like how you wash the dishes to pay for the food you couldn't afford.
So it's a sweet story about a hitman teaching a little orphan girl how to murder people. Okay, now that I'm typing it out I realize it's kind of creepy. Try not to think about the DC sniper while you watch it.
Now days a little girl with a gun would be used for easy laughs (see KICK-ASS) but it's got kind of a tragic feel here. Yes, we root for her to get violent revenge, yes, it's kind of cute that little Natalie (who does not appear to have grown up on the streets or anything) smokes and tries to talk tough. But she's obviously kind of broken. It's upsetting.
I saw this movie many years ago and I remember liking it, but I didn't remember how childlike this Leon is. Watching it this time I had to wonder is he supposed to be mildly retarded? Or maybe autistic? He's obviously very good at what he does. But it seems to me like Danny Aiello found him, figured out that he was a great killer, but also that he's not quite there, and he took advantage of that. The way he talks to him it's like they're very close and he's helping him out but I don't think he's really helping him out. He's "keeping his money" supposedly but I think he's kind of turned this poor slow fellow into an indentured servant without him knowing it.
So it's a sad movie, but it also has a dark sense of humor, especially in the characterization of the bad guys. I like the white guy with dreadlocks who's impressed to find a Burning Spear record in Mathilda's apartment, and who un-self consciously uses the word "bumbaclot."
Besson draws you into the odd world of Leon and Mathilda and puts you squarely on their side. Yeah, they're doing bad shit, but they're doing it to scumbags. They're good people, it seems like. So when shit comes to a head you're very invested in their safety.
The gun battles are great, full of artful property damage and illustrated clearly, with the occasional show-offy camera shot that serves to emphasize the action instead of obscure it like they do now. There's a great shot from the POV of a small rocket. Stylistically it kind of reminds me of the Wachowski brothers in BOUND. Maybe it was an influence on them. They tried to get Reno to play Agent Smith in THE MATRIX but the poor sucker chose to do GODZILLA instead. That might have been a mistake, in my opinion.
You wanna hear some more Jean Reno trivia? Check this shit out. At one of his weddings his best men were Johnny Hallyday from VENGEANCE and then-French-Interior-Minister Nicolas Sarkozy. I bet they met in the green room of some talk show.
I like some of the Besson productions but they're usually lacking in some area or another. This one delivers in all departments, from acting to characters to carnage, and it's all orchestrated just right. I really like this movie. I wondered if it would hold up and actually I think it was a little better than I remembered.
But I really can't write about LEON without addressing the elephant in the room with the words "What's the deal, France?" painted on the side in circus font (see diagram). When I saw this a decade ago it was the 14 minutes shorter American cut called THE PROFESSIONAL, and I remember it creeped me out that this little girl is in love with this adult she lives with in hotels, and he doesn't seem to mind.
I mean I know it's innocent. He doesn't do anything, and I think of him as a guardian, a better father figure than the real one that beat her all the time (and who knows – maybe molested her considering some of these ideas she has). But the problem is Leon never tells her "No, I'm an adult. Don't talk to me like that." He just brushes her off and gets embarrassed. When she wants to kiss him in the restaurant, for example, he says that people are watching. As if it might be okay if they weren't.
And that was the version that was cut because they knew Americans wouldn't go for that shit. This time I watched the longer version, which includes a scene where Mathilda comes in with a dress and makeup and tries to get Leon to be her first. It's kind of funny the way she has these big ideas about adult things she doesn't understand. She's had to grow up fast, getting beat, seeing her family massacred, becoming a murderer herself, but she really is just a little girl. She just doesn't know it.
So I still like the movie alot, but I'd be lying if I said it didn't nag at me. It's just too convenient as a pedophile fantasy where he's honorable and doesn't do anything but this girl throws herself at him. And he might be tempted, we don't know. The 10 year reunion DVD/blu-ray extra doesn't help any. There's a woman who's apparently in the movie who explains that she met Luc Besson when she was 12 and dated him when she was 15 and she says "this is my story." And the producer says it's okay just because Besson directed Jean Reno to think of his character as being 14 years old.
Plus Natalie Portman mentions some of the things her parents had them cut out of the script, including a scene where he accidentally comes in when she's in the shower and she exposes herself to him. I mean, that would've been in there if it was up to Besson.
So all that's kinda troubling. On the other hand, you have grown up Portman interviewed on there and unlike so many child stars she has clearly grown into this intelligent, thoughtful adult, and she sounds so heartfelt and eloquent talking about her love for the story, the characters, the experience of making it, and everybody involved from Besson to Reno to the costume designer to her parents. So it's harder to think of the movie as sleazy when the 12 year old girl in the middle of it all clearly turned out fine. And has an Oscar.