Paul Verhoeven's first American-produced (and English language) movie was this knights and swords movie about a group of amoral mercenaries in Europe circa 1501. It's not a fantasy because there's no sorcery or dragons and Mako does not narrate. It does have Susan Tyrrell, but she doesn't narrate either.
Rutger Hauer plays Martin, the sort of leader of a rowdy group of soldiers who, betrayed by their captain, set out for revenge and riches. While burying a stillborn baby they find a buried statue of Saint Martin, so they take it as a sign from God and carry the statue around with them, travelling in whatever direction his sword ends up pointing.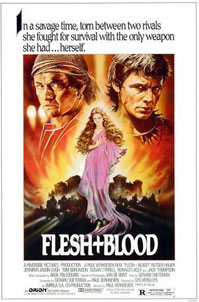 Their revenge leads them to the accidental abduction of a Princess Agnes (Jennifer Jason Leigh, no relation to Jason Scott Lee) who's arranged to be married to the son of the captain who betrayed them, so he and his inventor son come after the mercenaries, who are kicking it VIP style in a stolen castle.
In many ways this feels like the fantasy movies of the era. Even Basil Pouledaris's score drops the usual Pouledaris bombast for some of that renaissance fair type medeival revelry type of shit, the magical tones that invoke images of dudes in stupid hats dancing around with a flute doing a jig and selling daggers and watercolor paintings of wolves. The difference is that this one never gets boring. Even without a typical quest or journey type of plot structure it's just more captivating than so many bland movies of this type.
Part of the reason is Hauer as Martin. He's clever and roguish, he gets out of some tight spots, he does things out of kindness, he's casual in the face of danger. But he's not some Pirates of the Caribbean type lovable scalliwag. A couple of the things he does you can't forgive. For example he meets Agnes when his group decide to gang rape her. That's not what they call "meet cute." His idea of nobility is not to rescue her, but to first take his turn, then distract everybody else so they won't take theirs. Real romantic. The two have a complicated relationship – she seems to start to care about him, but she might just be using him to protect her. She eventually goes back to her first guy, but you're not sure who her heart is still with. The one guy is probaly a better person, because he's not a rapist as far as we've seen, but as a movie character you don't like him, he's kind of an annoying priss.
Obviously this is more sexual than, say, BEAST MASTER or DRAGON SLAYER or even that part in LORD OF THE RINGS where they're all jumping up and down on the bed. Agnes is discovering sexuality, experimenting, even seems attracted to her female friend played by the voice of Bart Simpson. Two of the knights are gay. Agnes loses her virginity under some rotting hung corpses, with a couple horses frollicking nearby. There aren't co-ed showers like in ROBOCOP and STARSHIP TROOPERS, but there's sex in a bath. (Wait a minute – like the pool scene in SHOWGIRLS! That's a Verhoeven motif I never picked up on. Robocop never fucked anybody in a pool did he? I don't remember.)
It's also pretty gruesome at times, but to be honest not as much as you'd expect from the equation of Verhoeven + swords. There's a pretty good firework eye impalement. But I don't think at this point Verhoeven was as interested in pushing the violence envelope. He was more interested in messing with sexuality and religion. In fact it opens with the knights taking communion before a battle, because then if they die they go to a Heaven full of booze and whores. In my opinion they are sort of manipulating the biblical text to fit the results they're looking for. Their use of the statue is also theologically questionable although clearly a cool idea.
The story leaves a couple things hanging – apparently an earlier script was more about the relationship between Martin and the captain, less about Agnes. That explains why they sut up this whole thing about the Captain looking ofter a schizo nun. It seems crucial at first and then never really amounts to much.
I definitely prefer the American Verhoeven movies that came soon after this, but this is still a good one. It really had me wishing he did that Schwarzenegger Crusades movie he used to talk about. That would've been some crazy shit. Maybe if he thinks Schwarzenegger is too old or unavailable he could try to get CGI Schwarzenegger from TERMINATOR SALVATION.
This entry was posted on Sunday, August 16th, 2009 at 12:50 am and is filed under
Fantasy/Swords
,
Reviews
. You can follow any responses to this entry through the
RSS 2.0
feed. You can skip to the end and leave a response. Pinging is currently not allowed.