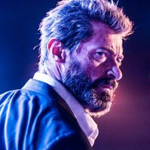 I don't always do a BEST OF list, but as the rancid corpse of 2017 rots on the side of the street it seems like a good time to remind ourselves that good things still exist. I'm not in a ranking mood (I don't always feel up to figuring out how to measure, say, THE FLORIDA PROJECT against BOYKA) so I'm gonna do some categories and just go through a bunch of the movies I enjoyed this year in hopes of encouraging other people to check them out or share their love for them or the ones that they were passionate about themselves.
Some of these I didn't write about, and some of them I am working on reviews of (as marked). Most will of course link to my reviews for more in-depth thoughts. But I think you'll find some surprises and many things not on other peoples' lists.

BEST INDIE OR ARTHOUSE OR DRAMA TYPE THINGS THAT I SAW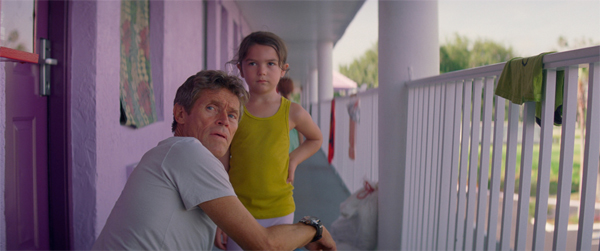 My two favorites in this area I haven't reviewed yet, but I'm working on it. I loved Greta Gerwig's coming-of-age teenager movie LADY BIRD, and the harder to describe in a brief phrase THE FLORIDA PROJECT. We'll discuss these soon.
I want to mention a couple other good ones that I didn't write up at the time. In THE EDGE OF SEVENTEEN, Hailee Steinfeld plays a very smart and troubled high school kid who tells her teacher she's going to commit suicide. He's Woody Harrelson, though, so he doesn't respond the way you'd expect a teacher to. This is another coming-of-age teenager movie but it just feels very smart and true to life in how complicated the characters are, flawed but good people, making mistakes, still worth loving.
I think I never reviewed COLOSSAL because I didn't know how to write about it without ruining the surprise of the weird premise and the way the characters defy expectations, but it was a pretty good one and you can see why Academy Award winner Anne Hathaway would take that role in what is sort of a giant monster movie (but more of a drama about addiction and toxic relationships).
You saw my thoughts on DETROIT and I want to mention it just to say that Will Poulter oughta be in awards discussions for playing that shitbag racist cop, but if not at least he won't have to be associated with that character for the rest of his life. And AFTERMATH is not the same level of quality but wouldn't it be cool if Arnold Schwarzenegger ever got the respect at this time of year? He was good in that, so congratulations to Arnold.
BEST COMEDIES I SAW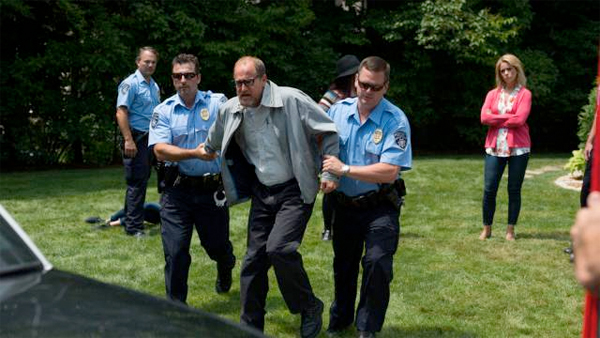 I didn't really see any laugh riot TALLADEGA NIGHTS type movies this year, but there were a few in the general comedy area that I enjoyed. THE BIG SICK is sort of a romantic comedy and it has some big laughs, but it's mostly the nice story of a guy befriending the parents of a girl he dated while she's in a coma. There was a ton of hype around this from the comedy and podcasting communities that star/co-writer/true-story-subject Kumail Nanjiani comes out of, and I assumed they were overdoing it a little because their friend made a movie. I was surprised to find that I loved it just as much as they did. Just an excellent crowdpleaser to recommend to anybody.
I was also very fond of the dark comedy INGRID GOES WEST, about a lonely young woman stalking an Instagram star. It's funny and uncomfortable but much more sympathetic than it sounds. Everybody in it is really good, but Aubrey Plaza in particular shows that she's capable of much more layered characters than she's previously been known for.
One that nobody is talking about (because they never saw it) but that I thought was quite good was WILSON, from the director of SKELETON TWINS and the writer of GHOST WORLD, based on another one of his comics stories. Woody Harrelson (the guy from THE EDGE OF SEVENTEEN) plays the title character, a lonely, aging loser who learns that an old ex lied when she said she got an abortion. Turns out he has a teenage daughter (Isabella Amara) and he finds her with her adoptive family and unethically befriends her. This is pretty specific to my type of humor, I guess. Wilson is somebody who sits next to strangers on the bus while they're listening to music and starts talking to them. They take one earbud out and politely respond and soon it sinks in that what they were doing has now been cancelled and they have to sit and listen to this guy for the rest of their trip. I think in illustrated form he's a real piece of shit, but when inhabited by Harrelson he comes across as more of a lovable asshole who means well. Both approaches work. This was also a good reminder of the greatness of Laura Dern and was almost for sure why she was cast in Twin Peaks and THE LAST JEDI if not JURASSIC PARK.
(Note: I haven't seen GIRLS TRIP yet.)
MOVIES I THOUGHT WERE MOST UNFAIRLY SHAT UPON

There are so many contenders for this one. I didn't understand why everybody was so cruel about MONSTER TRUCKS. That was a beautifully ludicrous premise and I enjoyed it. POWER RANGERS I think deserved a little more credit too, since it was better than it needed to be but not so much that we didn't get to laugh at it a little. KING ARTHUR: LEGEND OF THE SWORD is also much more fun than its reputation – it's no MAN FROM U.N.C.L.E., but it's Guy Ritchie humorously applying his trademarks to a sword and sorcery story, it has some impressively crazy scenes (giant elephant attack) and one of the best scores of the year.
I'm tempted to choose THE MUMMY because I still feel the torches and pitchforks were out of proportion on that one and that the reviews were way more about the "Dark Universe" idea than the movie itself. I enjoyed the monsters, some of the humor, the novelty of combining horror with Tom Cruise stunts, and its unquestionable vast superiority to the previous MUMMY series on all possible levels I will not back down on this one guys I am serious. I would've been up for the other ones. Oh well.
But I feel stronger about VALERIAN AND THE CITY OF A THOUSAND PLANETS. I can't deny that its appeal would triple with stronger charisma or chemistry at the center of it but jesus christ if you can't appreciate all the absurd concepts and goofy action and crazy aliens and robots and space ships and planets and creatures and costumes and dimensions of by far the French comic bookiest movie of all time then I pity you. It's like two STAR WARSes squeezed into the center of a FIFTH ELEMENT with a BARBARELLA tied around it and then done with AVATAR level effects and in 3D. And that's not nothing.
And still the winner in this category has got to be Zhang Yimou's THE GREAT WALL. It's not the best movie I saw this year, but it's the most beautiful movie combining CGI monsters and period martial arts. And I'm afraid I'm gonna have to keep defending it forever because people have such a hard-on for shaming Matt Damon that they have to bring it up as a punchline any time they talk about whitewashing, and that fucking enrages me. Whitewashing is a real problem that can't be solved by snarkily lumping in movies you have no knowledge of. It appalls me that people can pretend to be enlightened while arguing that a great Chinese director can't do a movie with a white actor if he wants to.
Far from a white savior, Damon plays a representative of the west who has to learn how to be a better person by following Chinese ways (and who helps the Chinese heroine, played by Jing Tian, stop the monsters). At worst it's Chinese propaganda, at best it's an international co-production extolling the value of cross-cultural sharing. The former isn't too big an issue to me in America and the latter I'm all for.
(I did just now find a fair assessment of the movie on Nextshark, "an online magazine focused on covering business, tech, culture with a focus on the Asian youth market," with a nice click-baity headline: We Saw 'The Great Wall' to See Just How Offensive it Was to Asians.)
FAVORITE HORROR MOVIES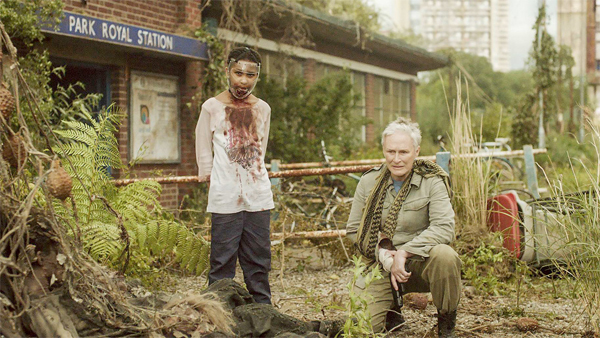 GET OUT is great and original and timely, and luckily everybody knows about it. My other two favorites this year were both of the "I thought we were done with new takes on the zombie movie, but then this came along" variety. TRAIN TO BUSAN is the South Korean one about people stuck on a train during a fast-biozombie outbreak. There's nothing drastically different about its vision of a zombie plague, but there's a subtle twist in that nobody is ever trying to kill zombies. They just create makeshift armor and gauntlets to try to get past them. And the movie's real strength is in getting you invested in the characters and their relationships and god damn it I actually had tears at the end and it's embarrassing but there it is.
The other one is British and it's THE GIRL WITH ALL THE GIFTS. This one really is a totally different take on the genre because the protagonist is a little girl who is a zombie. In this case it's a weird fungal-infection type of zombie that can be suppressed enough to have human functions, but they turn into hungry ghouls just from smelling flesh. It's an example of how you can take the basic idea and some of the tropes (people banding together in a post-apocalypse to survive) of this subgenre but still create something that feels very new.
(Some 2017 horror I still want to see: HAPPY DEATH DAY, THE DEVIL'S CANDY, RAW.)
BEST LICENSED INTELLECTUAL PROPERTY FRANCHISE TRADEMARKS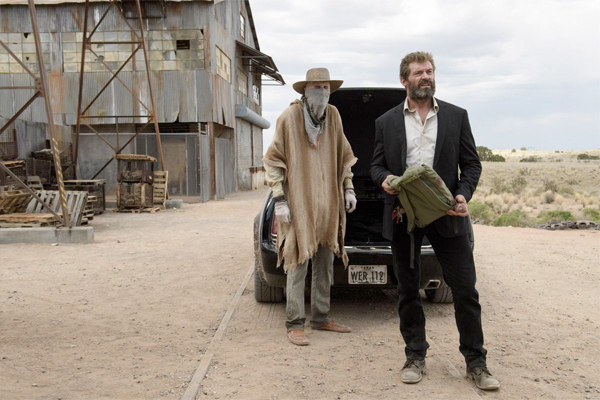 This is almost embarrassing, but pretty much my three favorite movies of the year are all sequels and reboots of famous and worshiped nerd shit. One of them is STAR WARS: THE LAST JEDI, and I've said enough about that one lately. It's hard to call that my favorite because I don't know how to mentally separate it from the series as a whole. Like ranking a book of the Bible against your favorite novels. But obviously I loved it.
Another is BLADE RUNNER 2049, and that's a different situation because it's a sequel to a movie that I'm not as emotionally attached to as many people are. I have complicated feelings about it, more admiration than love. But this sequel by Denis Villaneuve knocked my socks off. So visually beautiful and emotionally complex, and an unexpected evolution from the world of the 1982 film, full of thought-provoking sci-fi concepts and intriguing characters. Ridley Scott says it was too long but for me it felt shorter than his movie, because I felt so much more involved in the character and the mystery.
The other one is LOGAN, and for most of the year this was my hands down favorite movie. I love that Hugh Jackman's great run playing Professor Logan Wolverine ends with a movie that's more Clint Eastwood than X-Men. Jackman is able to bring back what we love about the character but make his performance much more complex, and there's so much emotion not only in his relationship with the little girl but also having to take care of his dying father figure, Professor X. It's the super hero movie that doesn't have the X-Men theme music but does have a cut from Johnny Cash's American Recordings period. It already rates high in my favorite super hero movies of all time.
And that happened in a good year for the genre. It's worth noting that the regular Marvel had three very entertaining movies – GUARDIANS OF THE GALAXY VOL. 2, SPIDER-MAN: HOMECOMING and THOR: RAGNAROK – that veer their ongoing series in a more fun and colorful direction. The DC Comics people weren't as consistent, but they had WONDER WOMAN.
And maybe this didn't quite capture my imagination on the level of the JEDI/2049/LOGAN triptych, but I want to give a hat tip to WAR FOR THE PLANET OF THE APES (featuring Woody Harrelson from THE EDGE OF SEVENTEEN and WILSON). Like its predecessor DAWN OF THE PLANET OF THE APES, WAR is a topnotch piece of blockbuster mythmaking utilizing special effects wizardry on an almost miraculous level, but it seems like people didn't really pay much attention to it and have already forgotten it exists. Not me.
APES. TOGETHER. STRONG.

BEST TRADITIONAL ACTION STORIES

I prize individuality, but I also have great respect for tradition. Some of the best action movies are artfully-executed variations on classic formula. Two of my favorites this year were a fighting circuit movie (BOYKA: UNDISPUTED starring Scott Adkins) and a fighting tournament movie (LADY BLOODFIGHT starring Amy Johnston). Each has a highly proficient martial artist playing a character worth rooting for in a story with great fights and surprisingly effective emotions.
Another VOD/DTV type movie I really enjoyed this year was Jesse V. Johnson's SAVAGE DOG, also starring Adkins (this time with Marko Zaror, Cung Le and Keith David). It's made up of many common tropes but it has an odd feel and a weird hero who lives up to the title. I'm tempted to mention something crazy he does in the last fight to back up my argument but it would be morally indefensible to spoil it.
MOST ENVELOPE-PUSHING ACTION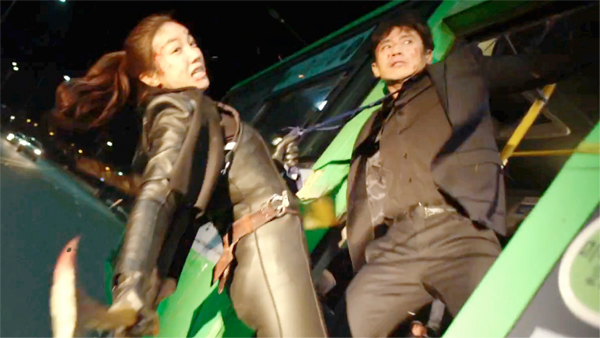 I really loved JOHN WICK CHAPTER 2 and ATOMIC BLONDE, maybe the year's movies most representative of where American action is headed (or at least I'd like to think so). WICK of course continues the first story, going deeper into its fanciful secret society of elite killers, getting a little more existential and pushing even a little further in its gun fu, vehicle fu, etc. ATOMIC is a complicated spy story, which is not as much my thing, yet I'm even more excited about it because of its seductive stylishness (red and blue lights, essence-of-'80s soundtrack, etc.) combined with a fierce performance by Charlize Theron, taking part in several A+ action sequences (one of them against BLOODSPORT 2-4 star Daniel Bernhardt in front of a screen showing Tarkovsky's STALKER!) that would stand out for an established action great, let alone an Academy Award winning respectable actress. This 87eleven Action Design team is the most promising development in movies right now as far as I'm concerned. I hope they keep trying to one-up themselves like this (that goes for both the stuntwork and the content of the stories).
HEADSHOT (review coming soon) could maybe fit into the "traditional action stories" category, but it feels like it pushes the brutal action tradition of THE RAID in much the way those last two pushed the JOHN WICK tradition. That these two movements continue and are more visible than any shakycam low-ACR bullshit speaks highly of the state of action.
But THE VILLAINESS (review also coming soon) snatches up this category with ease. Whatever you think of the convoluted story, you're gonna find the action scene exhilarating, I think. Its combination of choreography, stuntwork and special effects innovation puts it in a class of its own.
NOTE: I have not seen BLADE OF THE IMMORTAL, PARADOX or BAHUBALI 2 yet.
SPECIAL ACTION STAR COMMENDATIONS
MOST PROMISING NEW ACTION STAR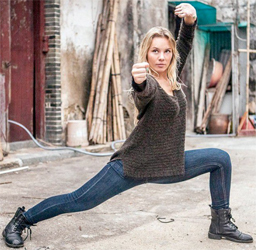 Definitely Amy Johnston. If she's able to have a string of starring vehicles as good as LADY BLOODFIGHT she'll be one of the top English-language action stars going.
MOST IMPROVED ACTION STAR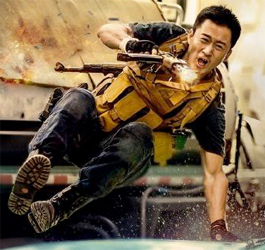 I gotta say Wu Jing. Or maybe he's MOST DESERVING OF RE-ASSESSMENT BY ME. Obviously KILL ZONE 2/SPL 2 is my favorite of his, but I really never thought he had something like WOLF WARRIOR II in him either. If he stars and directs his way into being the martial arts version of '80s Stallone then wow, I never would've predicted that.
BEST SUPPORTING BADASS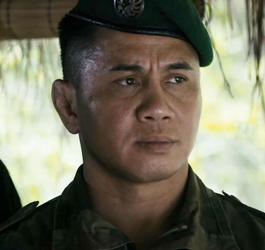 Cung Le. His great henchman roles in SAVAGE DOG and SECURITY really cemented for me how undervalued he is as a screen martial artist and actor. I hope we see much more of him both as heroes and villains. Honorable mention goes to Marko Zaror, also fantastic as a bad guy in SAVAGE DOG.
REIGNING KING OF DTV/VOD ACTION AND THEREFORE ACTION IN GENERAL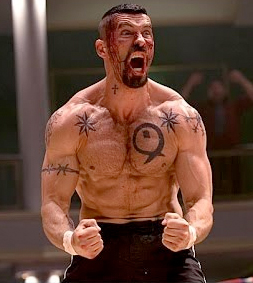 Still Scott Adkins.
FAVORITE MOVIE THAT I DON'T KNOW HOW TO COME UP WITH A CATEGORY FOR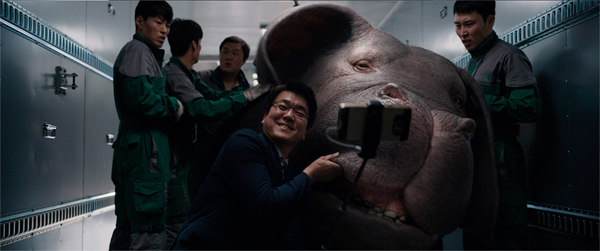 I feel the need to mention OKJA since I suspect it would be somewhere on my hypothetical top ten list, but I haven't seen it on many others. The straight-to-Netflix international co-production from the director of SNOWPIERCER is a monster movie and a dark comedy and it's got action and it's horrific but it's such a weird mix of different ingredients that it doesn't seem to be defined by any one of them. In my review I called it "a sweet girl-and-her-creature tale like MY NEIGHBOR TOTORO after it has been swallowed by a vicious satire of corporate greed and man's treatment of animals." I can guarantee you haven't seen anything else like it this year.
MOST PURELY BADASS MOVIE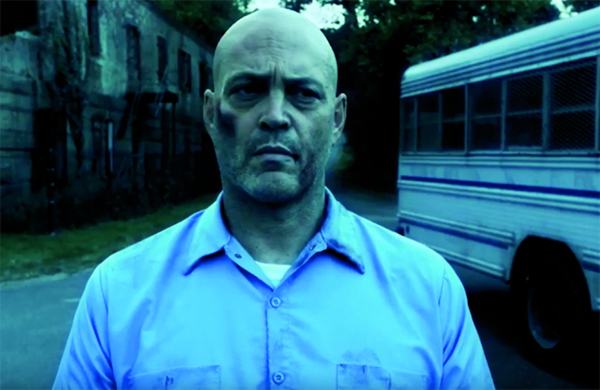 I can't decide on an official favorite movie this year. It's either LOGAN or it's 2049 or it's LAST JEDI or it's the one pictured above and described below. There are many qualities in movies that bring me joy, but this is the one that gave me the most powerful infusion of that thing that's hard to describe that I wish I had more words for because I use "badass" way too often.
Novelist turned BONE TOMAHAWK writer-director S. Craig Zahler takes a leap ahead with his second movie, BRAWL IN CELL BLOCK 99. This is a slow, quiet, suspenseful crime drama about a guy with a simple code but a tornado of pent up rage and violence that he ultimately unleashes to protect his family from horrific retaliation from a drug gang.
It's a type of storytelling that makes me excited to watch movies: the kind where nothing is explained outright, it just comes out in little visual storytelling cues and comments. Like, not once does anyone refer to some past violent incident with Bradley (Vince Vaughn), but from the way the towing company staff stands ready for a fight when he gets laid off in the opening scene we know there's a reason to fear him. We see the answer pretty early on (he beats the shit out of a car!) and then he calmly locks it up inside again – Alfred Hitchcock's bomb-under-the-table sitting inside his bald head, or oversized fists. It's the long sustaining of that vibe, along with its payoffs in outstanding fight scenes and innovative bodily mutilations that made me shout in my living room, that make it my maybe-favorite.
* * *
Thank you everybody for another great year here at outlawvern.com. I truly appreciate all the discussion and suggestions and of course the generous financial support on Patreon and elsewhere. You're all a big part of my life and my viewing and writing. I hope you will try to see some of these if you missed them and recommend other ones that you loved that I didn't mention. I'll be especially excited for any suggestions of action movies I didn't see this year.
This entry was posted on Thursday, January 4th, 2018 at 2:54 pm and is filed under
Blog Post (short for weblog)
. You can follow any responses to this entry through the
RSS 2.0
feed. You can skip to the end and leave a response. Pinging is currently not allowed.