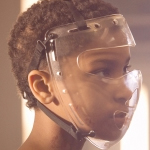 THE GIRL WITH ALL THE GIFTS is a very good new British horror movie and at this point I would like to offer the "Trust in Vern" review opt-out option. If you are willing to just take my word for it that this is good and check it out without knowing anything about it you'll be able to enjoy the mysterious opening the way I did. Then you can come back and read this. But if you need more information first, keep reading. I'll try not to spoil everything.
This is the story of Melanie (rookie Sennia Nanua), a young lady around 12 years old who lives locked up in a concrete cell in an underground military base. In the morning when soldiers come in pointing guns at her she dutifully gets into her wheelchair to be strapped in and wheeled into a room full of other kids also strapped into wheelchairs. It's a classroom, and Melanie would be the kid who always has her hand up first, but they have their hands bound when they don't have a writing assignment.
The soldiers call these kids "creepy little fuckers" and aren't supposed to talk to them. Melanie's favorite teacher Miss Justineau (Gemma Arterton, THE DISAPPEARANCE OF ALICE CREED) seems to be in trouble for being too sympathetic toward them. What the hell is going on here? Why are they so afraid of these children?
Well, as abrasive Sergeant Eddie Parks (Paddy Considine, DEAD MAN'S SHOES) harshly demonstrates, these aren't regular kids, they're zombies, or "hungries" they call them. A fungus controls their brains. They can seem like normal kids but if they smell flesh (human or animal) they revert to instincts and if you give them half a chance they'll run and jump on you and eat your fuckin neck before you know what hit you. In this case, in the classroom, they're all restrained, so when he holds his arm out in front of one of them the kid gets hungry and then the other ones around him follow suit and all the sudden it's like a chorus of little piranha jaws snapping at the air.
The adult hungries aren't like that, so Dr. Caroline Caldwell (Glenn Close, AIR FORCE ONE) is studying these kids who can still think like regular humans. Melanie is particularly bright and enthusiastic. She greets all her captors by name every day and this exacerbates Miss Justineau's heartbreak over the little girl's true purpose as a scientific specimen, to be dissected by Dr. Caldwell for the creation of an anti-virus. But a series of mishaps leads to the downfall of the base and these three end up in a vehicle with a few soldiers fleeing for safety. Melanie has to wear a plastic muzzle and usually have her hands bound behind her back, but she proves valuable throwing the hungries off their scent and offering insights into how they work.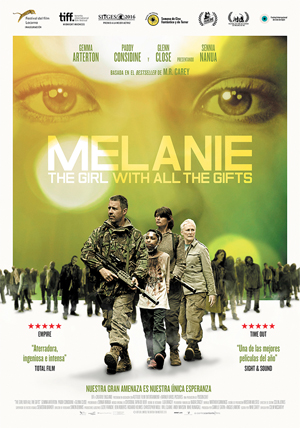 It always seems like there can't really be another good zombie movie, and then somebody comes along and does yet another good one that makes you think "I've never seen anybody do it like that before." In this case it's director Colm McCarthy (a veteran of TV shows like Injustice and Peaky Blinders) and writer Mike Carey (who wrote a novel at the same time as the screenplay). We have the familiar elements of the swarming, running bio-zombies (like 28 DAYS/WEEKS LATER, minus the camera wobbliness) and the underground military base (like DAY OF THE DEAD) but they seem like incidental elements in this very character-driven story with a smart child zombie as the protagonist. The details of the world, from the effects of the fungus on breathing to the "blocker" cream humans use to hide their smell, is well thought out.
The characters are all interestingly layered. Dr. Caldwell (whose fashion sense resembles Carol from The Walking Dead) is the most standard bad guy, but she starts out seeming like a nice lady interested in Melanie's mind, and her belief that Melanie has to be sacrificed to save all of humanity is based in pragmatism, not evil. Sergeant Parks kind of goes in the other direction, he seems like an irredeemable asshole at first but shows himself to be mostly reasonable. Miss Justineau immediately shows herself as the conscience of this military operation, and her affection for Melanie is entirely understandable, but her moral decision to protect the girl at all costs could arguably be the wrong one.
And Melanie is the heart of the movie, a little girl with the right attitude to charm any parent or teacher even though her face and shirt are usually smeared with blood and she occasionally reverts to pure animalism, attacking and devouring people or small animals. We root for her to survive and to prove her value to this group, even though we don't know how loyal she is (or should be) to the human race. There's a  unique mix of rooting for her victories and feeling a little nervous that she might be fighting for a world that we honestly don't belong in.
Nanua is key to the character's success, projecting a defiant optimism that occasionally succumbs to a beastly physicality when stalking meals or asserting dominance over a mob of her people. The pack of feral child hungries she encounters during the group's trek through deserted London are pretty disturbing. They grew up on their own so they can't talk, only growl. But they're smart. They work together and set traps. They truly are "creepy little fuckers," but also because of what we've learned from Melanie and her classmates it's not like you'd be thrilled to blow their heads off if they mobbed you. They're still children just doing what they think they're supposed to be doing.
That's the I AM LEGEND reality we have to face eventually: fungus is natural. I believe the children are our future, teach them well and let them lead the way even though that way almost definitely involves them chewing our fucking throats out. Hey kids, I don't suppose I could convince you that that's going on your permanent record? No? Tough shit for us I guess, but good luck to you, Generation Hungry.