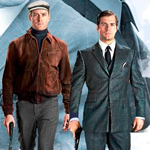 The last Guy Ritchie movie I watched was the first SHERLOCK HOLMES. When it ended I realized first that I wasn't sure what the mystery was that Sherlock Holmes had solved, and then that I was having a reaction from accidentally combining medication and alcohol. But some people told me they saw it undrugged and didn't know what the mystery was either. At any rate, I had long since given up on Ritchie since the initial excitement of LOCK, STOCK AND TWO SMOKING BARRELS, which I have not revisited.
That's why I took much too long getting to THE MAN FROM U.N.C.L.E., a fun, charming, stylish summer blockbuster Cold War spy thriller that represents Ritchie at the very top of his game.
Henry Cavill (HELLRAISER: HELLWORLD) adds cocky charisma to the out-of-time square-jawed handsomeness of his Superman to play Napoleon Solo, roguish international art thief turned know-it-all American secret agent. He's in East Berlin to get Gaby Teller (Alicia Vikander, JASON BOURNE), daughter of a Nazi (pronounced "GNAT-see") scientist turned U.S. collaborator who some rich assholes are trying to force to build a nuclear bomb for surviving Nazis. But Napoleon and Gaby find themselves pursued by KGB agent Ilya Kuryakin (Armie Hammer, THE SOCIAL NETWORK). There's a sneaky car chase, a shootout and a zipline conflict and later (after a stall-clearing public restroom brawl) both agents are disappointed to be reintroduced to each other by their bosses, who explain that the CIA and KGB are working together on this one. They're partners now.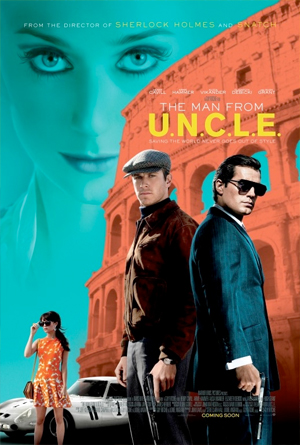 Gaby bristles at having to pretend Ilya is her fiance, while Ilya and Napoleon continually bicker and try to one up each other with spycraft, technology, and attempting to bug each other. Ilya has trouble keeping his pride in check (for example when he has to pretend to be helpless against muggers) or not taking it personally when his fake fiance's shitty uncle Rudi (Sylvester Groth, THE READER, INGLOURIOUS BASTERDS) disapproves of their fictional relationship, but he seems to effortlessly come out on top whenever his rival tries to show off (like when Napoleon arrogantly narrates his dismantling of a safe, only to then set off an alarm).
Napoleon is so suave, with the witty quips and speeches and using his powers of seduction as part of his mission, that you both get a kick out of him and understand why he drives Ilya crazy. Ilya is more uptight and moves at a different pace and is also very angry. We see many closeups of his hands twitching or forming tight fists as he works hard to keep his cool, both with enemies and with his partner. It's a pitch perfect rendering of the classic enemies-working-together-becoming-buddies type of story. And it's got most of the fun things you hope for from an upbeat spy romp: arguing, bonding, sexual tension, drunken dancing, bad lying, casual discovery and disarming of spy devices during conversation, quick flashbacks to reveal earlier sleight of hand to steal an object or plant a bug or pull a switcheroo. The light-on-its-feet feel isn't even dampened by the occasional bit of grim humor, like when Napoleon and Ilya debate what to do with a captured Nazi war criminal while we can see behind them that his torture chair in the next room has short-circuited and he's currently burning alive.
It's also a beautiful looking movie, reveling in exotic scenery and mod fashion. In the past Ritchie's filmatism has seemed self conscious and over-the-top, but here it's just right. He pulls out techniques like split screens or clanky old fashioned slide shows of exposition just enough, never overdoes it. It feels retro, but it's not exactly – there's a big three-vehicle chase sequence that digitally weaves together (I think) real stunt footage to make it seem like one shot when the cars are chasing each other over here and then the camera pulls up into the sky and pans way over here to show that the motorcycle is zooming in from over there.
One favorite sequence is when Napoleon jumps from Ilya's speedboat to escape pursuing police and takes shelter in a parked truck. He turns on the radio, sits and enjoys a glass of wine and a sandwich that this poor truck driver seems to have prepared for a romantic picnic. We see the frenzied boat chase going on behind him while he relaxes. Then he almost slips away, but the ol' conscience kicks in so he suddenly turns and jumps the truck off a dock onto the boat, sinking it, before dragging Ilya to safety.
The musical choices are top notch – soulful, sometimes not in English, nothing obvious, occasionally Soderbergh's-OCEAN'S-ELEVEN-esque. But the score by Daniel Pemberton (THE COUNSELOR, STEVE JOBS) resembles a spaghetti western, as if to say "Yes, this is the early sixties, but the forward-thinking early sixties, the reinventing the world early sixties." It takes place the year before A FISTFUL OF DOLLARS came out.
Jesus, poor Armie Hammer, he was gonna play Batman for George Miller but the plug got pulled, he played THE LONE RANGER but nobody noticed it was a great movie, then he's in this one and it doesn't catch on either. The guy can't catch a break and it's neither his fault (he's always good) or poor choices (the movies themselves are also good). Just bad fucking luck.
That's the only drawback to the movie – the cool TV-show-intro-style ending where you realize you've just seen the origin to what rightfully should've been an ongoing series of fun movies. I like how it revitalizes the tired technique of onscreen files by waiting to show them at the end after you already know the characters. Yeah, that totally makes sense that Ilya was the Russian Sambo champion. And that way anything that's not relevant to this story (Hugh Grant's character is a former opium addict!) comes across as interesting trivia instead of needless distraction.
I really loved this one. Mathematically speaking you probly missed it too, so allow me to recommend it to you.
This entry was posted on Wednesday, March 1st, 2017 at 9:41 am and is filed under
Action
,
Comedy/Laffs
,
Reviews
. You can follow any responses to this entry through the
RSS 2.0
feed. You can skip to the end and leave a response. Pinging is currently not allowed.