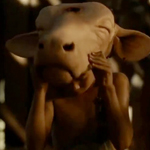 Who will survive and what will be left of them and also will they grow up to be Leatherface?
As you are all aware, Tobe Hooper's two TEXAS CHAIN SAW masterpieces are holy horror writ to me. But since Hooper's second chapter more than thirty years ago a succession of copyright holders have given us LEATHERFACE: THE TEXAS CHAINSAW MASSACRE III and TEXAS CHAINSAW MASSACRE: THE NEXT GENERATION and TEXAS CHAINSAW MASSACRE the remake and TEXAS CHAINSAW MASSACRE: THE BEGINNING and by then I was able to have realistic enough expectations to let it go and enjoy TEXAS CHAINSAW 3D as just some stupid bullshit where yeah, the Leatherface looks fucking horrible, but at least Alexandra Daddario finds out she's his cousin and decides to side with him and throw him his chainsaw. That was pretty funny.
With that standard in mind, the new prequel LEATHERFACE (the second prequel/premaquel in the series, and the second movie called LEATHERFACE in the series, but the first of the series that is both a prequel/premaquel and called LEATHERFACE) is a really impressive feat. It's the first TEXAS CHAINSAW that doesn't at all follow the template of the original. It's a different subgenre – outlaws on the run – that happens to take place in some approximation of Hooper's universe. No, I don't want a backstory for Leatherface, but after accepting that they're set on doing that task (again), I was glad they found a more clever way to do it this time. The screenplay is by somebody named Seth M. Sherwood, but it's directed by France's Alexandre Bustillo & Julien Maury, who did the excellent INSIDE and LIVID.
A prologue set in 1955 establishes the prequel's playful approach to the CHAINSAW mythology. It's a birthday party for little Jed (Boris Kabakchiev), and everybody's there: his mother Verna (still alive and played by Lili Taylor, BROOKLYN'S FINEST, THE CONJURING), Grandpa (more sentient than we've ever seen him and played by Eduard Parsehyan), Drayton (Dimo Alexiev, ENEMIES CLOSER) and even a little kid with the hitchhiker's birthmark (Hristo Milev, credited as "Young Nubbins" after the nickname for the hitchhiker's mummified corpse in part 2). Cinematographer Antoine Sanier (AMONG THE LIVING) imitates the camera moves of Hooper's famous dinner table scene as the future Leatherface blows out the candles. At first it seems like just a funny juxtaposition of style and imagery, but then it reveals that there's a special guest at the party, a neighbor they don't like, tied to a chair Sally-style. Now, can you guess what the family got Jed for his birthday, and what they want him to do with it?
There's a much subtler alternate opening included on the DVD where little Jed spies on grandpa sawing open a cow, then sneaks over and is about to curiously touch the bloody blade when it cuts to the title. I liked that too, but the birthday party is way better. You gotta have a sense of humor if you're gonna keep making these. Remember Texas Battle Land.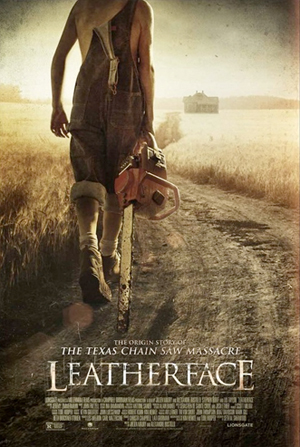 We learn that the Sawyers are already locally known as deranged psychos, but they've gotten away with it so far. Verna is a fierce matriarch, socially normal enough to pass for a sane person who's just real mean. She covers for her crazy sons, but she can't stop the authorities from taking away Jed and putting him in the Gorman House Youth Reformery. Ten years later he's one of a group of young inmates who take a nurse hostage and escape.
The nurse, Lizzy (Vanessa Grasse, ROBOSHARK) is a drop of clean water in a puddle of sewage. She's new at the hospital and really trying to get to know the patients and make a difference in their lives. That's no small thing in a Texas that makes Hooper's seem wholesome. Not all of these creeps are gonna grow up to be Leatherface, but more than one of them could pretty much be in the family. Ike (James Bloor, "Irate Soldier," DUNKIRK) is a scuzzy, rapey bully out of a scary true crime movie. He threatens, torments and gratuitously insults his fellow escapees. And his girlfriend Clarice (Jessica Madsen, Mr. Selfridge) is actually the worst one – she slashes the neck of an unsuspecting cop during his breakfast in a diner, kicking off a Texas gun massacre. There's also a wonderfully "oh jesus" scene where she instigates… well, a nasty sex act.
SPOILER FOR NASTY SEX ACT. The gang are hiding out in an abandoned trailer. Well, not exactly abandoned. When they first go in it smells horrible, and they find the original owner dead, having hung himself. Because who wants to live in the world depicted in this movie? Anyway at night time you see Clarice's dimpled ass as she rides Ike like it's a Skinemax movie. But when the camera moves to her front he's fondling a chest covered in heavy burn scars. That's thing-that-takes-you-aback number 1. Thing-that-takes-you-aback number 2 is when she leans down and we realize that they're doing this right next to the rotting corpse, and she starts making out with it.
I later read that they cut some backstory about her being an arsonist and the horrible life she's had. Good move. Nobody needs to know what made her this way in her first movie. Save that for a prequel somebody else makes in 40 years. Anyway, my hat is off to the filmatists for creating an appalling sex scene that is entirely consensual (well, except for the dead guy I guess).
There are two other guys who seem to have been kind of pushed into this and who are nicer to Lizzy. There's Jackson (Sam Strike, BONDED BY BLOOD 2) who is kind of the guy-who's-in-an-asylum-but-seems-nice (see also FREDDY VS. JASON) and of course there's a guy they call Bud (Sam Coleman, young version of Hodor on Game of Thrones) who's a big long-haired lug who doesn't talk and seems mentally challenged and is kind of a big teddy bear except when he feels threatened or demeaned and then he goes CELL BLOCK 99 on a motherfucker.
But it's not just the Sawyers and fugitive spree killers that are evil, it's also Dr. Lang (Christopher Adamson, JUDGE DREDD), who gets off on torturing his patients with electroshock. And it's the Sheriff (Stephen Dorff, SOMEWHERE), who has a legitimate grievance against the Sawyers for murdering his daughter, but is so savage to all the other people he encounters that he ends up being a villain. He's not a lovable nut like Lefty Enright, that's for sure. In that sense this is a little bit more like THE DEVIL'S REJECTS, and he's not that far off from William Forsythe's character in that. One difference is the deputy (Finn Jones, the guy that plays Iron Fist) who objects to the sheriff's brutality, leaving us hope that there might be other good people left in the world somewhere.
In fact, that glimmer of optimism gives this story a little different dynamic than usual, because it's not just Lizzy trying to crawl her way out of a nightmare – she's also putting her faith in the goodness of some of these people who have been condemned by society. She wants to trust them and she wants to help them escape too. And it's more a matter of their behavior being unpredictable than them pretending to be normal and then revealing themselves as family members (see: the Cook in part 1, Viggo in part III, R. Lee Ermey in the remake).
The nasty shit these characters go through does Hooper proud. They have to hide inside a maggot-ridden cow corpse, Lizzy slips and lands lip-to-lip with a dead person, that kind of stuff. As they're driving away from the hospital we see in the background some poor dude in a wheelchair flying out an upper story window, and that's pretty representative of the insane energy of the movie. We're following a carload of dangerous crazies and they didn't even have anything to do with that, that's just something going on on the periphery.
There's one little touch I think was already done in the remake: somebody gets shot in the head and then you see smoke come out of their mouth. Creepy.
This turns out to be a SPOILER but it was the first thing I read about the movie when it was filming: we don't actually know for sure which of the inmates is gonna turn out to be Leatherface. They point out that the kids have been renamed to keep them away from their parents, and that Verna wouldn't necessarily recognize her Jed if she saw him, and anyway she doesn't see him. Since I went in expecting this it was easy to spot the trick that the one who seems most like Leatherface is actually not him. But if most people fall for the misdirection it's a pretty cool subversion of the "let's explain how he became Leatherface" concept. By the time it gets around to explaining anything you realize you missed most of it because you had your eye on the wrong guy the whole time. And ultimately I think what it's getting at is that whatever identity he had growing up was sort of burnt out of and off of him.
So, which one is this a prequel to? It seems it's in continuity with CHAINSAW 3D, which, through footage, connected itself to Hooper's original. My evidence is that 3D is the only other movie that identifies Leatherface's first name as Jedidiah, or has a mother character named Verna (originally played by Marilyn Burns). I guess there's another character that's supposed to be the father of a character I forgot from 3D. From part 2 they take the last name Sawyer, and the first names Drayton and Nubbins, but unfortunately I still don't think that movie exists in this continuity because in the opening scene they have "Nubbins" with the hitchhiker birthmark, but no twin brother to grow up into Chop Top. We can't use the "he was in Vietnam during this" excuse this time unless he was there as a foreign exchange student.
By the way, I didn't pick up on this at all, but according to Wikipedia the boyfriend of the girl killed at the beginning is named Ted Hardesty, and is supposed to be the future father of Sally and Franklin Hardesty. I mean, at this point they might as well be giving an origin for the Black Maria (the truck that pulls over when Sally is running down the highway at the end of part 1). This is some STAR WARS prequel level too-small-of-a-world stuff right here. Think about how terrible this guy's luck is: A weird little kid murders his girlfriend. Two decades later his two grown kids happen to visit the area with their friends and all but one get killed by the same guy, now grown up. If part 2 existed, it would mean that another decade after that his brother or brother-in-law (since Lefty is established to be Franklin's uncle) goes looking for the family and dies with them in a grenade explosion. I don't know who it's more dangerous to be connected to – Ted Hardesty or Paul Kersey. Anyway, I don't like that, let's leave him as Ted Unspecified in our minds.
The connection to 3D is a technicality of the script; in style and tone there's no relation. 3D had a cheesy-slick look, an exaggeratedly beautiful cast and a late-FRIDAY-THE-13TH-sequel type of dunderheadedness that either made it a hoot or a disaster, depending on your level of moviegoing mercy. LEATHERFACE is more of the artistic, visually sumptuous approach to horror we expect from the INSIDE/LIVID team. There really is only that one problem: the problem of the very hook they hung the movie on.
That's the only thing that makes me hesitate to recommend this one. I'm not sure how many people besides me can be okay with "yeah, the main premise of giving an origin for Leatherface is stupid, but otherwise…" And yet that's truly how I feel. It's really well made and has so many cool and gross ideas that really seem to "get" TEXAS CHAINSAW, and the birthday party scene cracks me up. I know this isn't saying much, but I believe this is the best non-Hooper TEXAS CHAINSAW. Other than, like, the whole idea of it, I loved it.
p.s. I don't know if you caught this but "hook they hung the movie on" refers to a famous scene from TEXAS CHAIN SAW MASSACRE, hard to explain but this is a play on words you see