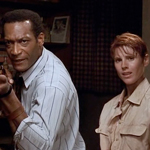 I still love the original NIGHT OF THE LIVING DEAD, a nice, moody little cinematic play about differences of opinion between strangers hiding out in a farm house during the first ever worldwide zombie epidemic. I believe I watched it Halloween night of 2012 and I realized I'd kind of worn it out, it was too burnt into my brain and I'd need to take a break from it for a few years at least so I could appreciate it more next time.
But I was really jonesing to watch DAWN and DAY of the dead before Halloween this year so I decided to do a historically inaccurate color trilogy by substituting the 1990 remake of NIGHT OF THE LIVING DEAD, which I hadn't watched in some time.
First of all, it's important to point out that this is different from other horror remakes. It comes from an era when remakes were less common. Other ones close to this time period are THE FLY in '86, THE BLOB in '88, I guess you could count the Robert Englund PHANTOM OF THE OPERA in '89. Remakes back then generally involved more effort than they do now and were not just done as cash grabs. Also it was made under pretty much unrepeatable circumstances. George Romero's 1968 original was supposed to be called NIGHT OF THE FLESH EATERS. The copyright symbol was on the title card, but when the distributor changed the title they neglected to put it on there. So, through a "they didn't read Freddy Krueger his rights so we have to let him go" type loophole the creators of the movie did not own the copyright and have not profited from one of the most beloved and still imitated horror movies of all time. This is also why there were so many terrible colorized video releases over the years, and all the shitty remakes and prequels and spin-offs that still come out to this day, and why those  "rifftrax" jokers can give me a coronary every year having to see the ads for their annual Halloween event where they really fuckin stick it to NIGHT OF THE LIVING DEAD via satellite with all their funny riffing and comedy jazzing that they do that is so funny and hilarious all the time.
Because of this almost too ridiculous to be believed situation, we can actually welcome NIGHT OF THE LIVING DEAD 1990 being a cash grab. They made it as a way for the original creators of the movie to finally make a few bucks off it, but not just by selling off the title, by getting in there and doing it themselves. Romero wrote the new screenplay. The director is DAWN OF THE DEAD makeup genius and biker Tom Savini. Patricia Tallman, who had appeared in KNIGHTRIDERS and did stunts in MONKEY SHINES, stars as Barbara. Score composer Paul McCollough's only previous credit was on THE MAJORETTES, directed by original NOTLD co-writer (and remake producer) John Russo. Makeup effects supervisors Everett Burrell and John Vulich had worked for Romero on DAY OF THE DEAD and TWO EVIL EYES – Burrell also worked on CREEPSHOW 2 and MONKEY SHINES. So it's not like Platinum Dunes or somebody buying up a title, it's a Pittsburgh family affair.
But I don't think I ever picked up on the fact that this is also a Menahem Golan production. In '86 he helped Tobe Hooper resurrect THE TEXAS CHAIN SAW MASSACRE and four years later he's doing it with Romero. Also CHAINSAW 2 star Bill Moseley appears in the beginning as Barbara's brother Johnny (his name is misspelled as "Mosley" on the opening credits), and of course Savini did the makeup for CHAINSAW 2. They even have similar synthesizer scores.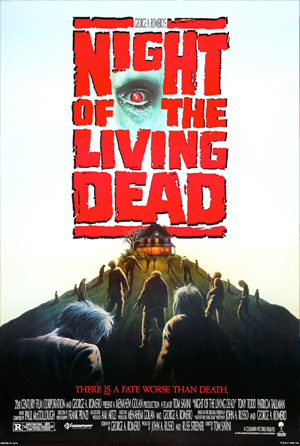 Tony Todd plays Ben, one of the few times he gets to be a straight up leading man in a good genre movie. Of course we love him from CANDYMAN, so it's not surprising that he's a good successor to Romero's great black heroes Duane Jones and Ken Foree. To me he seems harsher than Jones. He's the guy we side with but sometimes he's a little hot-headed when he gets into it with Cooper (Tom Towles from HENRY: PORTRAIT OF A SERIAL KILLER) and seems almost mean when he's yelling at Barbara to snap out of it.
Barbara is definitely the lead, though, and the highlight. It was obviously important for Romero to make up for that character being such a wuss in the original. That's the center of this movie, really, is the transformation of Barbara from being so scared she can barely talk to completely taking charge of the situation. She literally takes off her skirt and puts on pants when it happens. Tallman is great, and Ripley-esque not just in the sense of being a tough woman character in a genre movie, but also in the way she mostly non-verbally communicates her disgust with everybody else being idiots.
She has a great moment where she's staring out the window at the zombies and points out how slow they are, that it would be possible to run between them. She didn't have to have seen DAWN OF THE DEAD, she could picture it.
(A note about the fast zombie controversy, though, if that's still something people care about: check out that first zombie in the original NIGHT OF THE LIVING DEAD. That guy is not slow!)
I always wondered why Tallman didn't become an action star after this one. Instead she worked mostly as a stunt woman, including in ANOTHER 48 HOURS, JURASSIC PARK and SPEED. She doubled Geena Davis falling off a cliff in THE LONG KISS GOODNIGHT. I didn't find out until years later that she was a character on Babylon 5, so I guess she can do the autograph circuit for that. Also she's in, uh, ATLAS SHRUGGED PART II.
Because the story is so simple it really lends itself to little twists and modernizations. In fact, anything that seems old fashioned really sticks out. Cooper, the asshole who wants to stay in the basement, keeps yelling about the others being "lame brains" and "yo-yos," which makes him harder to take seriously. I'm surprised he left out "turkeys."
Savini's filmatism is solid, and seeing it on blu-ray I realize it's a better looking movie than I ever knew. (Sadly as of this writing the blu-ray is out of print and very rare – check the price on the Amazon ad below to see if that's changed.) The first time I saw it it surprised me that he didn't choose to go alot gorier like in DAWN and DAY. But of course he has some more elaborate makeup effects than the original, building off what they invented for DAY. I mean, this is the new version of the aforementioned cemetery zombie: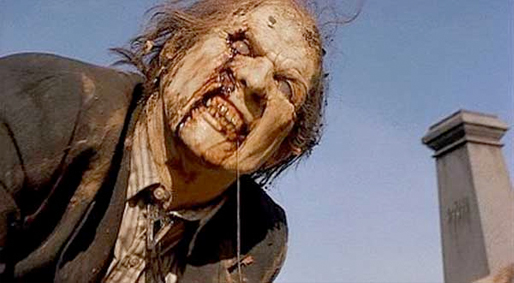 Not just a tall guy with pale makeup anymore. Not that there was anything wrong with that, but this is a nice elaboration.
For the most part Savini stays true to the tone and scope of the original, he doesn't try to amp it up like, say, Zack Snyder did for his remake of DAWN. I really like what he does with the opening in the cemetery, though. The car rolling backwards and crashing with her in it is really intense.
I think the most controversial change from the original is what happens at the very end. In the original, a posse comes by in the morning, patrolling for zombies, and one of them shoots Ben. As far as we know he just mistakes him for a zombie, but because of Ben being the rare black protagonist in 1968 people have always read a racial message into it, that it was kind of a George Zimmerman situation where this mistake only happened because it's an armed moron who does not have "do not murder innocent black man" anywhere in the top half of his list of priorities. In the remake things turn out very different, it doesn't seem racial at all. Ben is killed, but it's by Cooper, who gets into a gun fight with him protecting his zombie daughter (yeah, it took The Walking Dead three seasons to get to the point of the bad guy protecting a zombie daughter). Ben is wounded and later dies. Barbara joins the posse and comes back to the house – when she finds out that Ben has turned and Cooper is alive she shoots Cooper and pretends she thought he was a zombie.
I've heard of people objecting to this change because they miss the commentary on racism in the original. Watching it this time I was surprised I never heard of somebody not liking it because it's too mean. It kinda seems like Romero's opinion of humanity had actually gotten worse since the original. Now people are so bad at getting along that they'll start shooting at each other on day 1 of Zombiefest. And one of them is such an asshole that we applaud (or at least are supposed to applaud) the heroine for murdering him. Kinda fucked up, but interesting. I think they had to come up with something, if they kept everything the same there wouldn't be much point in doing a remake.
This is the type of remake that I enjoy as a companion to the original. It's good for exactly what I used it for, to watch as a refreshment between every so many viewings of the original. I would never want anyone to only know this version, for it to become what a young generation thinks of when they hear the words "Night of the Living Dead," and thankfully 23 years later we know that that didn't happen. But for those of us very familiar with the real NIGHT OF THE LIVING DEAD it's fun to have a different take on the material.
Well, at least this different take. I had to turn off the copyright-loophole-using NIGHT OF THE LIVING DEAD 3D shortly after the "COMING 4 U BARB" text message.