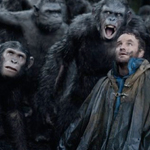 Review of the Movie of The Dawn of the Planet of the Apes
When there's no more room in Hell, the apes will ride the horses. This new PLANET OF THE APES series has decided to start titling in Romerical order, so #2 is DAWN OF THE PLANET OF THE APES. Sounds good, but since they've used the title we can now rule out a future chapter with apes living in an abandoned shopping mall and then they get attacked by biker apes. Also, if this is DAWN OF THE then where is the Hare Krishna ape?
2011's RISE OF THE PLANET OF THE APES was exciting because it looked like a total joke and then it caught me with its touching and nuanced story of the super-intelligent ape Caesar, wedged inside a dumb sci-fi story with one dimensional human characters. DAWN loses the advantage of surprise but gains the advantage of building off the first one to create a way better movie. They wisely skip ahead 10 years to when the human population has been decimated by the virus and Caesar has led the apes to build a village in the Redwoods. They're nearing an Ewok level of advancement with wooden treehouses and spears, war paint, a few crowns and jewels made of teeth. No hoods or hang gliders yet.
The apes haven't seen any humans in two years, but it turns out there's a few hundred or thousand virus-immune survivors living in a walled off part of San Francisco. The two tribes cross paths only when the humans have to pass through the woods to fix a hydro-electric dam that could save them from the impending doom of running out of fuel.
Both sides are scared of each other, and with good reason. The adult apes have all experienced a world where they're subservient to humans, and the humans have not experienced a world where apes ride on horses and know how to talk! They're scared but to be honest this movie is kind of unrealistic that they don't all run away screaming and peeing and shitting all over themselves when they first encounter these bastards. PG-13 compromise I guess.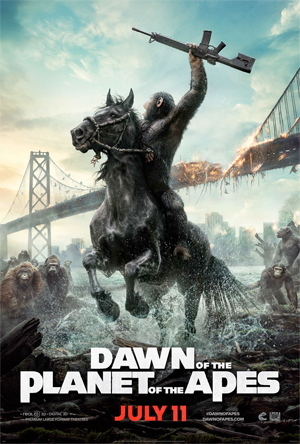 About the talking. I was a little worried because RISE had a good build up to Caesar learning to speak, if I remember right, one word. Mostly he communicated in sign language. The speaking worked in that one but if part two has them all talking to each other is it going to seem too silly? Luckily they're taking baby steps, so they still mostly sign, but can slowly speak simple words to humans or to each other for emphasis. I'm sure by part 5 they'll be speaking soliloquies and rapping and shit but it'll work because of the lobster slowly boiling theory.
Once they know about each other, both the apes and the humans have factions that believe they have to wipe the other side out to be safe. But Malcolm (Jason Clarke, the monkey loving interrogator from ZERO DARK THIRTY) wants to peacefully negotiate passage, and is reluctantly given three days by ex-military human leader Dreyfus (Gary Oldman). Caesar tries to work with him for the good of both sides (despite dissension from a close friend and even his own son Blue Eyes).
Poor Malcolm is constantly having to apologize – Sorry about before, sorry I came here again, sorry this asshole I brought with me broke your rules. He keeps putting himself at spear and gorilla-fist-point trying to do the right thing, and admirably never resorts to the expected "You have to believe me! Those other guys are gonna come in here and kill you if you don't let us do this!" tactic.
The best part of RISE was when Caesar got locked in the ape sanctuary and it became a prison movie with subtitled sign language dialogue and Caesar having to outsmart the other apes, become their leader and spark a revolution. The "why cookie rocket" section. DAWN has far more ape interaction, starting with a long human-free opening that sets you up to side with the apes, not the fleshies. I love that the apes Caesar broke out in RISE are now his closest advisors. Alot of my favorite moments in the movie have to do with the strong relationships that started in RISE and clearly grew over the ten years of founding a civilization together.
Koba (the scary looking scarfaced lab chimp) and Maurice (the ex-circus orangutan) steal the movie in all their scenes. The three of them have a very human dynamic that I love, old firends aware of each other's quirks, but never forgetting all that they've been through together. When Koba fumes at Caesar's trust of the humans he also brings up his own debt to him. When Maurice talks about how angry Koba is there's an unspoken "You know how he is. But he's our friend."
(I have to admit though, I could rarely figure out which one was Rocket.)
My favorite scene in the whole thing is a quiet conversation early on, before the humans even come. Caesar and Maurice look at what used to be San Francisco and talk about "them" and if they're really gone. In the spaces between their thoughts is the heaviness of what they're discussing: the potential extinction of the planet's dominant species in favor of their own.
The actual human characters never seem as full of life and personality as the apes. Surprisingly, Keri Russell (who director Matt Reeves first worked with on a television show he co-created called Felicity, according to what I've read) doesn't get to play much more than Frieda Pinto's caring girlfriend character in the first one. She definitely gives a good performance and her character provides a few crucial services but she has more scenes of coming in with a dish of food and a concerned look than she deserves.
But they're an improvement from RISE. Even the antagonist and the biggest asshole character have understandable motives, they're not needlessly douchey like the next-door-neighbor or boss characters from before. And there's at least one great scene for the humans: the one where (SPOILERISH?) the electricity comes on and they hear what must be their first recorded music in many years, and they laugh and nod their heads. (An ape that's with them just looks confused.)
It's one of those moments of simple joy where you can imagine how great it would feel, no matter your feelings on "The Weight" by The Band. It almost wouldn't matter what the song was, it could be "Who Let the Dogs Out" or "Songbird" by Kenny G, it would still be a great moment I think. The only thing bad would be like if it was some kind of primate related lyric like "Shock the Monkey" or something that would offend the apes and make everybody super uncomfortable.
Later we see that back at the colony everyone is celebrating the lights coming on by dancing. It's a similar concept to the dancing in THE MATRIX RELOADED, but Reeves must've known about my wallflower theory so he left that scene silent, no music, to avoid nerd reprisals. (According to my politically incorrect theory, the geek community savaged THE MATRIX RELOADED and SPIDER-MAN 3 extra hard because they are instinctively afraid of participating in school dances.)
As much as it's the humanity/apeity that makes the movie special, it also has some big crazy shit that almost had me giggling like a nincompoop. This is a serious movie with lots of drama and tension but also it has (spoiler?) an ape riding a horse firing off two machine guns. With fire behind him. In 3-D. When the shit goes down in this one it goes down harder than last time. It's dark, things are burning, there are way more apes, they have tools, they have guns. It's like a nightmare. I was able to experience a good cinematic cocktail of dread that things are getting worse for these characters and giddiness that some insane mayhem is about to go down.
(By the way, did anybody catch if they had stables for the horses? I gotta wonder how well they're able to take care of them. Are they able to re-shoe them?)
When somebody in this movie is doing something he shouldn't be doing it's still fun to watch because he's an ape! That's different from other movies, which are almost always about non-apes doing stuff they shouldn't do. And there's a scene where an ape has to act like a dumb ape – scratching his armpits, mugging, shuckin and jivin – to get the humans to let their guard down. It's both degrading and machiavellian, like Samuel L. Jackson's character Stephen in DJANGO UNCHAINED. It's such great acting when he's apin' it up and then he turns his back and has this look of disgust on his face. You dumb motherfuckers.
Every once in a while during this movie I would think Holy shit, we take it for granted that effects are this good now. Admittedly they're not flawless. There's a bear (Tom Hanks) that looks a little off, and you know, there's something odd about Caesar sometimes, especially his body. I think it's that he's more human than all the other characters. He has more human expressions and he likes to stand in human hero poses. But for the most part you just accept these apes as reality, you don't even think about that all of the characters are actually Andy Serkis and Tom Hanks with a bunch of ping pong balls glued to their underwear that are plugged into a giant super computer in New Zealand and somebody just pushes a button and the movie pops out (note to self: verify tech details). Serkis (who gets top billing!) gets all the acclaim for playing Caesar, but I was even more impressed by Toby Kebbell (the guy I thought was actually mentally challenged in his first movie DEAD MAN'S SHOES) and his animators as Koba. That's a character with alot of layers to him, scary and angry and calculating, but also likable.
(SPOILERS OF THE PLANET OF THE APES IN THIS PARAGRAPH) I felt betrayed by him because I really liked him as Caesar's reliable muscle, and even when he turns it seems like he's doing what he thinks is right for the apes. But then putting his arm around Ash, pretending to reassure him, is a straight up bully move. I'm disappointed in you, Koba. You know the end? I don't think they showed the body. I actually think it would be cool if they cheat in a future one and say he survived, as long as they don't make him the antagonist when he comes back. He takes some people who agree with him and starts a small splinter group somewhere and when Caesar runs into him again years later he just wants to put all that stuff behind him.
The original PLANET OF THE APES movies always spoke in some way to the issues of the times they were made in. I still think RISE's "science is dangerous" theme is way too generic to qualify. On the other hand I think this one works just by being such a timeless issue. You could compare the false pretenses that start this war to Bush and his WMDs, or the actual motive of repairing the dam to securing the oil wells in Iraq. Or you could compare it to pretty much any other war of the past or future. There are always wars being fought, always points of view on both sides that can't really be reconciled. Through this fantasy scenario we can see how both sides have legitimate reasons to fear, both sides have one person making mistakes that the rest of the group have to live with the consequences of, both sides don't know how to back down, even though both have factions genuinely looking for a peaceful solution. It's the spectacle of a battle that we know shouldn't be fought. Both sides are wrong, so we can't root for one to win. We can only root for the small group of apes and humans working together to stop the fighting.
I love that it's not about Caesar trying to prove that apes deserve respect, that just goes without saying. And it's not about Caesar learning that some humans are good, he already learned that from his friend James Franco. This is about him learning that some apes can be as bad as a fucking human.
Caesar is the hero and a great leader, but he's also flawed. He's kinda full of shit sometimes. In that scene I liked so much where he and Maurice are talking about humans maybe being extinct he says that they did it to themselves. What he doesn't mention is that he helped them along by stealing their virus and spreading it around in a terrorist attack! I guess he just thought he was making apes smart, not killing off the humans. But then, the humans thought they were just curing Alzheimers.
When papa Franco's home videos make an appearance it might be a little too heavy of a callback for some people, but most of the RISE references deepen the effectiveness of the scenes. For example the part where a symbol is drawn and we know that the apes who see it will know its significance. Or at the climax (YES, ANOTHER END SPOILER COMING UP) when Caesar finds himself holding Koba's hand as he hangs over a precipice. This is a reflection of the scene in RISE where Koba has the asshole boss (David Oyewolo) hanging from the Golden Gate Bridge, and Caesar could spare him but instead turns his back, knowing that Koba will drop the doctor to his death. In DAWN's situation with Koba he makes the same decision, but he does it himself, he takes the responsibility. So… in a way he's a growing. But the thing he chooses to learn from these events is not very enlightened. He goes from wanting peace to accepting that some apes have to be killed.
That's the thing, he's still kinda scary, and still kind of an animal. This is clear when he deals with Koba's questioning him by beating him up and forcing him to do his little hand petting gesture that means "yes, you are the alpha-ape and I am your bitch." We shouldn't forget that that's how he became their leader. Not by earning their trust. He only did that later.
We like Caesar even though we fuckin know he's gonna be trouble for us.
This is a good fuckin movie. You'll go ape for it as well as bananas this is no monkey business because monkeys have tails and apes don't it's two separate branches of primates get it straight people. I don't mean to burst your Bubbles, but DAWN OF THE PLANET OF THE APES takes a right turn Clyde for the series, becoming the lancelot link between thoughtful sci-fi allegory and ludicrous fun. Swing by (on a vine or tire swing) to see the chimpion of summer movies!
Reeves is a good director. Obviously he's best known for co-writing UNDER SIEGE 2: DARK TERRITORY with Richard Hatem and for whatever that Keri Russell show was that he co-created, if that's true that there ever was such a show, I don't have time to look it up right now. But CLOVERFIELD was pretty clever and I really liked LET ME IN, his remake of LET THE RIGHT ONE IN. I don't think alot of people gave it a chance because of being a gratuitous Americanization of a recent, beloved foreign film, but he directed the shit out of it, I thought it was great. So I'm not surprised he pulled this one off and I'm glad he's (as of now anyway) doing the next one. Can't wait for SHAUN OF THE PLANET OF THE APES or whatever they end up calling it.
This entry was posted on Monday, July 14th, 2014 at 1:58 am and is filed under
Reviews
,
Science Fiction and Space Shit
. You can follow any responses to this entry through the
RSS 2.0
feed. You can skip to the end and leave a response. Pinging is currently not allowed.