August 5, 1983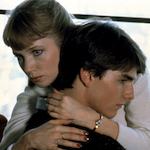 RISKY BUSINESS is a teen sex comedy best remembered for the scene where Tom Cruise in tighty-whiteys dorkily dances around his living room to one of the least cool songs of the era. But put that out of your mind because the overall style and feel of this movie is one of severe coolness. It's the only horny teen movie I've seen that feels kinda like a distant relative to AMERICAN GIGOLO and AFTER HOURS.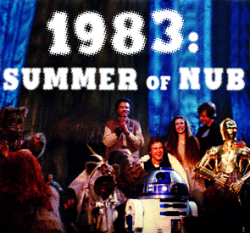 That may largely come down to the score by Tangerine Dream (whose previous movie scores were SORCERER, THIEF, STRANGE BEHAVIOR, THE SOLDIER, and WAVELENGTH), on top of strong work by cinematographers Bruce Surtrees (DIRTY HARRY, THE OUTFIT, WHITE DOG) and Reynaldo Villalobos (URBAN COWBOY), production designer William J. Cassidy (ROCKY, CARNY, ROCKY III) and editor Richard Chew (THE CONVERSATION, STAR WARS). But it also has a different tone and attitude than similar movies of the era. Although writer/director Paul Brickman's previous screenwriting credits were THE BAD NEWS BEARS IN BREAKING TRAINING and HANDLE WITH CARE, this was his first time directing, and he was welcomed as an exciting new voice. Variety's review compared the movie to "a promising first novel," and Roger Ebert wrote that it had earned comparisons to THE GRADUATE.
It opens with a sexual frustration dream, breathily narrated by Cruise, foreshadowing his later role in EYES WIDE SHUT. In his fifth movie, between LOSIN' IT and ALL THE RIGHT MOVES, Cruise plays Joel Goodsen, a hard working but only a little above average high school senior under heavy pressure from his parents and himself to get into Princeton. His reoccurring dream is about being invited into a shower with a beautiful stranger, then getting lost in the steam and finding himself arriving too late to take his SATs.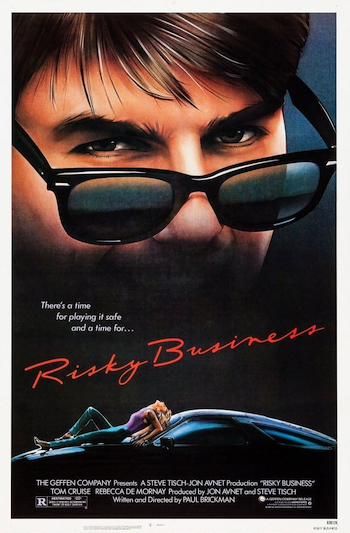 He tells his douchebag buddies Miles and Barry (played by first timers Curtis Armstrong and Bronson Pinchot) about the dream over a poker game. He also tells them a story where he tries to imply he had sex once. "What do you think happened?" he asks, but can't bring himself to actually lie that something happened. Carefree Miles advises him to "just say 'fuck it'" and break some rules while his mom (first-timer Janet Carroll, later the Secretary General in THE ART OF WAR III: RETRIBUTION) and dad (Nicholas Pryor, THE HAPPY HOOKER) are on vacation. Joel responds by drinking beer and adjusting the equalizer (specifically forbidden by his father) to play the aforementioned absolutely terrible Bob Seger song.
Oh god damn it I have it in my head now. Why did they use that song? It was very successful for them, but does that make it just? Does that make it moral? Absolutely not. But I suppose that would be a cool, rebellious song to a guy who's so uptight he can't jerk off without daydreaming about cops raiding the house to stop him.
The inciting incident is when Miles friend-bullies Joel by leaving his name and address on the answering machine of an escort service, forcing him to spend the night nervously anticipating a knock on the door. One unexpected thing about this movie is that, especially for the time, there's little to no judgment or slut shaming of the sex professionals. Even more surprising, the one who shows up at Joel's house, Jackie (Bruce A. Young, "Mechanic #2," THIEF), is a tall, Black trans woman or cross dresser, and the movie doesn't really disrespect him or her. I do think there's some mockery inherent in the idea of Joel having to turn Jackie down, but after seeing so much casual homophobia even in Michael J. Fox movies and shit it's just nice to see him be so polite about the whole situation.
The encounter does intrigue him about the idea of paying for sex, causing him to comb through the classifieds and eventually work up the nerve to call a number Jackie gave him for someone named Lana (Rebecca De Mornay, who had only been in ONE FROM THE HEART). She comes over and they have such an over-the-top hot encounter I assumed it was supposed to be a fantasy sequence at first.
She's still there in the morning and Mr. Doofus here apparently forgot to inquire about her rates, so he finds himself leaving her alone in the house while he goes to the bank to cash out some bonds he has in a safe deposit box. I like the touch that they're stored with a note from his grandparents from when they gave them to him. Spend this on something nice, hon!
When he gets home she's gone, having stolen his mom's prized glass egg from the fireplace mantle. I think the movie does a good job of balancing the inexperienced-scared-kid and smart-person-becoming-an-adult sides of his personality, never making him turn into the typical '80s movie wish fulfillment character (except in the amazing sex he stumbles into). He's capable enough to figure out where Lana is going to be on another escort gig and get into the place by wearing a tie, but then all he knows to do is give her a dirty look from across the room. When he does confront her outside he can't help but fall for her again and help her escape her gun-wielding "manager" Guido (Joe Pantoliano in his sixth movie, between THE FINAL TERROR and EDDIE AND THE CRUISERS).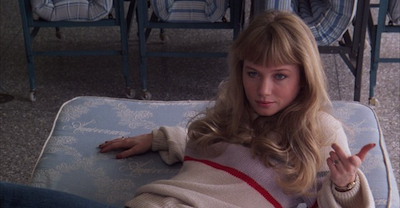 I have to admit I've never paid that much attention to the films of Rebecca De Mornay, but found her stunning here, both in her appearance and her performance. It's not hard to buy Joel being so intimidated by her. To me Lana is a very sympathetic character without really falling into the "hooker with a heart of gold" cliche – instead she's just a very self-assured one who only gives a fuck what you think in the sense that she'll tell you to fuck off if she senses an issue. The closest Joel ever comes to judging her profession is innocently asking her about dropping out of school, and she immediately lets him have it. When the plot shifts to her saving his ass by hooking up her high class escort friends with his high school rich kid friends it's at least as much of a celebration of her intelligence as it is a satirical comment about his worship of business acumen (by comparing it to pimping).
I'm torn on whether or not the movie believes Joel is cool when he finds his new slick and confident pimp persona (signified by Ray-Bans, a blazer over a black t-shirt and a cigarette dangling from his lip). I suspect it does, but I'm okay laughing at him. The last act gets more into the expected teen comedy tropes, such as the house getting trashed and Joel just barely managing to impossibly get everything in place moments before his parents get home, and the Princeton admissions officer (Richard Masur, THE THING) unexpectedly letting him in thanks to a night with Lana's colleagues. But the more memorable part of that section is Lana bringing Joel on the L-train late at night to wait for the car to be empty so they can fuck. It's important to the plot in the sense that the house gets robbed during it and Joel has to wonder if Lana set him up, but Brickman could've gotten around that if he wanted to. Instead he did this atmospheric scene, tied into the opening establishing shots of the L-train, where Lana leads Joel into an experience of danger and pleasure encapsulating this world of adulthood that he's venturing into, as opposed to the frat-boys-giggling-at-boobies-together approach to sexuality that's more common in this genre.
PORKY'S II: THE NEXT DAY came out earlier that summer. Can we call RISKY BUSINESS an "elevated PORKY'S movie"? That's probly too reductive of PORKY'S because, at least according to my review from many years ago, it has some directorial style along with its juvenile bonerpalooza. RISKY BUSINESS does too – I'm thinking, for example, of Mr. and Mrs. Goodsen's trip to the airport and pre-vacation lecture, shot entirely from Joel's POV, like he's young Michael Myers. Another favorite touch is when Joel has pissed off Lana, destroyed his dad's car, and been suspended from school, and his response is to borrow his friends bicycle, ride it all the way across the city, run up the stairs to Lana's hotel room and hug her. A moment of sincere vulnerability and comfort in a relationship that has previously been mainly about sexual and financial transactions.
In fairness to whoever chose the songs, I like most of them. The L-train scene makes excellent use of "In the Air Tonight" (2 years after it came out, but 2 years before it was in the Miami Vice pilot), Prince's "D.M.S.R." plays at the party, and they use Muddy Waters playing "Mannish Boy" in a way that seems obvious now, but is meaningful if you take it as ironic.
Like Bob Clark with the first PORKY'S, Brickman made a personal movie informed by his own teenage experiences, even filming it mostly in his home town of Highland Park, Illinois (though it's set in Glencoe). I find Joel to be a compelling character without being able to relate to his very specific rich kid experiences, like rebelling against his dad by driving his beloved Porsche without permission. (That obviously struck a chord with John Hughes, who gave the whole subplot to Cameron in FERRIS BUELLER'S DAY OFF, which was also shot in Highland Park. The Paramount+ algorithm agrees with me on that and autoplays FERRIS after this one). I guess it's enough that he feels adrift in his word of budding capitalist bros. When a conversation about college and career plans prompts him to ask "Doesn't anyone want to accomplish anything? Or do we just want to make money?" it doesn't sound like some empty grumbling, reminiscing about the days of old, it's more like a horrified realization.
I wanted to see what Brickman had to say about the movie, and luckily there's a pretty good American Masters interview with him and producer David Geffen on the PBS websight. Brickman explains, "Well, RISKY to me was all about the Reagan era and everyone wanting to be a little capitalist. That was the theme of RISKY and what a myth that was in that things are a lot harder than they were made out to be at the time… What's going on in that culture was a romanticized view of what capitalism was, but it was really tough for a lot of people."
He said he wanted to make something tonally different from other teen movies, something darker, and yes, he specifically says he wanted sexuality that was not like PORKY'S. He wrote it as part of a two picture deal at Warner Brothers, but it went into turnaround and he couldn't find anyone interested until former talent agent, rock 'n roll manager and label head turned budding movie mogul Geffen read the script, and let him make it without much studio interference.
But there was some compromise; Geffen made him change to a more upbeat ending. Originally Joel did not get into Princeton, and it ended on a bittersweet note about the tough life Lana would likely have ahead of her. Brickman said, "I think the film would have been a smarter film and would have played just as well in the end," but also, "Looking back with hindsight and more wisdom and more mature, we were both right and we were both wrong."
Despite Brickman's best efforts, Warner Brothers did see it as being like PORKY'S and wanted to advertise it as such. Luckily Geffen was able to hire an outside advertising agency and come up with the iconic poster that's a little more representative of the tangerine dreamy feeling of the movie.
RISKY BUSINESS was well reviewed and a big hit – it made ten times its budget just in theaters, then became a favorite on VHS and cable. Despite that success, Brickman only directed one other movie (MEN DON'T LEAVE in 1990), plus a short called Allison in 2012. He did write William Friedkin's DEAL OF THE CENTURY (1983), Clint Eastwood's TRUE CRIME (1999) and the 2001 mini-series Uprising with RISKY BUSINESS producer Jon Avnet.
Instead of the movie that established Paul Brickman, RISKY BUSINESS is of course remembered as the breakthrough for movie star of all movie stars Tom Cruise. He's very good in the role and it's striking now because until he gains Ray-Ban-powered confidence at the end it's so opposite of the onscreen persona he'd soon develop. He convincingly plays a timid loser, not good enough for his parents or for the college he wants, not as lucky as his friends, afraid of women and everything else. And he's a kid! He and his friends ride bikes to school or get dropped off by their parents. It's crazy to think that only three years later Cruise was able to fully inhabit the role of the cockiest show off in cinematic history – motorcycle-riding, jet-flying, women's-bathroom-invading, teacher-fucking, reckless-endangering-but-legally-not-responsible-for-the-death-of-his-best-friend hot shot speed needer Pete "Maverick" Mitchell in TOP GUN MAVERICK ORIGINS: TOP GUN.
Reportedly De Mornay and Cruise started dating during the movie, breaking up a relationship she'd had with Harry Dean Stanton! That nicely reflects the movie's dynamic where they're about the same age but she lives a more grown up life. Another interesting fact about De Mornay is that she's a musician and as a teenager she sold some of her songs to German rock groups and wrote "The King of Kung Fu," the theme for the 1975 Bruceploitation movie GOODBYE BRUCE LEE: HIS LAST GAME OF DEATH starring Bruce Li. She also co-produced Leonard Cohen's 1992 album The Future, and almost married him.
Armstrong followed this with two much broader teen comedies, REVENGE OF THE NERDS and BETTER OFF DEAD, but this was what really establishes his persona as the horny, eccentric best friend. He's definitely supposed to be kinda sleazy and a stressful friend to have, but also wise in his "sometimes you have to just say 'fuck it'" philosophizing. And there's a scene where he takes out a tobacco pipe and starts smoking like a professor. Anyway, I was thinking – what if Curtis Armstrong had been the one whose career took off from this and then he starred in a Kubrick movie and started climbing buildings and jumping off cliffs and shit? That would've been cool. Instead he will forever be known as "Booger." But that's how it goes. And he'll always have Moonlighting.
Pinchot's next movie was BEVERLY HILLS COP, a role that launched him into the land of wacky accents. He was actually set to play the Indian protagonist of SHORT CIRCUIT when he left to play a rip off of Taxi's Latka Gravas on the hit sitcom Perfect Strangers. His great character in TRUE ROMANCE belongs in the Douchebag Hall of Fame and seems more like a descendent of his debut role here.
I had not seen RISKY BUSINESS since I was a kid and I have to say, I was pretty impressed. It's more interesting than its reputation suggests. I recommend it if you haven't seen it.
Legacy: The underwear scene has been parodied by such important cultural figures as ALF and Garfield.
This entry was posted on Wednesday, August 2nd, 2023 at 5:01 pm and is filed under
Reviews
,
Comedy/Laffs
. You can follow any responses to this entry through the
RSS 2.0
feed. You can skip to the end and leave a response. Pinging is currently not allowed.