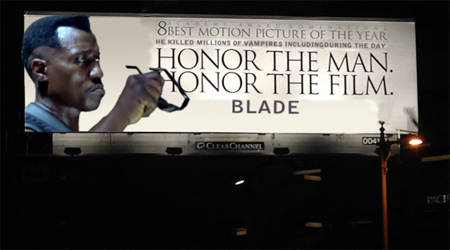 For those who it's not against their religion, here's where we can discuss the Oscar business. Sorry for the crappy photoshop work, but it's the idea that counts. Here are a few thoughts before this year's awards.
I have a tradition of writing down my predictions for the major categories the night before the nominations. I'm never dead on, but usually do decent. This year I wrote down:
Picture: Boyhood
Director: Link
Actor: Beetlejuice
Actress: Julianne Moore
Supporting Actor: Just Kidding Simmons
Supporting Actress: Arquette
Original Screenplay: Budapest
Adapted Screenplay: Inherent Vice
Actually those are pretty good, I guess I stick by those. Luckily I didn't write down the animated feature because I would've written LEGO MOVIE. I'm iffy on the screenplay guesses, but going based on those categories usually being the hippest (for example, remember when DJANGO UNCHAINED actually won?). And picture could go to BIRDMAN and actor could go to Redmayne (who really is impressive, showing a personality and wit through this difficult physical performance). But I was guessing Mr. Keaton because I suspect the Academy shares my love for him and happiness in him make movies again and also they tend to love movies about actors like Stephen King loves stories about writers.
I've seen alot of people saying this was an amazing year for movies. There were tons of them that I liked, but I'm uncharacteristically non-committal about a favorite. Maybe JOHN WICK. And I really liked WHIPLASH and BOYHOOD and DAWN OF THE PLANET OF THE APES and the two Marvel movies. And INHERENT VICE is a possible #1 but it's so dense I chose to not even write a review until I see it again, so who knows?
I did end up seeing all the best picture nominees. BOYHOOD would make a fine best picture, it's a once-in-a-lifetime approach to a movie and I walked out of there amazed. Good for ol' Mr. Slacker pulling off something like that. BIRDMAN OR could definitely get it, and I wouldn't really agree with that, but it's a good movie and certainly a great achievement for all the actors and technicians involved. And some of you made good arguments for it having more substance than I gave it credit for. I loved WHIPLASH, it's so effective as a musical thriller that it somehow slipped into best picture nominees, that's cool. I liked SELMA alot too, it's more of a traditional "important" movie but it's really well done and, yeah, actually very timely in the importance category. THE GRAND BUDAPEST HOTEL is a great piece of movie-making in the Wes Anderson tradition, although I would like to see it again to truly judge it because on one viewing it was his movie that I felt the least connection to the characters. Including the ones with little kids or cartoon animals as the main characters. AMERICAN SNIPER. (I wrote too much about that already.) THE THEORY OF EVERYTHING is not my type of movie usually but I enjoyed it, yes it's technically a biopic but it's mostly a relationship story about a very unique relationship. And IMITATION GAME is my least favorite of the bunch and the most traditional Oscar bait type movie with a whiff of bullshit about the way they depict some of it (for example I have a hard time believing that after they broke the code they figured out that a ship was about to be attacked and they personally had to make the decision of not intervening). But also it's not that bad and the point at the end about how many lives he saved only to be treated so shoddily, and the implication that any number of people who have been persecuted might have gone on to do great things, is well taken. So I'm okay with it.
So there you have it. BIRDHOOD will sweep, BOYMAN possible dark horse candidate. Various jokes about the Sony hack and filming a movie for 12 years, maybe something about drums. Today we call them computers.
Have fun guys.
This entry was posted on Sunday, February 22nd, 2015 at 12:53 am and is filed under
Blog Post (short for weblog)
. You can follow any responses to this entry through the
RSS 2.0
feed. You can skip to the end and leave a response. Pinging is currently not allowed.