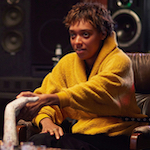 TALK TO ME is a new Australian horror movie that's distributed by A24 in the United States, but it's a more straight forward type of horror than what people generally associate with that company. Young people dealing with ghosty shit, closer to mainstream James Wan or Scott Derrickson type thrills than to an Ari Aster or Robert Eggers joint. It went over well at Sundance and some other film festivals and has been hyped up by some as the horror movie of the year, or a bold new voice or some shit, and to me that's overselling it. It's something more humble – a solid movie with a good cast and some fun ideas – and really that's one of the things we're looking for as horror fans.
Mia (Sophie Wilde) is a young woman trying to distract herself from the second anniversary of her mother's death and the fact that she doesn't like being around her dad (Marcus Johnson, INTERCEPTOR). She goes to stay with her best friend Jade (Alexandra Jensen), who has a little brother Riley (Joe Bird, RABBIT) and mother Sue (Miranda Otto, I, FRANKENSTEIN) who she's also close with. Mia drags Jade and Jade's straight-laced boyfriend Daniel (Otis Dhanji, "Young Arthur [Thirteen Years Old]" in AQUAMAN) to a party with some friends who have been spreading scary videos of a sort of seance they like to do. Jade thinks the whole thing is stupid, but Mia thinks it will be fun to be there and "see if it's real."
Things start out awkward. One of the party's hosts, Hayley (Zoe Terakes), hates Mia and is annoyed she was invited. There's also some weirdness because she used to date Daniel, some people seem to think she still has a thing for him, and that doesn't seem to be entirely wrong. But Mia impresses the hosts by being the first to volunteer for their little party game. Joss (Chris Alosio) brings out the ceramic hand, which he says is the embalmed hand of a psychic medium. Mia has to hold the hand and say the titular phrase. To her surprise she immediately sees a scary apparition, and freaks out. But she gets up the guts to do it again and say, "I let you in."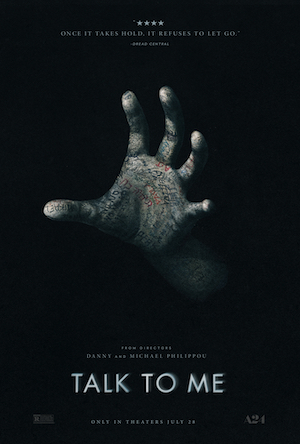 What follows is clearly not a case of playing along. She writhes and twitches and her eyes turn black as an unknown dead person talks through her. But don't worry, she'll be safe. Hayley has a rule of blowing out the candle and yanking the hand away after 90 seconds. Otherwise the spirit can get ahold of the person forever.
Two things: the witnesses have very believable reactions to all this. Jade is at first annoyed, thinking Mia is putting on a show, then gets increasingly upset as she's not so sure. Riley looks amused when he thinks it's fake and then terrified when he thinks it's not. The others have seen it before and are more entertained than scared, almost is if they're watching a horror movie, like us.
Mia, once she's caught her breath, says it was great. What a rush!
That's the clever twist to this possession movie: though this activity scares them, they do it over and over, and they love it. Kinda like my favorite part in POLTERGEIST where they find the spot in the kitchen that makes them slide across the floor, so they keep doing it and laughing. Here there's an obvious drug parallel in the way they sneak out to have parties, take turns, laugh, feel a rush, have a good time together. The ritual actually most resembles shooting up – the lighting of the candle, the tightening of the belt (that holds them to the chair). I don't think it's really intended as a cautionary tale, but of course it stops being so fun after Mia does too much of it, and after she lets Riley try it even though everyone knows he's too young.
There are more freaky seances, the supernatural goings on eventually intersect with the story of Mia's mother's death, things go too far and she starts seeing things when she's not using the hand, etc. There seems to be some EVIL DEAD influence in the way the possessed behave, but not in a plagiaristic sort of way. The possessions also cause a couple memorably nasty grossout moments that you could compare to DRAG ME TO HELL because of their reliance on slobber, but the tone is very different. They're a fun jolt because they're so viscerally disgusting, but they're not (to me at least) a laugh. They're more sad, because they're about an evil force causing embarrassment and degradation for one of the main characters.
Another EVIL DEAD similarity is definitely a coincidence: like EVIL DEAD RISE it has a character played by a trans actor without it being a plot point or mentioned by anyone. In my review of EVIL DEAD RISE I followed the movie's lead and didn't make a thing out of it, but I thought it was nice. Here I'm mentioning it because although that character made some poor choices I think TALK TO ME might be the historic first mainstream movie with a trans actor playing kind of a douche. Hayley is a good character because he/they are instantly hateable but then I sort of warmed up to him/them. That's a pretty tried and true horror character type, come to think of it.
This is not the movie for people who want horror heroines to always make the best decisions. Mia is quite proficient at being a fuck up. At the same point when the ghost shit starts hitting the haunted fan she also gives her adoptive family a very good reason to hate her fuckin guts, and the discomfort of her facing them and trying to apologize is actually more gut wrenching than any of the malevolent spirits she's dealing with. And this is a point where it's a real asset to have Otto (who's very funny in her earlier scenes, by the way) playing the mom.
It's a concise 95 minute story but still feels like it gives you some time to hang out with the characters before quite figuring out where you're going. Where it ends up eventually seems inevitable, but not in a bad way. It's a cool ending.
I'd be interested to hear from Australians if they think there's anything specific to Australian culture in this one that the rest of us might not pick up on. So many of the Australian horror movies that make it my way are interested in nature – WOLF CREEK 1 and 2, RAZORBACK, ROGUE, LONG WEEKEND (and its remake), STORM WARNING, DARK AGE. The car oriented ones like ROAD GAMES or WYRMWOOD: ROAD OF THE DEAD and WYRMWOOD: APOCALYPSE aren't in the outback or anything but they're in dusty or rural kinda areas. It's kinda novel to see an Australian horror movie set in the suburbs of Adelaide, which I could've mistaken for America if not for the accents.
Although come to think of it there is a kangaroo in one part. No joke. And also come to think of it I don't remember THE BABADOOK or CUT or THE LOVED ONES being very outbacky. But at least I got to list a bunch of Australian horror movies and provide links to my reviews. Let me know if you have any recommendations.
I'm hesitant to mention this because it might've scared me off from watching it if I had read this, but first time directors Danny & Michael Philippou (who are twin brothers) already have a Wikipedia page under the name "RackaRacka," which is apparently a Youtube channel they've run since 2013 that has 6.75 million subscribers. "The channel's first huge success was Harry Potter vs Star Wars, which attracted 7 million views in a week, and won them a trip to the U.S." They started making videos when they were kids because they were backyard wrestlers. But they were also crew members on THE BABADOOK, so they have some real-movie experience. I would not have guessed they were Youtubers based on the movie. If anything, social media videos are depicted as silly kids stuff within the world of the movie.
The script is by Danny Philippou and Bill Hinzman (most likely not the same Bill Hinzman who played the first zombie in NIGHT OF THE LIVING DEAD, is my guess), from a concept by Daley Pearson (a producer of my wife's favorite cartoon to fall asleep to, Bluey). They're already developing a sequel, which I kinda hope will follow the '80s model of a totally new set of characters. I'm not saying that's the best way to do it but I feel like we don't get enough of that these days.
TALK TO ME's "getting possessed by evil spirts can be fun in moderation" hook is a good one. I don't agree with the people who sold it as something thrillingly new, but I don't need that. I think the movie is most successful in the time honored horror tradition of depicting a group of charismatic and funny young people who may not be the finest humanity has to offer, but they have strong friendships, almost family-like, that can waiver but are crucial during this time of torment. I like spending this time with them and pulling for them to work things out even though, let's face it, some or all of them are fucked. That's the ritual, just like getting out the hand and lighting the candle and saying the thing. It's fun if you don't do it for too long.