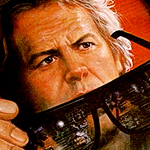 I was shocked and saddened today to stumble across the news that wrestling legend "Rowdy" Roddy Piper had died. I didn't see this one coming. I thought he was gonna be one of the ones that gets to grow old.
I know some of you are serious wrestling fans to this day. That's not me. But I'm one of the millions who was obsessed with WWF wrestling in the 1980s. It was a time when pro wrestling stopped being seen as a lowbrow fringe activity and was allowed to intersect with all parts of culture. Andy Warhol went to a Wrestlemania. Cindy Lauper and Alice Cooper became wrestling managers. A more experienced manager, Captain Lou Albano, played Lauper's father in a video. Wrestlers released terrible albums, which I bought on vinyl. On Saturday mornings there was a cartoon called Hulk Hogan's Rock-n-Wrestling, and every fourth Saturday Night NBC showed wrestling in place of SNL. When one of these Saturday Night's Main Events took place in Seattle I was there. I was thrilled to see Andre the Giant in person (although he didn't wrestle) and Brian Bosworth in the crowd. I was [undisclosed] years old and witnessing these larger than life individuals – cartoons of good, evil and awesome sculpted out of muscle and fat and encased in colorful spandex – was like catching a glimpse of the Greek gods.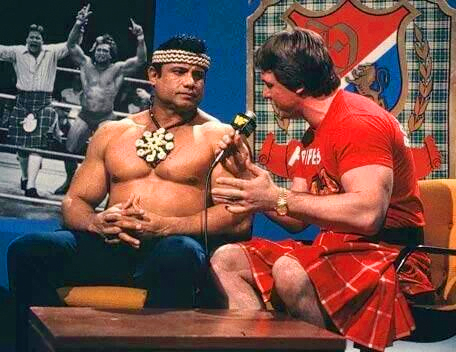 Like anybody, I went through a number of favorite wrestlers during that period, and Piper was only one of them. But he always stood out. Physically he was a little closer to an everyman than the sculpted mr. wonderfuls he fought, but mentally he was superior. He had a Bugs Bunny quality to him. Both as the iconic lead villain and the "well, he's so popular, let's make him a good guy" his thing was to fuck with people. As far as I know he was the inventor of the weird wrestling tradition of giving wrestlers "shows" within the wrestling broadcast. For "Piper's Pit" he would have a stage set up in the arena and do a little talk show interviewing wrestlers. Sometimes you'd look forward to that more than the bouts (although of course the show could very well end with something being broken over somebody's head).
But I think you can guess the reason he stayed meaningful for me decades later: he's the one that transcended the world of wrestling to star in one of my all time favorite movies, THEY LIVE. I didn't know it at the time, but it was a risky move for him. He had to quit the WWF. Vince McMahon (who I didn't even know was the boss at the time, I thought he was just the square announcer who Jesse Ventura got to show up every week) only wanted his wrestlers in movies he produced, like NO HOLDS BARRED starring Hulk Hogan. He told Piper not to take the low budget THEY LIVE, that he could guarantee him a role in a much bigger movie. Piper supposedly said "yeah, but it wouldn't be directed by John Carpenter."
THEY LIVE is possibly the very best example of two of my deeply held filmatic ideals. One, it's a pulpy, awesome genre movie that works as pure entertainment, but also as a biting statement about the world of 1988 (and, sadly, 2015). Two, and more relevant to our subject here today, it's a movie that showcases the unique qualities of a wrestler in a role that could've gone to an actor and wouldn't have been as good.
I get in this argument all the time about movies, whether it stars Van Damme or Seagal, or Gina Carano, or a wrestler or MMA fighter. Yes, acting is an art and a craft that can be thrilling and moving in ways maybe unattainable to these men and women. On the other hand, they have a physical presence and abilities that are entertaining to see on screen and that cannot be simulated by those actors. This is why I will watch any of the WWE Productions that star wrestlers, even though I've never heard of most of them. And why I was immediately captivated by The Rock's movies even though his wrestling superstardom was way after my time.
Even The Rock doesn't have a movie under his belt that's as great as THEY LIVE, and as indebted to the unique skills of its wrestler star. I'm sure Carpenter could've made the movie with Kurt Russell, and it would've been great, but it wouldn't have been as great. Piper famously ad-libbed much of the dialogue, including the beloved bubble gum line. As a big-mouthed wrestler from the days when interviews were as important as matches that sort of shit talk was his life's work.
And then of course the legendary alley fight scene with Keith David had to be designed for a wrestler. At the time some people thought Carpenter had lost his mind. A (belated) review in the May 1989 issue of Cinefantastique Magazine says that he "pitches his baby to the groundlings" with that scene, that "his wrestling fan's dementia here impedes the filmmaker's instinct for knowing just when enough is enough." I'm glad that these days most people seem to see that the surprising length of the fight is exactly what's beautiful about it. That's how hard Frank fights to not put on the sunglasses, because these are the lengths we will go not to have to see what's going on right under our noses.
And besides, what the hell is wrong with a long fight scene? You got A.D.D. or somethin?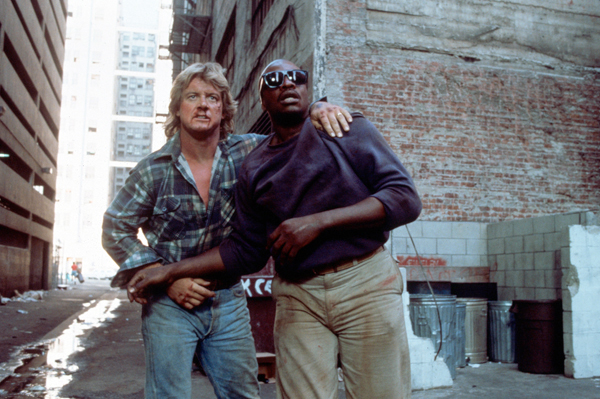 Carpenter knew what he was doing when he cast Piper. As he told Entertainment Weekly when the Shout Factory Blu-Ray came out, "To me, Roddy just had a weathered face and looked like he'd been working all his life. He wasn't a Hollywood star. He had some scars on his face and I thought he would be convincing walking into town with a backpack on his back looking for work."
I don't usually go in for this type of merchandise based nostalgia, but maybe this will give you an idea of the place Piper holds in my life. I'd been drinking from my favorite Roddy Piper pint glass all morning when I found out the news. I own a beautiful Thai poster of THEY LIVE which is near the top of my list of things to get framed if I ever get a chunk of money from a book or something. More crucially, I have a poster from when it was released on VHS, and six or seven years ago I went to a horror convention specifically to have it signed by Piper.
It was a pathetic affair, a poorly planned and promoted event at a hotel by the freeway, where I saw iconic horror stars like Betsy Palmer sitting at tables looking lonely. I had a good conversation with Lou Perryman from TEXAS CHAINSAW MASSACRE 2, who has also since passed away. I saw Danielle Harris, and considered trying to talk to her about MARKED FOR DEATH, decided I'd feel like a creepy older dude. (I thought she was younger than she actually was.) Anyway, my goal was to see Roddy.
But when I got there he was the only guest not at his table. A guy I knew who had a table selling art said he'd been there for a little bit, but had left. It was early, a sunny afternoon, but when he showed up again he smelled of liquor and was slurring a little.
A few of us lined up. The guy in front of me had the same poster I had. "Where'd you get this?" Roddy asked.
"Ebay," the guy said. I was proud that mine had been obtained legitimately from a video store in the '80s and had been cherished since. I gave my $25 to Piper's son, who is now an MMA fighter, and Piper signed the poster and asked how I was doing. I told him about a recent major life event, which made him say "Oh, God bless you." So I consider myself to have been blessed by Roddy Piper. I'm not Catholic, so it's better than the Pope.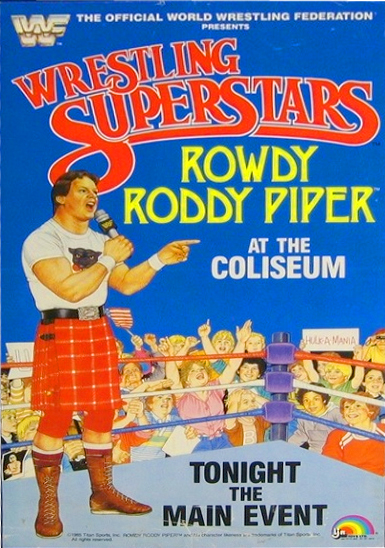 Before Jonathan Lethem beat me to it I was planning a short book about THEY LIVE. I had done a little research, including reading Piper's autobiography. Like any wrestler's stories you gotta take it all with a grain of salt, but also like any wrestler it's clear he took many hits in life, both inside the ring and out.
This one is getting to me more than most celebrity deaths, not just because he means alot to me, but because it's not just nostalgia. I felt like he was still a part of my life. Though I don't watch wrestling, I'm fascinated by wrestlers, and like to listen to the podcasts that interview guys I remember from the old days. My favorite of those is Piper's Pit. When I first discovered it existed it took me a bit to get used to Roddy's sometimes unintelligible rambling, and his habit of repeating stories, like what his bagpipe entrance music comes from. Once I got accustomed to it it started to seem endearing.
What was great about his show is that he'd talk to these guys he had long histories with, and there was a genuine sense of old friends who had been through it all together, and had become brothers. They could laugh about the crazy shit and the close calls, reminisce about old buddies and good times. They had a shared language, but they were letting us in on it.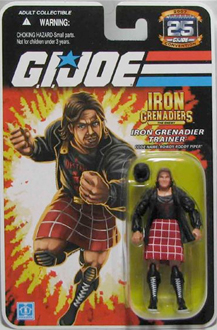 And what was especially great about it was how important it was to him to tell people he appreciated them. "Ah, I love ya!" was one of his most commonly used phrases. I didn't listen weekly, but enough to hear how much he loved so many of the guys he came up with, how much he worshipped "Judo" Gene Labell, how honored he was by Ronda Rousey calling to ask if she could call herself "Rowdy" Ronda, and especially how proud he was of his son Colt, who he'd brought with him to that convention. In his Q&A he'd called Colt his best friend, and deferred to him for facts he couldn't remember (such as his official title on whichever GI JOE movie was coming out then, trainer or advisor to something). And he teased him about being into MMA instead of wrestling, saying he didn't understand the appeal. Years later on his podcast you could tell he was worried when he talked about Colt having to deal with other fighters being extra hard on Roddy Piper's son to make a name for themselves, and beaming when he talked about him winning Fight of the Night.
Of course, my favorite episode was the one with John Carpenter. As you can imagine it was a great conversation about filming THEY LIVE, with immense mutual admiration and pride in what they'd created. But the surprise is the touching end of the interview, which made me tear up like the end of BABE or something. Carpenter's wife and producer Sandy King was there off mic, and Piper insisted on bringing her in so he could apologize to both of them. He said he'd been a jerk to them during the filming of the movie, which they seemed to disagree with. But it was important to him to tell them he was sorry for whatever it was.
So let's take heart in that. He seemed like a guy who had made alot of mistakes in life, but was really trying to make up for them, and set things straight with everyone he knew. And it bothered him how many of his friends had died too young from what he called "the sickness," the various mental and physical tolls of the life they'd lived in the ring and on the road. So he was always making sure to tell his people how much he appreciated them. For such a heel he sure seemed like a sweetheart.
So here's to you, Rowdy. We appreciated you too. Thanks for the blessing.
–Vern
This entry was posted on Saturday, August 1st, 2015 at 12:45 pm and is filed under
Blog Post (short for weblog)
. You can follow any responses to this entry through the
RSS 2.0
feed. You can skip to the end and leave a response. Pinging is currently not allowed.