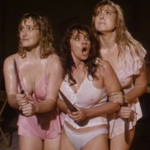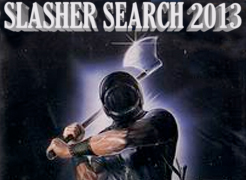 I didn't like SORORITY HOUSE MASSACRE, but man, SORORITY HOUSE MASSACRE II is not SORORITY HOUSE MASSACRE caliber. This one is a Jim Wynorski joint, so I guess it's not really meant to necessarily be a real movie. This is one of the five movies he did between 1989's RETURN OF SWAMP THING and 1992's 976-EVIL II. Another one was SCREAM QUEEN HOT TUB PARTY under the pseudonym Arch Stanton. He has his thing he does. He churns them out and has fun and they usually have a little likable goofy humor in them, and then there is the rest of the movie.
In this one, five interchangeable college babes have to spend the night in an old house they have just purchased for their sorority house. The power and phones are not hooked up, there's no furniture and also the reason they could afford the place is because a bunch of people were murdered there 5 years ago. But they have to stay in this scary place to meet the movers in the morning.
But you know, they're not taking it too seriously, it should be a fun scary night with the girls. They look around and find a few objects possibly associated with the murders, plus a ouija board. They decide to go into the basement, drink some rum and try to contact the spirits of the dead.
Here's the weird thing: they all separately get into their underwear before meeting in the basement. Like if you say "let's use the ouija board" everybody automatically assumes that means in your underwear.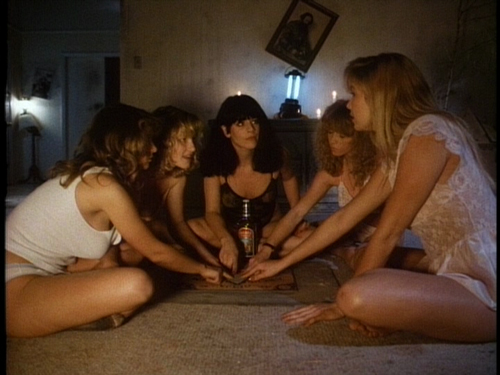 According to IMDb, alternate titles include NIGHTY NIGHTMARE and JIM WYNORSKI'S HOUSE OF BABES. There is alot of them walking around in their underwear shining flashlights around, even though the lights seem to be on. I guess it's supposed to be candlelight, since there are enough lit candles in the place you'd think they'd be setting up for a big DESPERADO type sex scene. But there's no guys here, so there is mild hinted-at-lesbianism and sensual showering. After what seems like longer than a feature length movie it finally cuts away to another location: a strip club where a girl is doing some intense jiggling with no music playing. When she rubs against the pole it makes a cartoony sound effect like rubbing a balloon. I believe inappropriate sound effects might actually be a Wynorsky trademark, because there's a pretty hilarious sound in MACH 2 when Brian Bosworth kisses a lady. [UPDATE: Scratch that. That's Fred Olen Ray. Easy to mix up with Wynorsky.]
You know what's nice, these girls aren't as snobby as you might expect, because one of them has a boyfriend that by the look of him you'd think they'd either regard either as their dad or their potential abductor: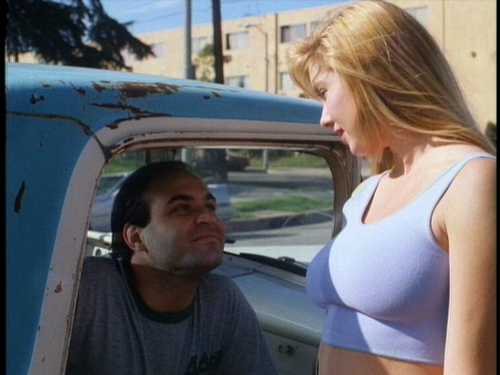 Way to go, that guy.
Here's something interesting: the incident that happened five years ago was NOT the sorority house murders seen in SORORITY HOUSE MASSACRE, and also it wasn't the previous murders that happened in that house before it was a sorority house. No, this was a different massacre that happened here. A creepy neighbor named Orville (Peter Spellos, FREDDY'S DEAD: THE FINAL NIGHTMARE) comes in and tells them all about this guy Hokstedter who killed his wife and daughter when they were living there. It flashes back and if this doesn't look familiar from the first SORORITY HOUSE MASSACRE: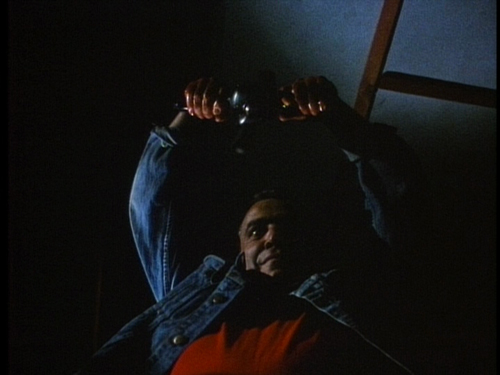 …that's because it's footage from the first SLUMBER PARTY MASSACRE. What the hell is going on here? His story does not match the events of SLUMBER PARTY MASSACRE, but the images do. Maybe this means that the girls are very familiar with that movie so when he tells them about the killings that's how they picture it. Or maybe it's just an acknowledgment that SLUMBER PARTY is way better than SORORITY HOUSE so let's just pretend this is a sequel to that.
For what it's worth, the County Herald agrees that it's more of a slumber party massacre than a sorority house one: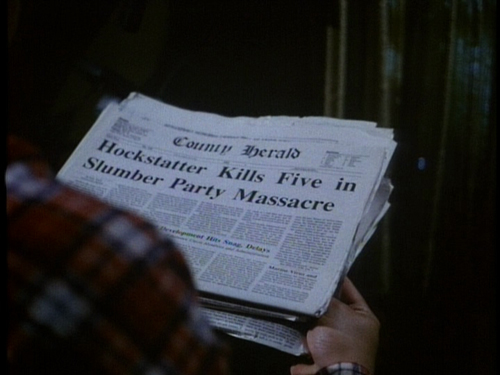 Other than girls casually wearing fancy underwear this one doesn't have alot to offer. If it maybe had some good FRIDAY THE 13TH style gore effects somewhere maybe it would be more fun. A typical death scene in this is a shot of a shadow of a hook raising, then chopping downward and then blood squirts onto the wall. Nothing wrong with that except that they do it twice.
The most memorable parts are when one of them crawls under a table, then jumps up and hits her head on it: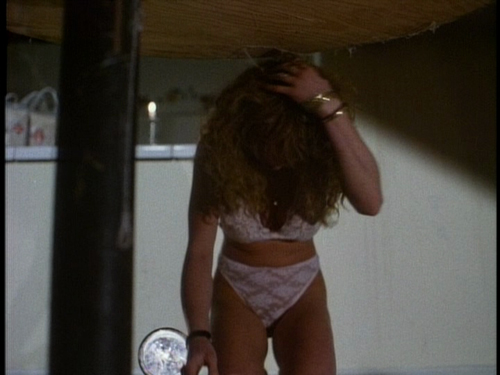 And another part where the dunk the killer's head in toilet. That should probly happen to Freddy and Michael and all those guys.
That's not nearly enough to make this a worthwhile movie, though. One of the writers, Mark McGee, got a story credit on EQUINOX. Another one, J.B. Rogers, went on to direct AMERICAN PIE 2. Weird. He also did the TV movie about Schwarzenegger running for office.
The cast includes Melissa Moore from ANGELFIST and Michelle Verran, better known as the porn star Barbii (LOOSE ENDS V, BACKDOOR TO HOLLYWOOD 4, A.S.S.). I have to admit, I never really got into this idea of the "Scream Queens." I like a good Final Girl, but it seems like the connotation of the term "Scream Queen" as well as the actresses it's usually used to describe are something not as cool. They don't seem like people, they're like Playboy models getting terrified and not knowing what to do. I don't know what's supposed to be so fun about that. Stop screaming and get an ax, your majesty.
This seems less like an actual existing horror movie and more like the fake one that they're watching within a movie. From the lack of clothes to the constant cuts to scratchy stock footage of a fake lightning strike, it seems like the clueless parody of what slasher movies are supposedly like, but never are actually like. Except in this case.