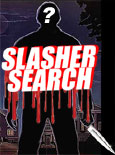 I tell ya, I'm as shocked as you are that a movie called THE NIGHT BRINGS CHARLIE doesn't turn out to be the great unknown slasher gem I've been searching for. I mean, people love a killer they can call by his first name, like Jason or Freddy. Informality = terror. And that's what they got here, they got Charlie. It seemed like they thought of everything, but for some reason the world gave them the cold shoulder. I'm sure around '88 they were kicking themselves that they didn't call him Chucky and make him a killer doll and do a way better job.
(Oh wait – I just looked it up and this movie came out in 1990. Are you kidding me? As in the 1990s 1990? Incredible.)
From the director of "Real Stories of the Highway Patrol" (unknown episodes) and written by the stunt coordinator of THE HILLS HAVE EYES PART II comes THE NIGHT BRINGS CHARLIE. Charlie (Chuck Whiting) is a Jason-esque silent killer, he wears overalls, a flannel shirt and a ski mask with goggles over it. We immediately see him slaughtering poorly acted teenage characters using various tools. He drives to and from his crimes in a pickup truck that says "Charlie's Tree Service" on the side. It's also a small town where everyone knows Charlie by name and we soon see that he openly wears the same horror getup in broad daylight while trimming people's trees. So really the night doesn't bring Charlie, Charlie was already there. It's not until almost halfway through the movie that they mention oh yeah, he wears that mask because his face was fucked up in a "chainsaw accident."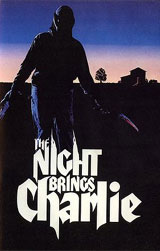 There's a subplot about some teens who call people "fuddy duddy" and like to jump out of the bushes to scare each other the same day one of their other friends was sliced open like a baked potato. But in a rarity for this genre it mostly focuses on adults: the sheriff, who's new in town and we don't like his fancy El Lay ways, and the coroner who's also the worried father of two teenage girls.
There's a funny twist that I'll just go ahead and spoil. They catch Charlie. The coroner, who has known Charlie since Saigon, volunteers to interrogate him and comes out with a full confession. But there are a few holes in the coroner's story, one being that everybody knows Charlie can't talk you dumb motherfucker. It's almost worse that you would insult our intelligence so bad than that you murdered all those teenagers. So the sheriff confronts the lying bastard and he immediately admits that yes, he has been getting drunk and going out and murdering, and that's why he got Charlie to come back into town so he could blame it all on him. And he's sorry about it and just glad that it's all over.
But wait! Where's Charlie? What, you guys let him go? But I thought you understood! Charlie is also the killer! Yes, I did some of them, but he's crazier than I am. And now he's loose!
At the beginning there's a town sign that says they have a population of 1251. Two murder scenes later there's a joke where Charlie crosses it out and changes it to 1250. I thought this was a lame joke made worse by a lack of basic math skills, but maybe it's actually the first clue that there are two Charlies. He was making an honest effort to keep the figures accurate, he just didn't know it was down to 1249 already.
The "kills" aren't very imaginative. I wish I'd been keeping track of how many movies I've seen this month where somebody taps somebody's shoulder from behind and the head falls off. Maybe the weirdest touch is when he's spying on a girl taking a shower and she spills Diet Pepsi down the drain, a little homage to PSYCHO. Well okay, I like PSYCHO too, but I couldn't get past the girl having a can of Diet Pepsi in the shower. What's that about?
I hope I'm making clear the difference between a slasher movie like this and, say, a FRIDAY THE 13TH sequel. People might call the acting and script "bad" in something like that, but it's actually very polished compared to the bottom of the barrel shit I've scraped up this year in my Slasher Search. These are not just "bad," they're amateurish, unprofessional, inept, homemade, clueless. They don't have the production value of a studio movie, but more importantly they don't have the chops or vision of a great low budget independent like NIGHT OF THE LIVING DEAD, TEXAS CHAIN SAW MASSACRE, THE EVIL DEAD, PHANTASM or even FRIDAY THE 13TH. They're pretty much just mistakes by people who either underestimated the tastes of horror fans or overestimated their own skills as filmatists. They're failures, but sometimes they're good for a laugh, and I got that out of this one.
If I don't end up finding any gold in this search then at least I can provide a service to some of you who still have video stores in your town that stock obscurities like this. If you've passed this one up as many times as I have now you have confirmation of your suspicions. The cover art is very professional though, I'll say that for it.