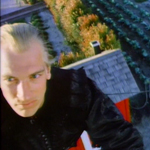 WARLOCK is a fun, simple movie about a warlock (Julian Sands) who, as he's about to be inquisitioned to death in 1691, does a magic spell that transports him to 20th century Los Angeles. A storm accurately referred to as "The Devil's Wind" literally blows him through the window into the home of Kassandra (Lori Singer) and her roommate. Naturally they figure he's a drunk and let him spend the night. Talk about a racial double standard! If it was a black guy who flew through their window they'd be going for guns. And that wouldn't have helped here but it would've been the right idea at least. Next thing you know the warlock is cutting out the roommate's tongue and devouring his life essence.
Suddenly a dude wearing furs (Richard E. Grant) is in the house too. Kassandra screams, tries to get away, he punches her, she punches back. He's talking nonsense, wants to know if the warlock bled in the house. She cuts open her vacuum bag to give him the glass shards for the window, then tries to get away.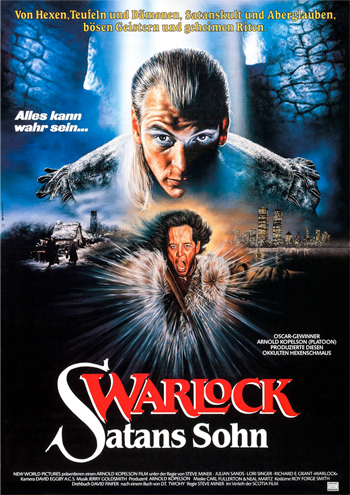 This is Redferne, the witch hunter guy who caught the warlock and had him in toe cuffs back in the day. He followed him through the portal of time to stop him and avenge the loss of his fiancee. Kassandra follows his weird commands to humor him. But even after she witnesses enough magic to know it's real she still wants to stay the fuck out of it, not play tour guide and technology-explainer for the time traveler. She's young! She has a life to live! It's only when the warlock does a spell that makes her age 20 years that she joins up. And then just until she can reverse the curse.
So it's kind of a joke about youthful selfishness. She's funny because she's so disgusted by looking 40 (admittedly, an old 40, a been-through-alot 40) that you start to think she's being a baby about it. Of course losing 20 years of life in an instant is completely tragic, but her concern is all about how she looks. Her brazen superficiality kind of makes her more likable though, and is a big part of what makes the movie so light and enjoyable. It's serious but with a sense of humor. So there's a big scene of Redferne talking about building a "witch compass" and Kassandra thinking he's asking "which compass?" And since she's the one form the 20th century she knows things he doesn't and she starts to relish it. "Ask me anything," she says. "I took two years of high school."
The other big part of the fun is the extensive arsenal of witchcraft gimmicks: the flying potion (with Peter Pan wire effects), the eyeballs he carries around with him, a farmer bleeding just from making eye contact with him, being able to injure him by pounding nails into his footprints, the animated fireball he shoots into Redferne's mouth that the poor guy then has to puke out…
And Singer's bubbliness bounces well off Grant's ernestness and Sands's embodiment of pure douchey arrogance. It takes dedication to pull off one of these man-out-of-time premises. Somehow it feels more legit than BEASTMASTER II. Actually if you think about it it's very similar to THE TERMINATOR: ordinary young woman teams with warrior from another era to try to stop a nearly unstoppable being also from that era. It even has some business with fate and timelines because they discover what appears to be Redferne's grave. Even though he's standing right here! WHAT THE FOCK?
It keeps going in different directions with our heroes and villain taking turns chasing each other and battling it out on a Mennonite's farm, at a church and in a graveyard. They even take a commercial flight to Boston and since it's pre-9-11 he's able to take a huge spear-like weather vane as a carry-on. There's a great shot where Redferne senses the warlock is nearby. The camera pushes in on his foot tapping nervously, then goes through the floor to reveal the warlock underneath with the luggage, roasting a bat or something with magic fire from his hand.
This is another movie that treats witchcraft as real and witch killers as heroes, which is one of my horror pet peeves since the witch trials are a real tragedy that happened and I hate pretending like the assholes who did it were right. But I think since in this one they travel through time and fly and stuff it's so far into the realm of fantasy that it doesn't bother me as. I'm not saying that's correct, it's just how my brain works I guess.
WARLOCK is a bit of an eyebrow raiser because
1) why did I completely ignore it in the video stores for decades
2) why doesn't Steve Miner get more recognition for his impressive body of entertainment? He was the FRIDAY THE 13TH associate producer who graduated to director for parts 2 and 3, my favorites of the series. He also directed HOUSE, which I recently revisited and realized was a good one. And he did HALLOWEEN: H20, which in my minority opinion is the most worthwhile of the HALLOWEEN sequels even though I still don't get why they couldn't figure out how to make the mask look the same. And he did LAKE PLACID. All those combined with WARLOCK seal it, it can't be a coincidence. He's a good b-movie journeyman. I forgive him for his terrible DAY OF THE DEAD remake.
Let's also acknowledge screenwriter David Twohy, who's gotta be in the same category. As a director he did the RIDDICK movies and THE ARRIVAL and A PERFECT GETAWAY, all fun. As a writer he also has GI JANE, TERMINAL VELOCITY and THE FUGITIVE under his belt, among others.
Brothers and sisters, we are at WARLOCK!