There are alot of awful things about PSYCHO IV. It forces Anthony Perkins to play Norman Bates almost delighting in his evil, announcing that he's going to kill again. It was an early example of the snake-eating-its-tail, dog-licking-its-balls, bird-drawing-a-picture-of-its-egg modern Hollywood attitude that what people want to see is a detailed re-enactment of the backstory that happened before the other movie they already liked. It re-uses way too much dialogue from the original, like "Mother! Oh God Mother, blood! Blood!" and "We all go a little mad sometimes." It has laughable transitions from flashback to wraparound, like when it dissolves from young Norman laying face first on the floor to old Norman in the same position while telling the story over the phone to a talk radio host (CCH Pounder). And for Christ's sake it has a part where he cuts his finger in the kitchen and the blood is shown swirling down the sink drain. I mean for fuck's sake director Mick Garris, Moriarty says you're a nice guy but come on man. That shit cannot be defended. Norman Bates got off by reason of insanity, you will not.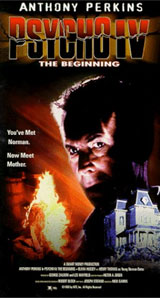 Let's go back to that dialogue thing for a paragraph. Why do they always do that in sequels and prequels? Are we really supposed to be delighted that you don't come up with new shit for the characters to say? When Norman saw the blood in the original that was a great reaction. Now we're supposed to believe he'd already said it before, that it's the traditional thing he says after every murder? And what about when he uses the phrase "Not inordinately"? If this wasn't a reference to the original it would actually be a good piece of characterization, showing that as a teenager Norman had an above average intelligence that made him awkward around his peers. But no, he says it because Marion Crane also says it in the future. Great.
But as much as I don't think it's that good of a movie, there are some things that really work. Henry Thomas was a great choice to play a young Norman Bates, if we have to see one. He's a great actor, doesn't seem Hollywood at all and has the vulnerability and lankiness the character requires.
More importantly, I gotta give credit to Olivia Hussey as Norma Bates, the reason for all this. Without her Norman would've been an ordinary motel clerk and not the horror icon he became, so let's acknowledge our debt to Norma. Hussey was good casting because it's not at all what you'd expect. What I'm getting at is that Mother is much more attractive while alive. With that hair bun and ragged voice I always pictured pre-mummification Mother as a mean old hag, but Norman's obsession makes so much more sense when you see her this way. She's pretty, creepily sensual with her son, sometimes nice, often emotionally cruel. She's also clearly mentally ill. One of the sadder and more disturbing scenes is when young Norman spies on his mother through the hole in the wall in cabin 1. You expect to see her having sex with some sleazeball (maybe I've watched too many Rob Zombie movies) but instead she's alone, having a violent fit, smashing things.
The sex stuff is less interesting. She gets mad at him for getting a boner and makes him dress up as a girl. After her death he murders a cute girl who tries to have sex with him. More of that sex=death stuff we get in so many movies. Not that interesting.
Original PSYCHO screenwriter Joseph Stefano returns, but he has Mick "Stephen King TV movies" Garris directing, and not to be controversial or contrarian or anything but – just in my opinion only – I believe Mick Garris is not of the same caliber as Hitchcock. Just my  2 cents.
I should mention what the story's about. An older looking Perkins (a few years before he died, and knowing he had HIV, wanting to close the circle I guess) plays Bates, a free man again, and wisely having moved to a new house away from the motel and the old stuffy things that remind him of his mother. I would say "mother(s)" except this one seems to ignore all that other mother business that came up in the last one. No, we see him being raised by Norma Bates.
Wait a minute, how the fuck did he get out already? This was made in 1990, by the movie timeline it's 7 or 8 years after he got caught for a bunch of murders. The mental health system here really needs some work.
Anyway, Norman's favorite radio show is doing an episode on matricide, so he calls in to give some insights. He calls himself "Ed" (Stefano's way of saying "I'd like to give a shoutout to the Butcher of Plainfield!") and tells his story, at which point it flashes back to the Thomas/Hussey scenes.
It all feels kind of inert, because we know the broad strokes of his backstory, just not the details. Like hey, how's this for a twist? We've known since 1960 that Norman killed his mother by poisoning her tea. What we learn in this one is that it was iced tea! Makes sense, because this is California, not England. Take that, Hitchcock. And she liked it with drops of vanilla in it. How would we ever have truly understood Norman Bates if we didn't revisit this shit? If we even considered his mother's iced tea preference at all we would've guessed maybe a lemon slice or something, but never drops of vanilla. You need a prequel if you're gonna know that.
By the way, as part of my pursuit of excellence I tried making iced tea with drops of vanilla and drank it while writing this review. Not sure if you can tell, it might give the sentences that extra edge or something. Didn't taste that great though, I'm not sure it works.
The only mystery to keep you in suspense is who Norman plans to kill. The talk show host and her guest (Dr. Leo Richmond, the doctor from the explanatory last scene of PSYCHO, but not played by the same actor) try to do detective work to figure out who he is, but of course we already know who he is so this isn't too compelling to watch.
Well it turns out who he plans to kill is (SPOILER) his wife, and the reason is because she's pregnant. He doesn't want his mother's "bad seed" to live on in some other poor bastard, and he especially doesn't want Mick Garris to be able to do a mini-series about Norman Bates, Jr. Once the movie reaches the climax and starts dealing with this it's kind of hokey, but I give it a pass because at least we're back to the idea of Norman's rehabilitation and realizing what he is and trying to be better, at least in his own sick way. (I wonder if he has considered abortion, though? I know it's not pleasant, but he should try to talk her into that before jumping straight to murder. I guess maybe he's pro-life.)
In the end, Norman thinks better of it and says "I'm gonna get rid of the past once and for all" and sets the house on fire. This leads to a pretty laughable sequence of him stumbling out of the burning building haunted by the images of all the people he's killed (this movie only). But it's true, that was it, the end of the series, not too long before the end of Perkins' career. He got to go back to the beginning and then wrap it all up and have kind of a hopeful ending. And that really was the end of PSYCHO… until that remake by Gus Van Sant. But that's a subject for another day.