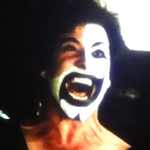 TERROR ON TOUR is about a band called The Clowns, who wear makeup kind of like Kiss, as well as black leotards, red capes, afro wigs with two white stripes, and sometimes Phantom of the Opera type half-masks. This is important because someone is going around doing the murders and we don't know if it's a lookalike or a band member and which band member or which lookalike.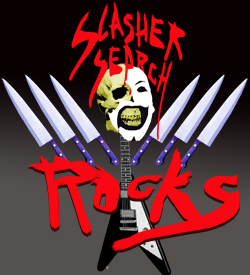 The movie contains "original music by The Names," who I have determined to be the one from Rockford, Illinois, not the one from Brussels. And I believe they are playing the band in the movie, which is why (just like Easy Action as Solid Gold in BLOOD TRACKS) they don't really do that much acting. Instead the story focuses on these two guys in the green room, roadies or something. One guy likes to put on makeup so he can trick groupies into thinking he's in the band (approved by the band), and his main job seems to be buying drugs for the other guy.
The title is slightly misleading because although I guess they're technically on tour we only see them in one town, one venue, where they're playing shows on multiple nights and also having parties. The police are suspicious of the band and their shindigs even before they find a dead lady in the alley, yet they have no security and only a couple suit wearing cops including Lieutenant Lambert (John Green, DEMENTED) occasionally standing in a quiet part of the building looking at documents and stuff. (read the rest of this shit…)
VERN has been reviewing movies since 1999 and is the author of the books SEAGALOGY: A STUDY OF THE ASS-KICKING FILMS OF STEVEN SEAGAL, YIPPEE KI-YAY MOVIEGOER!: WRITINGS ON BRUCE WILLIS, BADASS CINEMA AND OTHER IMPORTANT TOPICS and NIKETOWN: A NOVEL. His horror-action novel WORM ON A HOOK will arrive later this year.