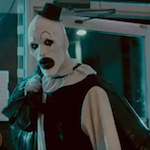 There's this slasher sequel TERRIFIER 2 that just had a limited 4-day theatrical release, with some positive reviews. I didn't see it, but it made me pay more attention to the existence of the TERRIFIER intellectual property brand. I had previously not paid much attention because I had seen pictures of the ugly clown it stars. I respect and support Killer Klowns from outer space, and IT is pretty cool, and I liked THE LAST CIRCUS if that counts, but in general I think an evil clown is about the corniest, most obvious, off-brand Halloween mask bullshit there is. Especially this type where he has a demonic face and teeth trying hard to do the work that the clown makeup is supposed to do on its own by accident. Wasn't the idea that clowns are scary in the first place? When you have to turn them into monsters isn't that admitting you don't really believe that?
Anyway, this writer/director Damien Leone has made a career out of his "Art the Clown" character, first in a series of shorts that he turned into the anthology ALL HALLOW'S EVE (2013), then the two TERRIFIERs. TERRIFIER (2016) is the shortest at 86 minutes, so I decided to start there.
It takes place on Halloween, which I appreciate in an October viewing. And it achieves a pretty believable Halloween-in-the-city feel. Two friends, Tara (Jenna Kanell, THE BYE BYE MAN, Step Up: High Water) and Dawn (Catherine Corcoran, RETURN TO NUKE 'EM HIGH VOLUME 1, uncredited murder victim in THE LOVELY BONES), are out getting drunk, wearing lots of makeup and costumes that upon examination are discernible as Hot Skeleton and Hot Scarecrow. They came in Dawn's car, but she's too drunk to drive now, so they decide to get some late night pizza slices. First outside, then inside, they're stared at by this clown (David Howard Thornton, the Joker in some Nightwing fan film) carrying a garbage bag. Dawn thinks it's funny and tries to talk to him, Tara (in the more-perceptive-of-the-danger-at-hand Final Girl tradition) wants to leave.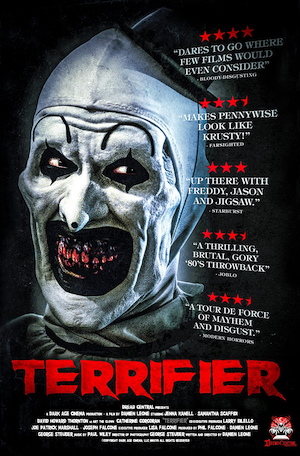 Of course Tara is right, and soon she's the main target of the clown's rampage of over-the-top gooey murders, stalking her through a nearby building and encountering others, such as a homeless lady (Pooya Mohseni) who thinks a doll is her baby. (Not even the doll is safe.) Meanwhile, Tara's sister Vicky (Samantha Scaffidi, DEMON HOLE) is on her way to give them a ride home, making her a potential rescuer or victim. Director Leone is also credited with the special effects makeup, and of course the plot is largely an excuse to string together fanciful latex gross outs. I don't think that's a bad thing, in fact I think that's a proud tradition of this subgenre, and this does it better than many.
From the opening, with its drippy blood font, gloomy synth score (credited to a Paul Wiley), grimy atmosphere and retro talk show playing on a tube TV, this immediately seems like one of those post-GRINDHOUSE and HOUSE-OF-1,000-CORPSES exploitation-movies-in-quotation-marks. We've broken the irony barrier, we've violated the prime directive, it's hard to make horror movies that don't seem preoccupied with where they fit in in the history of horror movies, but I want them to feel like they're actual movies at least. Not like fake movies that would be on a TV or drive-in-screen in a real movie.
TERRIFIER seems right on the edge between those two dimensions, but I think it passes on the sincerity of its lead performances. It avoids the easy mistake that many manufactured scumbag movies make of having bickering asshole protagonists or going full Troma and making them seem like parodies of characters more than characters. I'm not saying Tara and Dawn are fully fleshed out human beings, but they are credible by b-movie standards, they have a believable friendship, I wanted them to survive. And when stereotypical supporting characters like the guy working at the pizza place (Gino Cafarelli, BIG FAN, and Frank Rizzo in THE IRISHMAN) and an exterminator (Matt McAllister) who lets Tara into a building to use the bathroom show them normal human kindness and/or macho protectiveness, that seems kinda comforting in the midst of all this self-conscious transgressiveness. Gave me something to latch onto.
And I'm happy to say the clown is a better character than I expected. In the context of the story I imagine he's some young misogynist using Halloween as his disguise to live out his fucked up fantasies. Or maybe he's an actual demon who sometimes goes out for pizza – who knows? I'm glad there's no explanation, and the performance is effective because he mugs and mimes but doesn't speak – no one-liners, no sounding like a wannabe Freddy. So to me his "funny" expressions and poses while terrorizing innocent people work as him being funny only to himself, or faux-funny only to show how little he thinks of his victims. The opposite of the clown's job of making others laugh. It makes him a very hatable villain.
Many will also find it a hatable movie, because it certainly delves into the performatively over-the-line, as foreshadowed when one of the clown's first transgressions is to splatter shit all over the pizzeria toilet and write his name with it. (Without knowing "Art" was his name it would seem like a different statement. But I wonder if that was supposed to be how they knew to call him "Art the Clown" on a radio broadcast like a half hour later?) The movie's biggest shock is a scene that must be why people told me this was garbage and "torture porn." It's not drawn out long enough to fit that loaded label for me, but it's an extremely upsetting scene where Art puts on a little show for Tara (BIG SPOILER) revealing that he has her friend behind a curtain, hanging upside down, topless, and then saws her in half, I'm afraid, in the most offensive way possible. This is the type of spectacularly over-the-top gore that we honestly don't get enough of in modern slashers, but because it's framed as a sexual violation first you feel kicked in the gut while watching this thing that could've made you giggle in another context.
I don't generally believe in moralizing about or drawing lines of where horror movies can go. I think this is meant to push things too far and fuck you up, so it's successful. Personally, I would rather not have been fucked up that way in this particular evil clown slasher, and I would recommend it more heartily if it was allowed to just be sleazy fun. But that's just me and you can choose otherwise.
There are a couple other cruelties the movie performs on the audience that were more successful for me. The big one is that (MAJOR SPOILER HEADED YOUR WAY) our lead Tara makes it far beyond the point of Marion Crane surprise death but still does not become our Final Girl or Survivor Girl. For me what makes it effective is that Art stops her by suddenly pulling out a gun and shooting her! You just don't do that in a slasher movie, it makes Art a cheater, and made me want to see him taken down even harder than before. Fuck you, Art the Clown!
There are other odd touches of personality that I appreciated, for example that the first murder in the movie is not committed by Art, but by a horribly mutilated woman that we're told was one of his victims, and then we spend the movie knowing she's out there somewhere. That's a strange idea outside of the usual formula. I also think there's something about the way it's lit and shot (d.p.: George Steuber) that reminds me of watching oppressively dark '70s and '80s horror on VHS without being a throwback or mimicry. Good use of a low budget.
I will probly check out ALL HALLOW'S EVE at some point, and definitely the sequel when it's available. I already tried watching Leone's only non-clown feature, FRANKENSTEIN VS. THE MUMMY, released the year before this one. It is a true modern b-movie in the sense that it seems to be sincere and that it was too boring for me to get through the set up. But in a way I think that gives him cred as someone who's been in the trenches making monster movies. Maybe I should try fast forwarding out of respect.