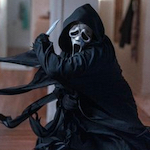 Nobody else seems to see it this way, but I still think SCREAM was the perfect name for the sequel to SCREAM (1996) that came out in 2022. It revived the seemingly concluded series after 11 years, and for the first time without Wes Craven, so naturally it took today's legacy sequels – where a set of new, younger characters teams up with returning characters from the old series in a story loosely structured like the first film – as its format and subject. The movies it's based on never have a number in their title; it only made sense to follow the naming convention of such modern horror franchise entries as HALLOWEEN (2018), HELLBOY (2019), THE GRUDGE (2020), CANDYMAN (2021), WRONG TURN (2021), TEXAS CHAINSAW MASSACRE (2022), HELLRAISER (2022) and the upcoming THE EXORCIST (2023).
A year later here we are with another one from the same directors (Tyler Gillett & Matt Bettinelli-Olpin, READY OR NOT) and writers (Guy Busick [READY OR NOT] & James Vanderbilt [ZODIAC]) and this time it does have a number in the title – the historic first Roman numeral of the series. SCREAM VI is a good title mainly because the trailer showed the M in SCREAM get slashed and split into a bleeding VI, and secondarily because it's admitting that yeah, we can't lie, this is the sixth movie in the SCREAM series. It stars mostly our new set of characters introduced in the last one, but makes reference to characters and events from all five previous SCREAMs. I gotta admit, I've been there since the beginning, I've watched SCREAM many times, SCREAM 2 several times, SCREAM 3 maybe three times, the other two one each, but they drop so many names so fast I had trouble remembering what they were talking about. Not that it matters.
(Note: There were two guys behind me and one of them had apparently never seen any SCREAM movie before so the other guy tried to explain who each character was as they appeared. Not ideal.)
Intentionally following the SCREAM to SCREAM 2 trajectory, VI finds the young survivors of SCREAM (2022) now living in a new town to go to college. Tara (Jenna Ortega, X), Mindy (Jasmin Savoy Brown, SOUND OF VIOLENCE), and Mindy's brother Chad (Mason Gooding, FALL) are living in New York City, attending Blackmore University, and Tara's sister Sam (Melissa Barrera, IN THE HEIGHTS) moved with them to keep an eye on little sister. They make it explicit that they're sticking together because they survived these murders and know they need each others' support. Well, Tara swears she's fine and resents Sam's protectiveness, but they all worry about her and look after her.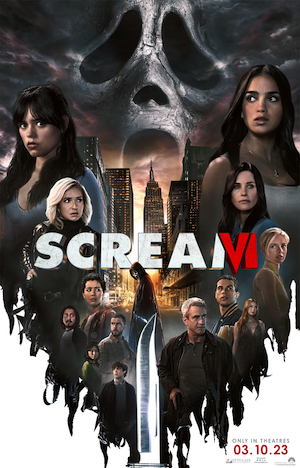 Remember that these are relatives of characters from the original movie. Sam is the secret daughter of part 1 killer Billy Loomis (Skeet Ulrich, "Thug," TEENAGE MUTANT NINJA TURTLES), and she still has hallucinations of him talking to her, like a devil on her shoulder. Mindy and Chad are niece and nephew of Randy, who was killed in part 2, and Mindy has taken on his role of the person who delivers a contrived monologue about what type of horror movie the current murder spree is inspired by and what "rules" they must follow. (They are mercifully spared visions of their dead uncle doing hacky impressions and yelling terrible movie opinions in their faces.)
Once again there's somebody making harassing phone calls with the voice of Roger L. Jackson (TITAN A.E.) and then wearing that cool Halloween mask (officially called "Ghostface" as of part 4) and killing people. The primary new gimmick is that he's leaving masks at the crime scenes that prove to have traces of DNA from each of the previous Ghostfaces, in order. Also he explicitly threatens Sam, calling her a murderer and saying he wants justice. An interesting, very current touch is that conspiracy theories have spread online that Sam was the real killer and set up her boyfriend. She's used to getting yelled at about it in public. Not fun.
You gotta have some people to get killed and/or be red herrings, so new characters include Tara's "sex positive" (as she puts it) roommate Quinn (Liana Liberato, DIG), Chad's geeky roommate Ethan (Jack Champion – motherfuckin Spider from AVATAR: THE WAY OF WATER, but I didn't recognize him), and Mindy's spacey girlfriend Anika (Devyn Nekoda, Degrassi: The Next Generation). Since the killer seems a little more physically capable than in previous installments they gotta have a couple more manly dudes in the ensemble as possible suspects, so there's Danny (Josh Segarra, BLOOD NIGHT: THE LEGEND OF MARY HATCHET), a.k.a. "Cute Boy," a hunky neighbor they often see shirtless across the way and who Sam hides that she sometimes has sex with. And Quinn's dad Wayne (Dermot Mulroney, SUNSET) is a police detective they go to for help sometimes.
This is the first in the series to not involve Neve Campbell as Sidney Prescott (she left when the production wouldn't pay her what she felt she was worth), but the hook for fans is that they brought back popular SCREAM 4 character Kirby (Hayden Panettiere, BRING IT ON: ALL OR NOTHING), who was never technically shown dead after being stabbed so they implied in last year's chapter that she survived. The goofy surprise is that she returns in the capacity of an FBI agent in a flashy leather jacket. Courteney Cox (MASTERS OF THE UNIVERSE) also returns as reporter/true crime author Gale Weathers, now the only character to appear in every chapter. Weirdly she goes back to being an insensitive jerk trying to interview people right after their friends were murdered, I guess just so Tara can punch her in her part 2 like Sidney did in hers. Gale immediately feels bad about it and just starts helping with the mystery solving or whatever.
As you know if you've seen the trailer, Gale finds an old, closed movie theater that has been set up as the Planet Hollywood of SCREAM – glass cases displaying murder weapons and other mementos from the crimes in previous SCREAM movies, and a lineup of mannequins in Ghostface robes, but with the masks missing (because they're being left at these crime scenes). It's a little odd how comfortable everybody is hanging out in this shrine to their friends' murders, complete with bloody knives and clothes, but I won't judge.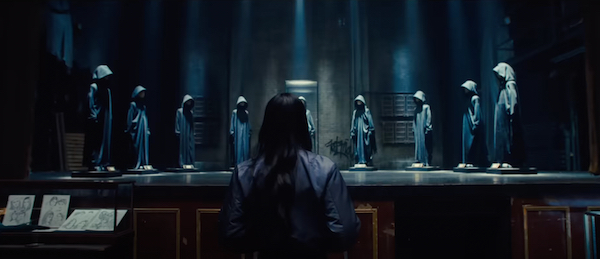 Here's the bad news about SCREAM VI: it's a SCREAM sequel. So far nobody has figured out how to radically reinvent them. I think the sequels are mostly fun, but none of them are on the same plane as the original, and I suspect they really couldn't be, because it's too perfect of a concept to sequelize. Before part 2 came out the idea of "this one is going to comment on slasher sequels!" seemed to make sense, but in retrospect it had little of substance to say on the topic, and some of the dialogue about sequels is straight up embarrassing. (I will spare you my rant about the impossibility of Randy being both a huge horror fan and a snob who hates sequels.)
Arguably SCREAM (2022) is the strongest SCREAM sequel conceptually because the passage of time for the characters and changes in the genre and its place in pop culture gave it something fresh to riff on. Having just rewatched SCREAM 4 for the first time since it came out I think it has a similar advantage, and I'll be writing about that soon. But with VI we have the fastest turnaround since SCREAM 2, and it really underlines how much the concept of SCREAM and the traditions of slasher sequels are in opposition to each other. SCREAM is just about the only slasher series where the killer never comes back, and one of very few where the survivors always do. Sidney (if she was in this) could be compared to Laurie Strode, the only slasher heroine to return more than a few times, but Laurie doesn't have a Gale or a Dewey or a growing web of other returning characters with her. I guess JASON GOES TO HELL is a FRIDAY THE 13TH sequel where a character is related to Jason, but she didn't have friends related to someone he killed in part 2 or hang out with some character who'd been in all the previous installments. That's specific to SCREAM, a natural evolution of creator Kevin Dawson's Creek Williamson being more interested in the lives of the young characters than the deaths.
So that's what's cool about SCREAM as a series, that it's different in the way it cares about its survivors, but that also makes its gestures at commenting on the genre feel a little out of wack. Offing and replacing the killers every time prevents them from turning into jokesters after a while like Freddy did, but it also prevents them from ever being fully developed, or having a chance to evolve into something more interesting. They are forever a side character who puts on an act for most of the movie and then gets mega for a monologue where they proudly reveal themselves and their motives.
VI also seems shackled to the SCREAM 2 premise that within the world of the movies the events have been adapted into a popular series of movies called STAB. It was a funny idea, and all of the previous sequels found clever ways to use it, but at this point asking us to keep track of the events of five previous SCREAM movies that the new characters know about from having watched STAB movies, which also include several entirely fictional chapters (one with time travel), is awkward, and continues to distance SCREAM even further from accurate genre commentary. STAB just isn't a reflection of anything that exists in horror, because it was a creation of Williamson just three years after SERIAL MOM and NATURAL BORN KILLERS, when it was considered smart satire to say "Jeez, can you believe how exploitative this media is?" Same goes for Gale, a parody of a type of tabloid news reporter soon killed off by cable news and unknown to the newer generations of horror fans that inherit these movies.
Today a parallel could be made to the re-enactments and documentaries about serial killers that have been popular, but it's still very different – those are shows, not movies, they're generally about older crimes, not current events, they don't inspire this particular type of obsessive fandom, and aren't generally considered to be part of the horror genre. STAB has become a vestigial metaphor, an easy way to do jokes but not really say much.
According to Mindy's now traditional "rules" monologue, the theme of SCREAM VI is "franchises." She says this means it will be bigger and bloodier than before, which was previously said of sequels in 2 and remakes in 4. She also says that even a main character can die or be the killer. I'm not sure off the top of my head which current horror series that would apply to. (SPOILER: Not this one, it seems.) So I don't think it's so much commenting on horror franchises as following what has since become standard for other types of franchises (from the MCU to THE FAST AND THE FURIOUS) – having a deep bench of likable characters to keep bringing back and occasionally killing one for dramatic purposes but usually keeping them around because people like them.
So that's the good news about SCREAM VI. If you're still intentionally watching them at this point you must be on board with, or have accepted, that they're mostly just a horror soap opera. You watch them hoping your favorite characters will survive, enjoy meeting new characters to hope will also survive, watch them outlast and outsmart the assholes who keep pulling this masked killer shit. And this is a solid version of that.
It has some well executed horror set pieces, and being set in a city puts a different spin on it. The best sequence in any SCREAM movie is still that opening stretch of SCREAM with Drew Barrymore, and it really captures what I think is so scary about suburban and rural areas – that feeling of being in a big brightly lit house at night, looking out the window into a dark space, you can't clearly see what's out there but if it's a person that's bad because nobody is supposed to be out there! I feel safer in a city, because there are usually street lights and people around, but VI puts that on its head – there's a scene where they make it semi-believable someone could get stabbed in a crowded subway car without anyone seeing it.
Casey Becker wasn't able to make it to the neighbors to ask for help, Laurie Strode's turned their lights off and pretended not to be home. In the New York City of SCREAM VI you can run into a bodega and both the customers and owner will try to help you, but this Ghostface overpowers them. (Mason Storm can't be there every time.)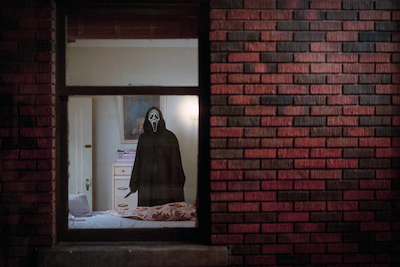 Maybe the coolest and most Craven-y setup is how it's established that Sam and company can see Dan through his window across the alley, so he's able to see across to them and try to warn when Ghostface is in the bedroom. And he can't get their attention so he tries to call and Sam is slow to respond because they're all in the middle of an actually pretty touching bonding moment.
That scuffle (like all of them throughout the movie) is fairly brutal – I like that it's no longer always chases ending in a death. Now people get slashed and bashed up but try to keep going. I love the gimmick that Dan passes a ladder across to their window and they try to climb across. I have some questions about a guy who keeps a ladder in his apartment if that's where that came from, but I'm okay with it because it makes for a thrilling suspense sequence.
The advertising really emphasized A Ghostface Like You've Never Seen Before, and with the murder memorabilia museum looking like the Batcave I expected an action movie type escalation to a heavily trained and armed killer. Other than the bodega scene that's really not the case – this is a traditionally fallible masked killer, and my favorite example of him coming off as a doofus is when he's terrorizing Gale in her fancy apartment and she suddenly asks to put him on hold. He's flustered and does a comical little "Whuh?"
I'm not gonna be specific about the killer or motive here but I do want to get into some things I like about the climax, so this is a SPOILER paragraph. One thing that's "like we've never seen before" is that there are revealed to be three killers, and we get to see more than one at a time, doing famous Ghostface moves in unison. As I should've guessed, the climax takes place in the theater, and they have fun with relics from the previous movies being re-used now – the TV that killed Stu killing again, Kirby being re-stabbed by the knife she was stabbed with years ago, etc. Kind of reminiscent of the best part of SCREAM 3 – Sidney being chased through a very accurate set of the home she was previously chased through. I also like that Sam and Tara perform the most brutal kills in the movie. They're still playing with the idea that Sam thinks she has this darkness inherited from her serial killer father, but so far she's used it only in self defense.
Okay, now I want to go to another level of SPOILER. Like many mysteries, I think the movie is most exciting at the beginning, when possibilities are open, and most disappointing at the end, when we're stuck with a specific solution. The opening to this one is genuinely thrilling in the way it breaks with series tradition and makes it feel like anything could happen. It starts as a straight forward twist on the SCREAM opening. We see Samara Weaving (THE BABYSITTER) sitting at a bar, texting with a blind date who can't find the place. For half a second I thought, "Oh, cool, they got Samara Weaving in this!" and then I thought "Oh no, they're gonna kill Samara Weaving in this!"
But she gets to use her Australian accent and she's playing a film professor who's doing a course on slasher movies, so she blurts out some of the traditional cringey dialogue analyzing the subgenre, but what I love is that it's her who cringes as soon as it comes out of her mouth, trying to be impressive over the phone and instantly regretting it. The blind date of course is a stalker who lures her into an alley before switching to the voice and attacking her in the costume.
But WE ARE STILL IN SPOILER TERRITORY HERE after a long shot of Ghostface crouched down looking at her he pulls the mask off. He's played by a young actor who is not a superstar but who I'm familiar with from three different roles. And we follow him home to his apartment where he talks to another person on the phone apologizing for jumping the gun on this big killing spree they're planning. We genuinely have never seen anything like this in a SCREAM, it seems to completely uproot the whole story structure. Except then the double twist is that the person on the phone is not who this murderer thinks it is, and he himself gets stalked and killed by a different Ghostface who lectures him about killing the film professor. So it's already back to being a whodunit, but it really opens up the possibilities for the killer's motives, with us obviously wondering if it could be Tara working in a vigilante capacity.
AND MORE SPOILERS. That opening sets us up for twists and turns we've never seen before, but when the masks do come off it feels like pretty much the same old shit. There are details about the killers that vary from what we've seen before, but not hugely so. It's also kinda similar to the killers in Williamson's own SICK, though the tone of VI is always more outlandish than SICK so it didn't give me as much whiplash to see such hard-to-swallow human behavior at the end. Still, it's disappointing because the earlier scenes promise they're taking us to new places, only to drop us off in familiar territory. It really deflates the subversion of SCREAM conventions that made the beginning so exciting (not to mention the social-media-spread-conspiracy stuff that was the most current aspect of the story).
This is the series built on being meta – what do you expect me to do, not anaylze the shit out of every layer, every use or non-use of a familiar trope? But yeah, I'm overthinking it, and I need to accept that there's no way for SCREAM's conceptual lightning to strike the same place twice, and no incentive to change the style and format drastically enough to really shake things up. It's gonna be contemporary but it's not gonna be the full on A24 artier version of SCREAM, or the Mike Flanagan raw emotional version, or the David Gordon Green risky revisionist version. When Craven himself addressed horror remakes it sure didn't seem like the Rob Zombie version, or the Platinum Dunes version, or even like the remakes he himself produced. SCREAM will always be stuck being SCREAM, standing on the edge of horror, making some funny observations, getting a little more credit for them than it deserves, but hopefully knowing enough to be a little scary and thrilling in its own right. So what I most appreciate about SCREAM VI is that it subtly adds something new and important in how often the survivors physically embrace and otherwise express their love for each other. 2020s emotional honesty could overtake '90s ironic detachment before this thing is over with.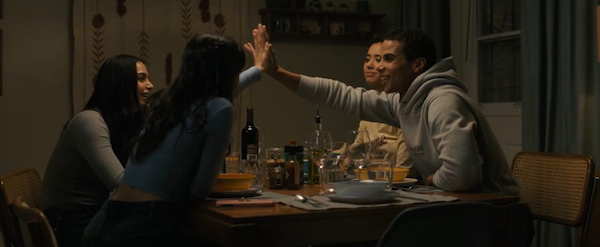 I can't deny that I root for these characters, and I'm relieved whenever it turns out that one or more of them may or may not survive a scene where it seems like they're getting killed off. Somehow, most of the cast returned. And I know I will too when the next one comes out.

p.s. I noticed a deep cut Wes Craven reference. The bodega is called Abe's Snake. In 1975 Craven directed a porno called THE FIREWORKS WOMAN under the pseudonym "Abe Snake." (Why not Abe's Snacks, though?)
p.p.s. I'm sure we're gonna see Sidney's husband (a character from part 3) and kids in the future, but don't forget we've never seen Sam and Tara's horror fan mom.
p.p.p.s. I have some more thoughts on how Spyglass's SCREAM vs. Dimension's SCREAM represents changes in culture, both good and bad, but I might as well save them and see how I feel when the next one rolls around. (This had the biggest opening weekend of the series so far.)