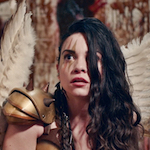 TERRIFIER 2 is a genuine little-slasher-sequel-that-could phenomenon manifesting right here in the excellent horror year of 2022. This is the $250,000, ultra-gory evil clown movie that not only finagled an unrated limited theatrical release, but did so well (and got so much press from reports of puking and fainting at screenings) that they added more showings the week after that, and the week after that, and the week after that. It was the movie that finally nudged TOP GUN: MAVERICK out of the top ten, and Variety says it "shocked the industry" doing so well with "next to zero mainstream marketing."
It's now made almost $8 million, which is tiny compared to any blockbuster, but it's about five times what last year's best picture winner CODA made. So unless I misunderstand how this works, writer/director Damien Leone better make room for five best picture Oscars on the shelf next to part 1's trophies for ShockerFest Audience Choice Award and Louisville Fright Night Film Fest "Best 'Grindhouse' Film." And I try to watch all the most classy and acclaimed motion pictures so I set aside my belief that evil clowns are corny to watch TERRIFIER, and I liked it enough to go see TERRIFIER 2 when it came back to Seattle last Friday.
What the hype may not get across to outsiders, and what may prevent you from puking or passing out, is that it doesn't feel quite serious. Most of the horror movies that come along – BARBARIAN, WATCHER, I'm sure SMILE even though I haven't seen it because I'm even more prejudiced against evil smiles than evil clowns – they seem to say "here is a new horror movie," while the TERRIFIERs are a little more "what if this was a horror movie?" It's by no means a spoof, but it definitely counts as pastiche. It seems like a heightened version of some weird movie you rented from the horror section in the '80s, or maybe the movie you imagined when you looked at the cover.
In that sense maybe these are kinda related to the HATCHET series, which also emphasize gory practical effects, and have a killer aspiring to Jason-like icon status. For me the TERRIFIERs improve on HATCHET 1 & 2 by having a better handle on how to structure a slasher story and center a strong protagonist, better control of the tone, and honestly a sleazier, more dangerous feel, giving them an unpredictable quality that balances out some of the artificiality.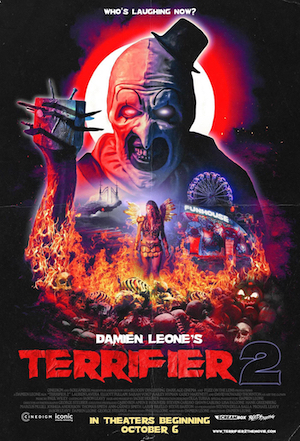 I feel weird saying I enjoyed TERRIFIER, but I definitely somethinged it. And I'm happy to say that the sequel is better in every way except brevity. (More on that later.) I guess if you liked the first film's willingness to fuck with the expected structure in ways that are upsetting to us as viewers, you may not like that this one is a little kinder to us. It will still be described as nihilistic trash because of all the bad shit that happens, but it's dedicated to that slasher catharsis of seeing a good guy or good guys get away after being put through the wringer and then dragged through the mud and then put through the wringer again and then put in the dryer without properly following the care instructions. This is horror, we can't expect a win every time, but we always hope for one, because it's satisfying.
The sequel picks up right from the end of part 1 when non-verbal Halloween spree-killer Art the Clown (David Howard Thornton) was dead on a slab at the morgue but inexplicably came back to life and killed the medical examiner. In case there was any question of whether this is a supernatural occurrence, I think it's answered by Art's ability to pluck one of the doctor's eyeballs out and shove it into his socket to replace the one that got shot out (or stabbed out? I forgot already). Then he fills his garbage bag with tools and chemicals, steals some change out of the dead man's wallet, and goes straight to the laundromat, where he sits naked waiting for the blood to wash off his clown suit so he can look good as new for part 2. I appreciate the professionalism.
The laundromat is where we first see his imaginary friend, an adorably horrifying little girl clown credited as "The Little Pale Girl" (introducing Amelie McLain). I can't find any stills that don't look like she's from some cheesy extreme haunt, but trust me, in context she's a delight.
Part 2 centers on Sienna (Lauren LaVera), a talented young cosplayer who's been working hard constructing her Halloween costume based on a warrior-angel character her late father used to draw for her, and her 12-year-old brother Jonathan (Elliott Fullam), who wants to go as the clown from the Miles County Massacre last year. Sienna tells their mom (Sarah Voigt) she thinks he's fucked in the head, and then she has a nightmare about the clown. She sees a commercial on TV for something called "The Clown Cafe," and suddenly she's one of the adults playing kids in the commercial, and then he machine guns everybody. When she wakes up, the fire from Art's blowtorch in the dream has spread to her actual bedroom, destroying her angel wings but not the badass sword her dad gave her.
As a life long Freddy fan I have to say that although this dream sequence is the only part of the movie I couldn't stand (I hate fake children's songs, and adults dressed as children, and fake ass cereal boxes with clowns on them, and fake businesses involving clowns, like why the fuck would there be a clown-themed food truck that advertises on television?) I appreciate the ELM-STREET-ian touch of her dreams having an effect on the real world, plus the implication that this is some kind of magic sword. We don't usually get a sword of destiny in a slasher sequel. (I guess we sometimes get daggers.)
Despite his fascination with serial killers, Jonathan seems like a pretty nice, normal kid. He gets blamed when his jackass friends play with a dead possum on the playground, and then Art shows up inside the school and throws the possum at him! This is another Freddy touch: Jonathan finds drawings of Art in his dad's sketchbook, and now seems to be haunted by him. He's not choosing victims at random this time. He's got a connection or a vendetta or something.
Much to her shame, Sienna has to go to the costume shop to buy replacements for her burnt-to-a-crisp home-made wings. While she's there, Art the Clown or an asshole dressed as Art the Clown, follows her around, creeps her out, and tries on funny sunglasses.
The part that makes this sequel stand out among super gory fucked up movies is when Art follows Sienna's friend Allie (Casey Hartnett, WHAT WE FOUND) home. It's like the most over-the-top Jason Voorhees kill multiplied by 23, and it happens to this nice innocent girl in the seeming-safety of her home. He pulls her scalp off and breaks an arm with his bare hands and she's just so horrifyingly fragile. Her torment goes on longer than the rhythm of a horror movie usually dictates, and then he finally leaves and she's laying there in agony, no way she can survive this. So sad.
And then – surprise! Suddenly he bursts back in with containers of salt and bleach, 'cause he's just such a sadistic fucking asshole. And in case the comic timing of that bit made you laugh it off, we get another scene where Allie's poor mother (Amy Russ, "White House Assistant," THE POST) comes home and finds her daughter in a pathetic, barely alive state with Art crouched next to her like the motherfuckin Big Bad Wolf.
Bear with me here but I'm gonna tell you about something horrible that happened in real life. (Skip to the next paragraph if you'd rather not have it in your brain.) When my siblings and I were little our parents both worked, so after school they had us go to a babysitter, our mom's friend who lived up the street. I remember this lady styling my hair for a Halloween costume, playing me Neil Diamond's "Heartlight" to see if I could figure out what it was about, scolding my brother for typing curse words into Zork, and we sort of grew up with her kids. But there was a falling out, we stopped going up there, the family moved and we never saw them again. A couple years ago, though, they were in the news. One of those kids we grew up with had a teenage daughter, and one night that teenage daughter and her boyfriend crept into the bedroom of her grandparents – our babysitter and her husband – and killed them. They taped up the doors and windows to contain the stench, and stayed in the house with the bodies for a week, inviting friends over to smoke weed and eat take out. When their crime was discovered and the police cornered them they tried to stab themselves to death, but they survived, pleaded guilty and got double life sentences. The boyfriend apologized in court, but the granddaughter did not.
Recently I told that story to a co-worker, and it was weird to try to convey something so fucking ghastly in the casual tone I was trying for, so I guess my brain chose to deal with that discomfort in an awkward way: it made me laugh, like I was telling a funny story. Trust me, there is nothing I find funny about it, but I don't know if my explanation "I'm sorry I'm laughing, it's just so horrible" made sense to him. He must think I'm a psycho. And that might be your reaction too when I try to describe the morbid thrill of that scene in TERRIFIER 2.
I do think the scene is scary in a certain sense. It may feel a little Troma in its insistence on going six laps further than too far, but not in its tone. And yet it's not some raw, soul-dirtying ugliness like ANGST either – it's a fuckin undead clown, he's making bodies do things I don't think bodies can do, we're very aware that we're watching an enthusiastic makeup effects team do their equivalent of a guitar solo. So we get something akin to the discomfort of that story I just told you, the too-gruesome-to-possibly-be-believed feeling, except we don't have to believe it. We know it's not true, that Allie is not real, that no one is suffering or lost. And fuck that clown for all the things he does, we hope he's gonna get his in the end, but as long as we're paying to be put through this sort of cinematic ordeal we gotta admire the elbow grease put into making that one such a barn burner. Jesus christ. You kinda gotta hand it to him.
On Halloween, Sienna goes to a bar with her friend Brooke (Kailey Hyman, who I was convinced must be Julia Roberts' daughter, but she's never even played the young version of one of her characters), who thinks it's a good idea to dose her drink with molly. This leads to an actual sweet moment in the movie when her mom calls her thinking that Jonathan trashed her car. It seems funny to Sienna, which angers her mom. It's only because of the drugs, but Sienna interrupts and disarms the argument by telling her mom that she loves her. I didn't expect to get a little emotional during TERRIFIER 2, but there I was.
The relationship between the kids and parents is fairly complex. We learn from Mom that their dad got really crazy in the end, and even abusive I believe she says, but she mostly doesn't stop the kids from remembering him in saintly terms and putting great import on anything he gave them or left behind. Mom is also complicated because she's kind of an asshole, definitely out of line some of the time, but mostly seems sincere and caring. In this paragraph I'm gonna spoil her fate as well as a major turn in part 1. In part 1 there's a shocking moment when Art pulls a gun and just shoots the heroine. Jason or Michael would never pull out a gun – it feels like cheating. But in part 2 here there's a scene where Art pops out and blows Mom's head off, and in this context, having seen what happened to Allie, it felt like a relief to me! I was glad that was all she got.
Appropriately for an evil clown movie, the finale takes place at "the old carnival." I guess "old" means out of business, since it's closed on Halloween, but I'll be damned if it isn't 100% maintained and operable! Art lures Sienna there by drugging and kidnapping Jonathan and then having the little girl clown pull a T-1000 and speak in his voice over the phone. He says he needs a ride – this is a series that really recognizes that people sometimes need a ride.
Sienna needs to find her brother in a horror maze called Terrifier. I thought that was a cool touch – as if the series was always meant to be named after this maze, but was taking its time getting to that information. I almost buy it because the chronology is pretty clever; part 1 opens with an incident that turns out to have happened after the rest of the movie, and here in part 2 we realize that it happened a year later, at the beginning of this story.
The entrance to the maze is maybe slightly chintzy looking, but they do a good job of making it seem endless inside. There are some cool carnival/haunt props, like a huge animatronic clown head, and I like how you can't really tell how much is how it's supposed to look and how much is broken down or a storage area or something. Sienna inevitably sort of becomes this angel character as she battles Art, and it struck me how weird and upsetting it is to see 12-year-old Jonathan also involved and getting whipped and cut up. I think if he was gonna get killed I would agree with the pearl-clutchers that we don't need to see this in a horror movie, but that's not the case here. It's like if The Goonies took a John McClane level beating in their adventure. It feels like he really faced danger instead of just being off limits because of his age.
I like the direction this sequel takes, picking up from the ending of the first to go into explicitly supernatural territory. There seems to be some predestination involved, since their dad's brain tumor caused him to draw pictures of Art and his future victims. For a while I worried that Art the Clown was their dad. These fantasy elements make Sienna seem less like "part 2 heroine Sienna" and more like "the heroine of the TERRIFIER series, Sienna," though Kristen the Dream Warrior or Alice the Dream Master seemed that way in various points of the ELM STREET series, so who knows? At any rate this leaves things at a good place to build from in an inevitable part 3.
I don't want to make too big a deal out of it, but somebody will bring it up anyway, so I gotta address that this movie is 138 minutes long. That's only a minute shorter than 2001: A SPACE ODYSSEY, and it's 11 minutes longer than DAWN OF THE DEAD. Most importantly, it's 52 minutes longer than the first TERRIFIER! It's a bigger movie, but is it almost-an-hour bigger? In my opinion no.
It's honestly weird that they didn't tighten it up more, which I think could be done even without cutting most of the dream sequence like I'd want to. But honestly it didn't really drag for me, it was not a case like I SPIT ON YOUR GRAVE: DE JA VU where the indulgence drags the whole thing down. I forgive it.
It's pretty transparent that they want Art the Clown to be a "new Freddy" or some shit, so it's interesting to compare this sequel to the approaches of sequels from the past. In the first movie he could've been just a guy in a costume until the end, so this follows the HALLOWEEN series and especially the FRIDAY THE 13TH series in making him more explicitly supernatural/undead than before. It follows Rob Zombie's HALLOWEEN II in giving him a creepy child-in-clown-costume-apparition sidekick. It follows ELM STREET 3 and 4 in bringing in good guys and fantasy rules for how to battle him.
He's silent like Jason or Michael, but otherwise more Freddy-like in his showmanship, smart-assery, and now possible dream powers. There's also a direct homage to ELM STREET's glove-building opening credits montage. But the advantage Art has over most previous attempts at making "the new Freddy" is the aforementioned silence. Just about every quasi-Krueger blew it by making annoying one-liners. Even the actual Freddy clawed himself in the foot by talking too much from part 4 on, making us realize what a terrible sense of humor he has, and watering down the franchise to the point that Wes Craven could no longer contain the ancient supernatural entity that inspired Freddy.
So far Art is safe from that type of downfall. There's just no opportunity for bad puns. I think of him as this demonic embodiment of cruelty, a total bastard who goes around sadistically mauling people for no reason at all, enjoying it, making a joke out of it. While Freddy became a comedian, this guy is more of a troll, because the humor is usually for his benefit alone, though here I did laugh when he served a group of trick-or-treaters candy from a bowl made out of the real home owner's head. (They were impressed.)
This is one of those movies that's a challenge to review because I'm excited to have seen it and be writing about it, but I know it's a very small group of people I'm talking to. I absolutely can't recommend TERRIFIER 2 for casual horror fans, but that doesn't necessarily mean the hardcores are gonna love it either, since they tend to be so specific about what they're looking for and not looking for. It will be too much for plenty of people and not done well enough for others. And then from whoever's left you gotta cut it down to the ones who have time for a movie that long.
So I'm not making any guarantees or predictions. But if you're down to clown…
I apologize for that pun, and more than that for going to such dark places in this review. I hope that wasn't too much, but I think part of the appeal of horror is that it gives us the courage to look these things in the eye, or at least between our fingers. In a world of meaningless evil, it's inspiring to see somebody win a round against Art the Clown, even though we know the motherfucker will pop right back up, smiling bigger and nastier than ever.